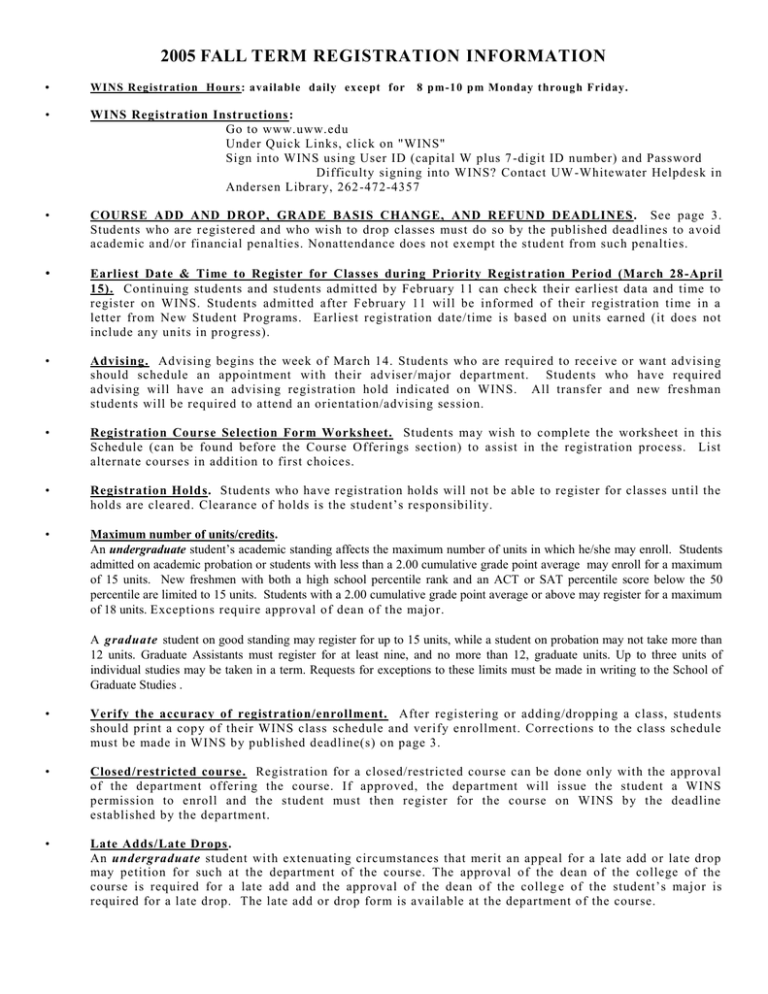 2005 FALL TERM REGISTRATION INFORMATION
•
WINS Registration Hours : available daily except for
•
WINS Registration Instructions :
Go to www.uww.edu
Under Quick Links, click on "WINS"
Sign into WINS usi ng User ID (capital W plus 7 -digit ID number) and Password
Difficulty signing into WINS? Contact UW -Whitewater Helpdesk in
Andersen Library, 262 -472-4357
•
COURSE ADD AND DROP, GRADE BASIS CHANGE, AND REFUND DEADLINES. See page 3.
Students who are registered and who wish to drop classes must do so by the published deadlines to avoid
academic and/or financial penalties. Nonattendance does not exempt the student from such penalties.
•
Earliest Date & Time to Register for Classes during Priority Regist ration Period (March 28 -April
15). Continuing students and students admitted by February 11 can check their earliest data and time to
register on WINS. Students admitted after February 11 will be informed of their registration time in a
letter from New Student Programs. Earliest registration date/time is based on units earned (it does not
include any units in progress).
•
Advising. Advising begins the week of March 14. Students who are required to receive or want advising
should schedule an appointment with their adviser/major department. Students who have required
advising will have an advising registration hold indicated on WINS. All transfer and new freshman
students will be required to attend an orientation/advising session.
•
Registration Course Selection Form Worksheet. Students may wish to complete the worksheet in this
Schedule (can be found before the Course Offerings section) to assist in the registration process. List
alternate courses in addition to first choices.
•
Registration Hold s. Students who have registration holds will not be able to register for classes until the
holds are cleared. Clearance of holds is the student's responsibility.
•
Maximum number of units/credits.
An undergraduate student's academic standing affects the maximum number of units in which he/she may enroll. Students
admitted on academic probation or students with less than a 2.00 cumulative grade point average may enroll for a maximum
of 15 units. New freshmen with both a high school percentile rank and an ACT or SAT percentile score below the 50
percentile are limited to 15 units. Students with a 2.00 cumulative grade point average or above may register for a maximum
of 18 units. Exceptions require approval of dean of the major.
8 pm -10 pm Monday through Friday.
A graduate student on good standing may register for up to 15 units, while a student on probation may not take more than
12 units. Graduate Assistants must register for at least nine, and no more than 12, graduate units. Up to three units of
individual studies may be taken in a term. Requests for exceptions to these limits must be made in writing to the School of
Graduate Studies .
•
Verify the accuracy of registration/enrollment. After registering or adding/dropping a class, students
should print a copy of their WINS class schedule and verify enrollment. Corrections to the class schedule
must be made in WINS by published deadline(s) on page 3.
•
Closed/restricted course. Registration for a closed/restricted course can be done only with the approval
of the department offering the course. If approved, the department will issue the student a WINS
permission to enroll and the student must then register for the course on WINS by the deadline
established by the department.
•
Late Adds/Late Drops.
An undergraduate student with extenuating circumstances that merit an appeal for a late add or late drop
may petition for such at the department of the course. The approval of the dean of the college of the
course is required for a late add and the approval of the dean of the colleg e of the student's major is
required for a late drop. The late add or drop form is available at the department of the course.
A graduate student with extenuating circumstances may appeal for a late add or late drop at the
department of the course. The a pproval of the dean of the college of the course is required for a late add
and the approval of the Dean of the School of Graduate Studies is required for a late drop. The late add
or
drop
form
is
available
at
the
department
of
the
course
or
on -line
at
http://www.uww.edu/registrar/dept_forms.php.
•
Academic Progression Related to Drops. The tenth business day of the fall term is Monday, September 19. Therefore, a
student taking 12 units as of that day must satisfactorily complete at least 6 of those units or be subject to academic
progression warning or suspension.
•
Absence From Class. A student who is absent should notify instructors of the absence as soon as possible and explain the
nature of the situation and inquire about the effect of the absence on the student's course work. If contact with the instructors
cannot be made directly, the student should contact the academic departments involved.
In emergency situations where the student is incapacitated and temporarily unable to perform the aforementioned
responsibilities, family members may contact the Office of Student Life (Phone 262-472-1533) for assistance. The Office of
Student Life may provide notification (not verification) of the absence to the instructors involved. However, arrangements
for make-up work, make-up exams or possible assignment adjustments are the responsibility of the student. (The Student
Health Service and the Office of Student Life do not provide excuses for absences from class due to illness.)
•
Withdrawal from all classes and the University. See withdrawal information on page 4.
•
Unauthorized use of the WINS Registration System may result in disciplinary action, up to and including criminal
prosecution.
•
See the following "Additional Enrollment/Registration Information" section for information about:
- Auditing courses
- Communication & Calculation Skills and English/math/foreign language placement
- Family Educational Rights and Privacy Act - FERPA
- Grade Basis Non-Standard - S/NC (undergraduate) and P/F (graduate)
- Grades/Grading
- Graduate - Other (guest transfer, special studies, seniors taking graduate courses)
- Honors Program and Course Eligibility
- Orientation for New Students
- Repeat Policies
- Transcripts
- University General Education Requirements
ADDITIONAL ENROLLMENT &
REGISTRATION INFORMATION
Information about the following topics can be found in this section:
- Auditing courses
- Communication & Calculation Skills
- English/Math/Foreign Language Placement
- Family Educational Rights & Privacy Act - FERPA
- Grade Basis Non-Standard
- Undergraduate Satisfactory/No Credit
- Graduate Pass/Fail
- Grades/Grading, Term Honors, Academic Standing
- Graduate - Other
- Guest Transfer of Credit
- Special Studies Policy
- Seniors taking Graduate Courses
- Honors Program and Course Eligibility
- Orientation for new students
- Repeat Policies
- Transcripts
- University General Education Requirements
AUDITING COURSES
Audit courses require the written permission of the instructor (and, in some cases, the department). Students registering for audit
courses may do so on a space available basis and cannot change the courses to graded basis during the term of enrollment.
Off-campus courses, College of Business and Economics courses, and Distance Education courses cannot be audited. Auditing of Art
department courses may be limited.
Audit-Only Enrollees
a.
Wisconsin residents will pay 30% of the normal per unit resident academic fee and non-residents will pay 50% of the normal nonresident fee per the fee chart. No audit fees will be assessed disabled Wisconsin residents who are receiving federal old age
survivors and disability insurance benefits (OASDI) under 42 USC 401 to 433, or Wisconsin residents age 60 or over.
b.
Students must contact the Registrar's Office (Baker Hall, room 7, 472-1211) prior to the week before the start of term regarding
their intent to register. Students will be registered (with instructor permission) beginning the week immediately prior to the start
of the term.
c.
Any special course fees other than the normal tuition charges will be assessed and paid by the student.
d.
An audit grade symbol (X) will be recorded on the academic record provided the instructor reports satisfactory attendance.
e.
Access to University services will be limited to the library and to non-segregated fee funded activities of the University Center. A
special identification card for audit-only students will permit this limited access.
f.
Regent, University, and Student Government regulations applying to other students will apply equally to audit-only enrollees.
g.
Students having a disability for which they would like to request a reasonable accommodation to assure access to campus
programs, activities and services should contact the Office of Students with Disabilities, R 1004, or call 262/472-4711 for more
information.
Audit and Credit Combination Enrollees
Students who are taking a combination of courses for regular credit and for audit will pay the regular fees for all units based upon
the fee chart. The following stipulations will also apply:
a.
Students wishing to audit courses must obtain the audit registration form from the Registrar's Office (Baker 7), acquire the
instructor's written approval, and return the completed form to the Registrar's Office.
b.
No credit will be granted for the course, but an audit grade symbol (X) will appear on the academic record provided the instructor
reports satisfactory attendance.
c.
The audit course may be repeated for credit in another term.
d.
Audits do not count as units for veteran benefit certification, financial aid consideration or verification of full-time status.
COMMUNICATION & CALCULATION SKILLS
Courses or appropriate waivers are required.
3 units or waiver
ENGLISH 101
3 units
ENGLISH 102 or
3 units
ENGLISH 105H
(Replaces both ENGLISH 101 and 102, Satisfies ENGLISH Proficiency Requirement)
3 units or waiver
SPEECH 110
3-4 units or waiver
MATH 141 or MATH 140
(If waived from English 101, Speech 110 and/or Mathematics 141, a student has satisfied the proficiency requirement for the
course(s). Waiver of any course does not reduce the total number of units required for graduation.)
The proficiency courses listed above do not count in general education.
Completion of Communication & Calculation Requirements
Students should complete the Communication & Calculation requirements prior to the completion of 60 units toward graduation.
Students who transfer to UW-Whitewater with 60 or more units toward graduation should complete any remaining Communication &
Calculation requirements within their first term.
Completion of Developmental Requirements
Students who are required to take developmental English (090) or Mathematics (040, 041) should complete the course(s) no later than
the term within which they will reach the 30-unit maximum.
English 101 Waiver
Students with ACT English subscore at 30 or above (SAT verbal 680 or above) will be waived from English 101. Students will not
receive credit for enrolling in any course from which they have been waived.
Speech 110 Waiver
All students interested in waiving the Speech 110 requirement must successfully fulfill the following two requirements:
1.
2.
Written Examination
Contact the Office of Testing and Student Affairs Research (472-5613) and arrange to take the speech waiver exam during the
first two weeks of classes. Results of said exam will be posted at Heide 465 during the following week. A score of 75% correct
is required to pass the written examination.
Speaking Requirement
After selecting a topic of their choice, appropriate for a college age audience, the student will have a minimum of three days to
prepare a 5-7 minute persuasive speech. Three members of the Speech Department will evaluate this speech. If it is decided that
the speech is 'B' or better, the student will be waived from Speech 110. Results will be posted the following day at Heide 465.
The waiver process may be attempted only once by each student. Students will not receive credit for enrolling in any course from
which they have been waived.
Mathematics 141 Waiver
A student shall be waived from the basic algebra proficiency requirement (Math 141) by meeting any one of the following conditions:
1.
2.
ACT math score of 24 or greater.
SAT math score of 550 or greater.
Students will not receive credit for enrolling in any course from which they have been waived.
Students who feel there are extraordinary circumstances in their case to warrant special consideration by the department should
consult directly with the Mathematics and Computer Sciences Department Chair in Baker Hall, Room 205.
ENGLISH, MATH, FOREIGN LANGUAGE PLACEMENT
The Languages and Literatures Department and Mathematics Department use ACT/SAT scores to determine English and mathematics
course placement. (Your Advising Report should indicate the appropriate placement.) If you have any questions on this, please contact
the Testing Office (262) 472-5613, the Language & Literatures Department (262)472-1036 or the Math and Computer Science
Department (262)472-1313.
English
ACT/SAT Score is used to determine appropriate placement:
ACT (English)
SAT (Verbal) PLACEMENT
30 and higher
680+
placement in ENGLISH 102
17-29
430-670
placement in ENGLISH 101
16 and lower
420placement in ENGLISH 090
(English 90 does not count toward graduation)
with 101 waived
Mathematics
MATH PROFICIENCY REQUIREMENT
All students must satisfy the University Mathematics Proficiency Requirement. To do that they must either be waived from the
requirement based on test scores, or take one of the Math Proficiency courses:
MATH 140, Math Ideas, for students not needing more math; or
MATH 141, Intermediate Algebra, or the equivalent course.
In addition, some students will need to take one or two Developmental Math courses based on their ACT/SAT scores.
ACT/SAT Scores are used to determine appropriate placement:
ACT (Math)
PLACEMENT
24 and above
19-23
15-18
01-14
SAT(Math)
Math Course
550 and above
460-549
350-459
200-349
waived from math proficiency
Math 141 or 140
Math 041
Arithmetic Skills Test
Foreign Language
Any student who had foreign language in high school and plans to take a foreign language course at UW-Whitewater is required to
take the UW-System Foreign Language Placement Examination before the student can register for a foreign language course.
Placement at the appropriate level and successful completion of an advanced foreign language course with a "B" grade or better will
allow the student to receive retro credits for previous work in that language. Foreign Language Placement Exam Table is listed prior
to course offerings.
The Foreign Language Placement Exams will be given at the Testing Office , Roseman Building, Room 2054 by appointment.
STUDENTS SHOULD CALL (262-472-5613) the Testing Office to reserve a date to take the test.
Students will be told at each session when the results will be available for the students to take to the advising session so the adviser
can use the scores.
FAMILY EDUCATIONAL RIGHTS AND PRIVACY ACT FERPA
Interpretations of the Family Educational Rights and Privacy Act of 1974 (also known as FERPA or the Buckley Amendment) have
important implications for the handling and releasing of student education record information by campus offices and school officials.
FERPA applies to the "education records" (see next paragraph for definition) of "students". "Students" are defined as those
individuals who have applied for formal admission to UW-Whitewater, were admitted, and are or have been enrolled in classes for
credit at the University. FERPA does not apply to records of applicants for formal admission to the University who are denied
acceptance or, if accepted, do not enroll in classes for credit. In addition, rights are not given by FERPA to students enrolled in one
component of UW-Whitewater who seek to be admitted in another component (e.g., a student enrolled in an undergraduate degree
program, but is denied admission to a graduate program, does not have any FERPA rights in the graduate program which denied
him/her admission).
"Education records" are those records that are directly related to a student and that are maintained by the University or by a school
official who serves the University in an administrative, supervisory, academic, research, or support staff position (including student
employees or agents of the University, persons/companies with whom the University has contracted, persons serving on official
campus committees, or persons assisting other school officials in performing their tasks).
FERPA indicates that "education records" do not include:
· Sole possession records. Records of instructional, supervisory, administrative, and certain educational personnel which are in the
sole possession of the maker and are not accessible or revealed to any other individual except a substitute who performs on a
temporary basis the duties of the individual who made the records.
Important exception: Notes taken in conjunction with any other person are not "sole possession records". Sharing information with
another person or placing information where it can be viewed by others makes it an "education record" and subject to FERPA.
· Law enforcement unit records. Records maintained by a law enforcement unit of UW-Whitewater that were created by that unit for
the purpose of law enforcement.
Important exception: Placing law enforcement records where they can be viewed or accessed by others outside the law enforcement
unit makes them "education records" and subject to FERPA.
· Employment records. Records relating to individuals who are employed by UW-Whitewater which are made and maintained in the
normal course of business and relate exclusively to individuals in their capacity as employees, and are not available for any other
purpose.
Important exception: Records of students who are employed as a result of their status as students are "education records" (e.g.,
work-study, graduate assistants) and subject to FERPA.
· Doctor-patient privilege (medical) records. Records relating to a student which are (1) created or maintained by a physician,
psychiatrist, psychologist, or other recognized professional acting in his/her professional capacity or assisting in a paraprofessional
capacity; (2) used solely in connection with the provision of treatment to the student; and (3) not disclosed to anyone other than
individuals providing such treatment, so long as the records can be personally reviewed by a physician or other appropriate
professional of the student's choice.
· Post-attendance records. Records that contain only information relating to a person after that person is no longer a student at UWWhitewater (e.g., information gathered on the accomplishments of alumni).
The essence of FERPA can be summarized by the following two points:
· CONFIDENTIALITY – School officials must protect the privacy of education records and shall not disclose personally
identifiable information about a student or permit inspection of the student's records without his/her written consent unless such
action is covered by certain exceptions permitted by FERPA. The student's written, signed consent must:
o Specify the records to be released;
o Identify the party or class of parties to whom the records should be released;
o Indicate the reason for the release.
A consent form can be downloaded from the web at: http://www.uww.edu/registrar/.
"Authorization to Release Records")
(under the FERPA section, click on
· ACCESS – A student must be permitted to inspect his/her own education records (see "Student Access to Education Records"
section for information about the process for inspecting education records). FERPA provides the student the right to:
o Inspect and review his/her education records;
o Request an amendment to the education records if he/she believes there is an inaccuracy;
o Restrict the release of his/her "Directory Information" from public access;
o File a complaint with the U.S. Department of Education is he/she feels the University has failed to follow FERPA guidelines. The
name and address of the office that administers FERPA is: Family Compliance Office, U.S. Department of Education, 400
Maryland Avenue, SW., Washington, D.C. 20202-4605.
CONFIDENTIALITY OF STUDENT EDUCATION RECORDS
FERPA generally prohibits the release of confidential personally identifiable student data from education records, with limited
exceptions that include "Directory Information" (see below), without the student's written, signed consent.
Personally identifiable student data, other than "directory information" for students who have not restricted its release, are
confidential. Examples of confidential information include, but are not limited to, ID number, social security number, date of birth,
ethnicity, gender, country of citizenship, percentile ranks, class schedules (including meeting times and locations), grades, and grade
point averages.
Parents have no inherent rights to inspect or receive information about their children's education records. Parents of a dependent (as
defined for federal income tax purposes) student may request their child's education record information only after providing notarized
copies of both the most recent federal income tax return filed that shows the student listed as a dependent and a letter of intent to claim
the student as a dependent on the next federal income tax return. Absent this information, UW-Whitewater shall not disclose a
student's education record information to a parent without the written consent of the student.
FERPA provides certain exceptions for the release of personally identifiable education record information without the student's
written consent. These exceptions include:
· Directory Information. UW-Whitewater determines the following to be student "directory information" which is available to the
public if the student has not restricted its release:
- Names, addresses (including email), and telephone numbers;
- Dates of attendance (including term units carried and full-time/part-time status);
- Classification (e.g. sophomore, senior, graduate student);
- Major/minor/degree program;
- Degrees conferred (including dates/anticipated dates);
- Previous institution(s) attended;
- Awards and academic honors;
- Participation in officially recognized sports and activities;
- Physical factors (weight and height) of members of athletic teams.
A student has the right to restrict the release of his/her directory information. Any student who wishes to do so must complete and file
the "Request To Prevent Disclosure Of Directory Information" form in the transcripts department of the Registrar's Office, Baker
Hall, lower level. The restriction will remain in effect until the student files written notification with the Registrar's Office to have it
removed. A student who has ceased attending UW-Whitewater, and whose directory information was not restricted in his/her last
term of attendance, does not have the right to restrict the release of directory information until such time as he/she re-enrolls at the
University.
· "Legitimate Educational Interest". Personally identifiable education record information may be disclosed without the student's
written consent to UW-Whitewater officials who are determined to have a "legitimate educational interest" – a right to know and a
need to know (i.e., the information is necessary to fulfill the official's professional responsibility to UW-Whitewater). Legitimate
educational interest means there is an educationally related purpose that has a directly identifiable educational relationship to the
student involved and underlies the request. The following criteria shall be taken into account in determining the legitimacy of a
UW-Whitewater school official's access to records:
o The official must seek the information within the context of his/her professionally assigned University responsibilities;
o The information sought must be used within the context of official University business;
o The information requested must be relevant and necessary to the accomplishment of some task or to make some determination
within the scope of the official's University employment.
Disclosure of education record information to a school official having a legitimate educational interest does not constitute institutional
authorization for that school official to transmit, share, or disclose any or all of that information to a third party. A disclosure of
personally identifiable information from the education record of a student, without the student's written consent, is prohibited unless
the disclosure meets one of the specific exceptions cited in FERPA as outlined in the following section.
· Education record information may be disclosed without the student's written consent in the following instances:
a) To the student.
b) If it is "Directory Information" and the student has not restricted its release.
c) If properly subpoenaed pursuant to a judicial, legislative, or administrative proceeding, provided UW-Whitewater will make a
reasonable attempt to notify the student of the subpoena, in cases where FERPA applies, prior to the release of the information.
d) In connection with the student's application or receipt of financial aid as necessary to determine the eligibility, amount or
conditions of the financial aid, or to enforce the terms or conditions of the aid.
e) In connection with audits or evaluation of federal or state supported educational programs requiring disclosure of information.
f) To effect collection of past due financial obligations to the University.
g) To attorneys representing the University when the data on the student is deemed necessary for the defense of the University in a
suit filed by the student.
h) To schools in which the student seeks or intends to enroll.
i) To authorized representatives of the Comptroller General of the United States, the Attorney General of the United States, the
Secretary of the Department of Education, or state or local educational authorities.
j) To the Veterans Administration to determine compliance with educational assistance.
k) To organizations conducting studies for or on behalf of the University.
l) In connection with a health or safety emergency as determined by the University.
m) In connection with a crime of violence or a nonforcible sex offense. The University has the discretion to disclose the final results
of any disciplinary proceeding against a student who is an alleged perpetrator of a crime of violence or a nonforcible sex offense
if, as a result of that disciplinary proceeding, the University has determined that the student in fact committed the crime or
offense. The definition of "final results" is limited solely to the name of the student, the violation committed, and any sanction
imposed by the University on that student. Only where a victim or witness has provided written consent may the University
disclose the name of that student.
n) The University may disclose to a student's parent or legal guardian information regarding any drug or alcohol violation (whether
pursuant to federal, state, or local law or institutional policy) where the student is under 21 years of age and the University has
determined the student has committed a disciplinary violation.
UW-Whitewater school officials conducting research using student education records will be asked to explain the use of the records in
writing. Student organizations that need confidential information about their members must obtain the signatures of all members on a
form explaining how the information is to be used (the signatures must be obtained before the information will be released).
School officials who have access to student education record information assume the legal responsibility for protecting the privacy and
security of the information.
STUDENT ACCESS TO EDUCATION RECORDS
The student will have access to education records directly related to him/her that are maintained by the University, or any of its agents,
and to which FERPA applies.
A student may request access to review and inspect his/her education records by writing to the University official (registrar, dean,
department chair, or other appropriate person/office) responsible for the records. The written request must indicate the records the
student wishes to inspect. The University official will make arrangements for access and notify the student of the time and place
where the records may be inspected. If the records are not maintained by the official to whom the request was submitted, that official
shall advise the student of the correct person/office to whom the request should be addressed and it becomes the student's
responsibility to submit the request to that person/office. Upon receipt of the written request, the University has 45 days to comply.
FERPA does not provide the student with the right to access certain records, including:
i.
Sole possession records
ii. Parents' financial records used for financial aid purposes;
iii. Confidential letters and statements of recommendation placed in the student's record prior to January 1, 1975, or confidential
recommendations to which the student has given prior written waiver of access and which are used for job placement, admission,
or award purposes;
iv. Law enforcement unit records;
v. Certain employment records;
vi. Doctor-patient privilege (medical) records;
vii. Post-attendance records.
A student has the right to request an amendment of his/her education record that is believed to be inaccurate. However, FERPA was
not intended to provide a process to be used by the student to question substantive judgments that are correctly recorded. The FERPA
rights of challenge are not intended to allow a student to contest, for example, a grade in a course because he/she felt a higher grade
should have been assigned. FERPA is intended to ensure the factual and accurate nature of the information in the student's
educational records and the student's right to verify that information.
In those cases where FERPA intended to provide a student the right to request an amendment to an education record, the student
should write the University official responsible for the record, clearly identify the part of the record s/he wants changed, and specify
why it is inaccurate. If the University decides not to amend the record as requested by the student, the University will notify the
student of the decision and advise the student of his or her right to a hearing regarding the request for amendment. Additional
information regarding the hearing procedures will be provided to the student when notified of this right.
In the process of challenging the education record information, the student may wish to have copies of appropriate documents in
his/her education record file. The University may assess the student a reasonable per copy fee for such documents. This charge does
not apply to copies of the student's official academic transcript (there is a $5.00 charge for each official transcript). A request for a
copy of any document in an education record will be denied if the student has a hold/service indicator on his/her records that prevents
the release of the official academic transcript, or if the document is a transcript of an original or source document which exists
elsewhere.
If UW-Whitewater decides, as a result of a hearing, not to amend the education record in accordance with the student's request, the
student may place a written statement in the record commenting upon the information therein, and/or setting forth any reason for
disagreement with the institutional decision not to amend the record. Such a statement will become part of the student's education
record and will be disclosed with it.
The student has a right to file a complaint with the U.S. Department of Education concerning alleged failures by UW-Whitewater to
comply with the Family Educational Rights and Privacy Act.
DECEASED STUDENT EDUCATION RECORDS
FERPA rights cease upon a student's death. Accordingly, the disposition of education records held by UW-Whitewater and pertaining
to a deceased student is not a FERPA issue but a matter of institutional policy, UW-Whitewater does not permit the release of
education record information of a deceased student for 25 years after his/her death unless authorized by the executor/executrix of the
deceased student's estate or parents, or next of kin, if an executor/executrix has not been appointed. Deceased student education
records may be made available for research purposes unless the student, in his/her last enrollment, formally requested confidentiality
of all education records.
GRADE BASIS
NON-STANDARD TYPES
Course Non Career (CNC)
Graduate students who enroll in undergraduate level courses, and undergraduate students who enroll in graduate level courses, will be
registered for such courses with a grade basis of Course Non Career. Grades earned will be part of the student's official record. These
grades will not be computed into the student's term or cumulative grade point average.
Undergraduate Satisfactory/No Credit (S/NC)
Special permission is not needed to enroll for a course on a Satisfactory/No Credit basis. The S/NC option may be selected by using
WINS. See Course Add and Drop, Grade Basis Change, and Refund Deadlines for last day to add or change to S/NC (page 3). S/NC
stipulations are as follows:
a.
b.
c.
d.
e.
The S/NC option will be limited to a maximum of fifteen (15) units in an undergraduate degree program. Developmental courses
(e.g., 040 or 090) that do not count toward the minimum units necessary for graduation, and unit courses offered only on a S/NC
basis, are not included in the fifteen unit limitation.
Courses that are used to fulfill a student's major/minor requirements, the lower/upper BBA degree requirements, any College of
Business and Economics course attempted by a BBA student, and the new General Education core courses may not be taken on a
S/NC basis unless the course is offered only on a S/NC basis by the department. Proficiency, General Education options, unique
major/minor, and elective courses may be taken on a S/NC basis.
The S/NC option is available to any student without regard to grade point average or class standing. The decision to take a course
for S/NC must be recorded on WINS. The decision for S/NC basis for off-campus courses must be made prior to the third class
period. After the last day to change the grading basis, the S/NC will not be changed to a conventional grade or vice versa.
Satisfactory (S) is the equivalent of a grade of C or better. The S will be recorded on the permanent record, but it will not be
computed in the grade point average. Course work that does not merit a C or better will be graded "NC". The NC grade will
appear on the permanent record, but the course units will not be counted in units to degree or the grade in the grade point
average.
The S/NC option cannot be used to repeat a course taken for a conventional (ABCDF) grade. Veterans should refer to the VA
Educational Assistance section of this Schedule of Classes for information related to this grading option.
Graduate Pass/Fail Policy
Graduate students registered for a course on a pass-fail basis will receive either a grade of S or F. A grade of S denotes the student has
passed the course; a grade of F indicates failure. Grades of F count in computing grade point averages; S grades do not. Instructors
decide what constitutes a grade of pass for their courses. Students should be informed of such criteria prior to the deadline for
changing registration. The decision to take an off-campus course for S or F basis must be made prior to the third class period (after the
third class meeting, a student's registration may not be changed from a pass-fail basis to a regular grade basis or vice-versa).
Workshops may be taken on a pass-fail basis. Other courses made available by departments on a pass-fail only basis are so indicated
in advance in the Schedule of Classes. Since the decision whether a course taken on a pass-fail basis will count in a degree program
rests with the major or emphasis department or college, students should attain appropriate permission prior to taking a course pass-fail.
GRADES / GRADING
TERM HONORS
ACADEMIC STANDING
Final grades will be available on WINS by December 30, 2005. Final grade reports are not mailed.
Graduate Grading System
The grading system for graduate students is A, AB, B, BC, C, D and F. The minimum required overall grade point average for
graduation will be 3.00. No course in the major or emphasis or any other required course in which a grade of below C (2.00) has been
earned may be applied toward the completion of any degree. However, some programs may require higher standards. Consult the
Graduate Catalog for more information about grading policies.
Undergraduate Grading System
The grading system for undergraduate students is A, B, C, D, F. In addition, NN (no grade reported), I (incomplete), NC (no credit), S
(satisfactory), W (drop/withdraw), and X (audit) may be recorded. Consult the Undergraduate Catalog for more information about
grading policies, calculation of the grade point average, and academic standing and probation/suspension.
Undergraduate Term Honors
Undergraduate students who successfully complete a minimum of 12 unit hours in the term, with at least nine units attempted for a
conventional letter grade, and who have earned a 3.40 or above term grade point average with no grade below C (D, F, I, NC, or NN)
will be granted Term Honors.
Undergraduate Academic Standing
To remain in good academic standing a student must maintain a 2.0 or greater UW-Whitewater cumulative grade point average.
Students failing to meet the 2.0 cumulative grade point average are subject to the University's probation or suspension policies and
will be noted on the unofficial transcript found on WINS.
Students will be ineligible to continue at UW-Whitewater if the term grade point average falls below 1.0 for any fall or spring term.
Students are responsible for being informed about their academic standing and the university policies concerning the standing. For
additional information about the academic retention standards, please consult the current undergraduate catalog.
GRADUATE - OTHER
Guest Transfer of Credit
Persons attending another graduate school who wish to take graduate courses at UW-Whitewater and transfer them to that institution
may do so. The School of Graduate Studies Office at UW-Whitewater provides a form to be completed by an official of the graduate
school to which the units are to be transferred. The form certifies that the student is attending the other institution and states the
provisions for approval of the work taken at UW-Whitewater toward the degree at the other institution.
Graduate Special Studies Policy
A graduate student may apply no more than 4 units of individual studies, no more than 6 units of special studies, and no more than a
combined total of 9 units of individual studies, workshops, and special studies toward the completion of a degree. Departments retain
the prerogative of allowing fewer than nine of these types of units to apply toward their respective graduate degrees.
Seniors Taking Graduate Courses
UW-Whitewater undergraduate students with senior status may be allowed to take at most six graduate units at UW-Whitewater
provided they have completed 90 cumulative units (excluding remedial units) with at least a 2.75 overall grade point average (or 2.90
over the last half of their course work). Seniors must file a Senior Application at the School of Graduate Studies Office and have the
written recommendation of the department chairperson of their undergraduate major. Seniors may not use graduate-level units to
satisfy requirements for the bachelor's degree, and undergraduate fees will be charged for their graduate-level work. The option to
take UW-W graduate units is not available to seniors enrolled at other institutions.
HONORS PROGRAM
Honors Course Eligibility
To enroll in an honors course, an undergraduate student must be in good standing in the University Honors Program (UHP). To be
eligible for membership in the UHP, freshmen must be in the top 10% of their high school class and have a cumulative ACT of 24 or
higher, or must be in the top 25% of their high school class and have a cumulative ACT of 27 or higher. Continuing students are
eligible for the Honors Program when they have completed at least 12 units (excluding remedial) with a cumulative GPA of at least
3.40. Transfer students may apply for admission to the UHP if, at the time of transfer, they have a 3.40 cumulative grade point
average at an accredited institution. Information on this program can be obtained from the University Honors Program Center, in
Andersen Library (telephone 262-472-1268) or the web http://acadaff.uww.edu/Honors/index.htm..
ORIENTATION PROGRAMS
April 7, 13, 23; June 9, July 21, August 11 & 25
a.
All new undergraduate students (transfer or new freshmen) are required to participate in an orientation/registration program.
It is suggested that students register for the earliest date open to their particular classification (determined by credits completed, not
those in progress).
April 7 Junior and Senior Transfer Students
April 13 Sophomore, Junior, and Senior Transfer Students
April 23 All Transfer Students
June 9 All Transfer Students
July 21 New Freshmen (did not attend PREVIEW) & All Transfer Students
August 11
All Transfer Students
August 25
New Freshmen Only
FEES All new students will be assessed an orientation fee. Transfer students are assessed a $20 program fee and may also be
assessed a course placement fee of $20. New freshmen are assessed a $55 orientation fee as well as a $20 course placement fee.
These fees will be placed on student bills and may be subject to change.
b. RESERVATIONS - Students must reserve the date they wish to attend by returning the reply form that has been mailed or by
calling New Student Programs/First Year Experience Office (262-472-3205). Reservations should be made at least 48 hours in
advance in order that the appropriate materials can be prepared.
c. Check-in for all programs will begin at 9:30 a.m.
The program will include information about university requirements and expectations, interpretation of the Advising Reports (ARs),
information about various university services, academic advising and registration. Students should choose a program date for which
they can dedicate the entire day. It is not possible to meet with an adviser in the morning and then leave.
d. PARKING—During the orientation programs, you may park in any academic parking lot in a space that is not metered, reserved
or restricted. Do not park in a resident parking lot (signs at the entrances to the resident parking lots indicate that they are restricted
areas and that a resident permit is required). Information about term parking permits can be found on page 140.
e. PLACEMENT TESTS—See English and Math Placement (page 8). Questions about possible testing requirements should be
addressed to the Testing Office (262)472-5613.
f. ACADEMIC ADVISING —Students will meet with an academic adviser to review program plans and to make course
selections. Changes in major or the addition of a second major or minor should be addressed when students attend the orientation
program.
Questions about the above programs should be directed to New Student Programs/First Year Experience (262) 472-3205.
REPEAT POLICY
Undergraduate Course Repeat Policy
GENERAL: Students may not take the same course for credit more than once unless the course is identified in the Catalog as
"Repeatable". If a course is repeatable, the limitations on the number of times or maximum number of credits that may be applied to
the major/minor, degree or graduation credits will be indicated. This policy also applies to transfer courses: a student may not take a
course for credit at UW-Whitewater if the student has received transfer credit for taking that course at another institution unless the
UW-Whitewater Catalog lists the course as repeatable (except as described below for grade replacement).
REPEATING COURSES FOR GRADE REPLACEMENT: Students may repeat a limited number of courses in which they
earned a grade of D, F, or NC in order to have those grades replaced. Students may not repeat for credit or grade replacement any
course in which they earned a grade of C, S, or higher (see REPEAT FOR NO CREDIT explanation below). During their
undergraduate career at UW-Whitewater, students are limited to repeating no more than 5 separate courses, including repeats of
transfer courses, for grade replacement (developmental English and math courses are not included in this total). Once the repeat limit
has been met, additional attempted repeats will not count toward earned credit or factor into grade point average calculation (NC-No
Credit Earned), unless the student has successfully appealed to repeat more than 5 courses. To request permission to repeat any more
than 5 courses for grade replacement, the student must appeal to the Admissions and Academic Standards Committee for approval.
The repeat regulation applies to any courses for which a student receives a grade beginning with the Fall Term 2000 and any term
thereafter including Summer and Winterim.
Only the first repeat of a course may be applied for grade replacement. The grade and the credits earned in the first repeat of a course
will replace those earned in the initial attempt when calculating grade point average and credits toward degree. For example, if a
student repeats a course in which a grade of D was earned and receives a B in the repeat, only the B and the credits earned in the
repeat will be included in the GPA and credits to degree; if the student receives an F, only the F will be included in the GPA and the
student loses the credits for the course. If the student earns an F and does not receive credit for the course on the first repeat, that F
and any other grades earned in subsequent attempts in the course will be included in the GPA calculation. Once a student earns a D or
higher in a repeat, no further repeats may be counted for credit (see the explanation in REPEAT FOR NO CREDIT for unusual
circumstances).
The following conditions apply to repeats for grade replacement:
1. Unless the repeat courses are offered as S/NC only, all repeats for grade replacement must be taken for conventional grades, not
satisfactory/no credit. If a student is repeating a course in which a grade of NC was earned, the repeat must be on a conventional
grade basis.
2. Courses taken initially at UW-Whitewater may be repeated for grade replacement only at UW-Whitewater; they may not be taken at
another institution to replace the UW-Whitewater grade. (Subject to UW-Whitewater transfer policies, courses failed here may be
taken at another institution to earn credit for the course, but the grade will not replace the UW-Whitewater grade.)
3. Students may repeat a D or F grade earned at a transfer institution if the course has a direct UW-Whitewater equivalent and the
course was attempted only once prior to transfer to UW-Whitewater. Students who repeat a transfer course will receive UWWhitewater course credits regardless of the number of credits the course carried at the transfer institution; for example, a student
repeating a 4-credit transfer course with a 3-credit UW-Whitewater course will receive only the 3 UW-Whitewater credits. All other
repeat regulations apply.
4. A student may not repeat a course if the student has received credit for a higher level course in the same department for which the
course to be repeated is a prerequisite or corequisite; for example, a student who has received credit for English 102 may not repeat
English 101.
5. In courses in which there has been a change in the number of credits awarded, a repeat for grade replacement will replace the credits
and grades from the first attempt with the credits and grades from the repeat. For example, in a course that had been changed from
5 credits to 4 credits, a 5-credit D would be replaced by a 4-credit B.
The initial attempt of repeated courses, including the grade, remains in the permanent record on the transcript even though it is not
included in the GPA calculation or earned credits. Students should be aware that graduate schools and other institutions to which they
might wish to transfer may not accept repeats and may include all grades in calculating GPA for admission.
Athletes should check with their coaches before repeating courses in which a grade of D was earned, as it may affect their athletic
eligibility. Students receiving veterans= benefits may not count in benefit level determination those credits for which D=s were
previously earned.
REPEAT FOR NO CREDIT: Under certain circumstances, a student may need to repeat a course in which a C grade or above (or
a D grade in a repeat for grade replacement) was earned. For example, a student may need to repeat a course if a grade of C or B is
required for the student to proceed to a higher level course or to remain in a major. In such cases, the repeat grade will be considered
only as qualifying the student to continue, and the repeat will not be counted for credit. The new grade and the credits will not be
included in either the term or the cumulative GPA or credits. The new grade will only allow enrollment in subsequent courses
requiring the C or better grade in the pre- or corequisite course. All attempts will be recorded on the permanent academic record, with
the non-credit attempts identified as No Credit
Graduate
Graduate students are allowed to repeat at most two courses in their degree programs. Courses may be repeated only once. When a
course is repeated, the original course and grade remain on the transcript; however, the last grade and units earned replace the original
and are the only ones used in computing the overall grade point average and the grade point average in the major or emphasis.
Students who have been dropped from a degree program may not use the course repeat process to gain readmission into that degree
program.
A course taken for undergraduate credit may not later be changed to graduate credit. Courses taken for undergraduate credit may not
be taken for graduate credit, although exceptions may be granted by the degree program coordinator when the field of knowledge has
changed to the degree that the course content has changed substantially from the first time the student took the course to the present.
Graduate courses may not be retaken unless indicated otherwise in the Graduate Catalog.
TRANSCRIPTS
Students may request official transcripts of their academic record by presenting proper identification and signing a request form, or by
submitting a written request through the mail. A request form can be accessed at http://www.uww.edu/registrar/academic_record.php.
Students may complete this form, print it, sign it and submit it to the Registrar's address on the form. Telephone requests are not
accepted. Transcripts will not be issued if a student has a hold or outstanding obligation to the University.
There is a $5.00 charge for each official transcript. The transcript is printed on security paper bearing the Registrar's signature and
date. Payment must be received in full before official transcripts will be released. (The fee is subject to change without notice.)
In order to properly identify the transcript requestor, written notification should include current name, name at the time of last
attendance, student ID number, social security number, date of birth, first and last dates of enrollment at UW-Whitewater, and degrees
received. The request must also include the complete address (with zip code) of the location where the transcript should be sent. The
written request must be signed by the student. Address requests to: Transcripts, Registrar's Office, UW-Whitewater, Whitewater, WI
53190.
UNIVERSITY REQUIREMENTS
(General Education)
All undergraduate General Education courses are identified by an indication following the course title. Theses indicators are:
GA - Arts
GE - Ethnic Cultures or Women's Studies
GH - Humanities
GI - Interdisciplinary
GL - Laboratory Natural Sciences
GM - Math and Natural Sciences (non-lab)
GP - Physical Education
GS - Social Sciences
UNIVERSITY REQUIREMENTS (GEN ED)
(32 Units)
A revised undergraduate general education program went into effect for the Fall 1994 Term. The program is required for all new
freshmen who entered UW-Whitewater for the first time in Fall (or Summer) 1994 or after and for students who transferred to UWWhitewater beginning in Fall 1996 or after. Students who transfer with the UW System associate degree (AA/AS) will be considered
to have satisfied the Communication & Calculation and University requirements. Returning students who completed at least 50% (21
or more units) of proficiency and general education under the former general education program may request to complete that
program, if they do so within a period of eight years from their initial enrollment at UW-W.
Approved General Education Requirements for Transfer Students:
Units Transferred
Gen. Ed. Core Course Requirements
0 thru less than 21 units all Gen. Ed. core courses
21 thru less than 40
two core courses (including World of Ideas)
40 or greater
World of Ideas (only)
Accepted AA/AS General Education completed
Note: Each student's previous work will be evaluated and, based on that evaluation, core courses will be selected which give breadth
to the student's education.
DISTRIBUTION REQUIREMENTS:
UNIVERSITY REQUIREMENTS (GEN ED) (32 UNITS)
1. LAB SCIENCE
SELECT 4-5 UNITS OF LAB SCIENCE (GL)
2. QUANTITATIVE AND TECHNICAL REASONING
SELECT 3-6 UNITS OF SCIENCE, MATH OR COMPUTER SCIENCE COURSES DESIGNATED GM
OR GL FROM A DISCIPLINE OTHER THAN THE LAB SCIENCE COURSE (ASTRONOMY,
PHYSICS, CHEMISTRY, BIOLOGY, GEOLOGY, PHYSICAL GEOGRAPHY, MATH, COMPUTER
SCIENCE)
3. CULTURAL HERITAGES (6 UNITS)
A. GENED 110 AND
B. GENED 390
4. COMMUNITIES (6 UNITS)
A. GENED 130 AND
B. GENED 140 OR GENED 120
(EDUCATION STUDENTS SEEKING LICENSURE MUST TAKE GENED 140)
5. PEGNRL 192
6. SELECT 0-1 UNITS FROM COURSES HAVING A GENED PHYS ED SYMBOL (GP)
7. ELECTIVE (7-12 UNITS TO BRING TOTAL TO 32 UNITS) *
A. ADDITIONAL ELECTIVES DESIGNATED GA, GH, GS, GE, OR GI; NO MORE THAN 1 COURSE
FROM ANY ONE ACADEMIC AREA MAY BE COUNTED IN AREA.
*Retroactive foreign language credits may not be used in University Requirements
Diversity
One 3-unit diversity course is required for graduation for undergraduate students entering the UW System for the first time in
September, 1989 or later. Approved courses are identified throughout the course offerings. These courses may also be used to satisfy
requirements in other areas. Students pursuing a second degree are not held to this requirement.
General Education and Diversity Courses
The General Education and Diversity courses that have been approved by the University Curriculum Committee are listed in the
Schedule of Classes. General Education indicators will appear under the appropriate course and title listing. Changes to this list can
occur at any time.