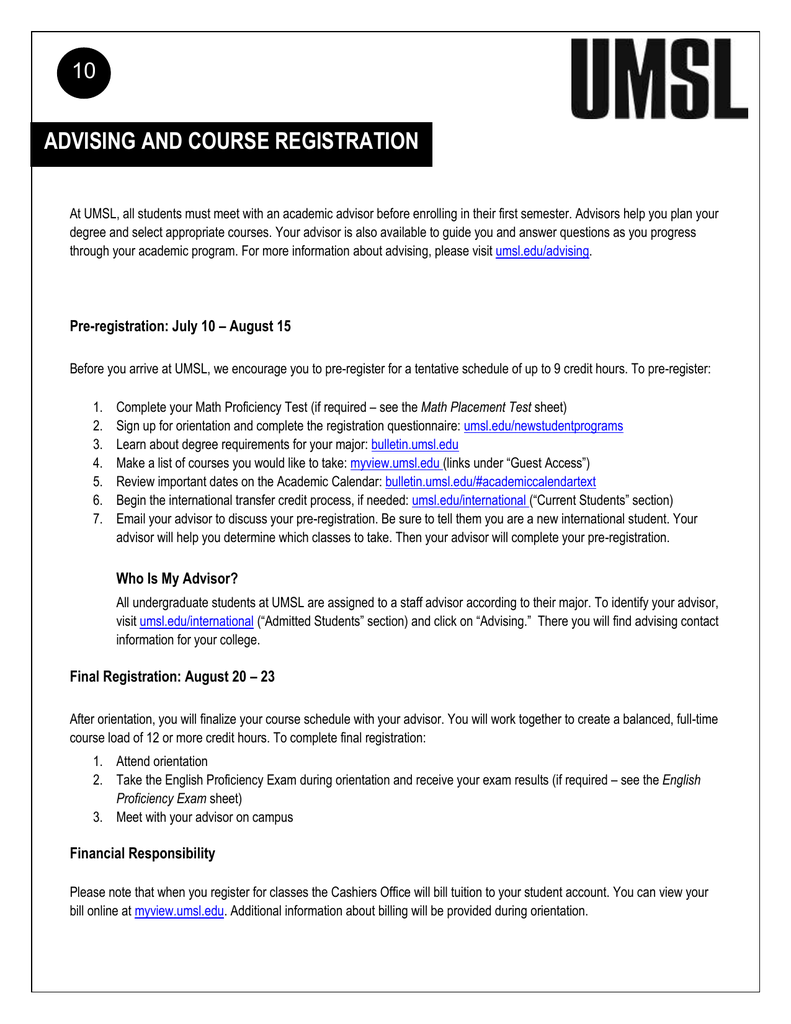 10
-
ADVISING AND COURSE REGISTRATION
At UMSL, all students must meet with an academic advisor before enrolling in their first semester. Advisors help you plan your
degree and select appropriate courses. Your advisor is also available to guide you and answer questions as you progress
through your academic program. For more information about advising, please visit umsl.edu/advising.
Pre-registration: July 10 – August 15
Before you arrive at UMSL, we encourage you to pre-register for a tentative schedule of up to 9 credit hours. To pre-register:
1.
2.
3.
4.
5.
6.
7.
Complete your Math Proficiency Test (if required – see the Math Placement Test sheet)
Sign up for orientation and complete the registration questionnaire: umsl.edu/newstudentprograms
Learn about degree requirements for your major: bulletin.umsl.edu
Make a list of courses you would like to take: myview.umsl.edu (links under "Guest Access")
Review important dates on the Academic Calendar: bulletin.umsl.edu/#academiccalendartext
Begin the international transfer credit process, if needed: umsl.edu/international ("Current Students" section)
Email your advisor to discuss your pre-registration. Be sure to tell them you are a new international student. Your
advisor will help you determine which classes to take. Then your advisor will complete your pre-registration.
Who Is My Advisor?
All undergraduate students at UMSL are assigned to a staff advisor according to their major. To identify your advisor,
visit umsl.edu/international ("Admitted Students" section) and click on "Advising." There you will find advising contact
information for your college.
Final Registration: August 20 – 23
After orientation, you will finalize your course schedule with your advisor. You will work together to create a balanced, full-time
course load of 12 or more credit hours. To complete final registration:
1. Attend orientation
2. Take the English Proficiency Exam during orientation and receive your exam results (if required – see the English
Proficiency Exam sheet)
3. Meet with your advisor on campus
Financial Responsibility
Please note that when you register for classes the Cashiers Office will bill tuition to your student account. You can view your
bill online at myview.umsl.edu. Additional information about billing will be provided during orientation.