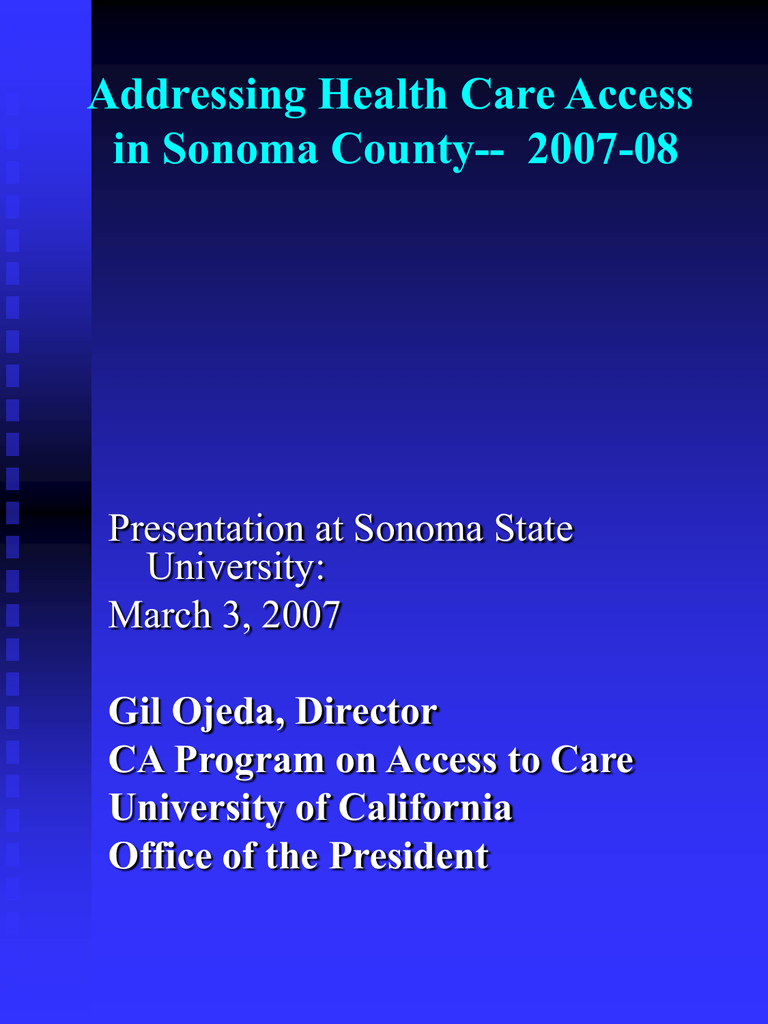 Addressing Health Care Access
in Sonoma County-- 2007-08
Presentation at Sonoma State
University:
March 3, 2007
Gil Ojeda, Director
CA Program on Access to Care
University of California
Office of the President
Point of View

35 years in health care delivery and
research

Past national, state-level and community
advocate

Advisor to the Legislature and the
University; past advisor to community
groups and public HMO's

Analyst in the health sciences, public
policy and the competitive marketplace

Resident of Sonoma County since 1995
Elements of California's
Health Care Marketplace

Regional market issues: "most health care is
local & regional"

Rural & urban imperatives: "most problems &
their solutions are situational"

Public & private sector roles: "there's a fabric
of relationships & conflicts; dialogue is key"

Regulation vs. market competition:
"continuum from the prison to the jungle to
the game preserve"

Delivery of care & the public's health: "driven
by demand, but limited by resources"

Diversity & Age: "California's minorities &
the aged often generate program imperatives"
The Art of Public Solutions

Allocation of public resources :
"driven by public budgets, private
roles, profits & political advantage"

Relative power of constituency
groups: "health plans, providers,
employers & healthcare advocates"

The Governor & the Legislature: "the
Governor is now the leading player
since he has acted"

Natural allies & strategic partners:
"must be guided by common goals,
opportunities, and intentionality"
Federal Support: the Post Nov '06
Change in Posture to ABC:
"Anything but California"

Coming debates on Medicaid & Children's
Health Insurance (S-CHIP): "funding
authorizations, overlapping mandates & a
rush to reduce entitlements"

Changes to Medicare: "proposed rate
reductions, prescription drugs plans, & the
shift to managed care"

Access to care for underserved: "more
community clinic support, higher
likelihood of direct support for uninsured"
The Coming Storm?
California's Leading Edge
Healthcare Issues

Increasing cost of employer based coverage: "increased
premium inflation, economic slowdown, expanded self
& temporary employment"

6.5 million uninsured: "is increasing again; public
solutions being debated"

Ethnicity and income-driven disparities: "California's
diversity & the unemployed as key factors in health
outcomes"

Managed care/HMO's: "Many are doing well by
avoiding risk & competition; in a balancing act for
State collaboration and oversight"

Physicians and hospitals-at-risk: "lower
reimbursements, higher financial risks, system
inefficiencies"

Nursing and specialist shortages: "still out of control,
worsened by recent policies; few short-term, some
long-term solutions"

State budget deficits: "last year & this year, may
compromise efforts to expand coverage to millions of
uninsured"
Health Care Reforms:
County Roles in Expanding
Coverage

Healthy Kids programs implemented
throughout state including in this county

Board appointed task force considering
stand-alone or multi-county options for
managing all Medi-Cal enrollees

Sutter inpatient closure places current
County indigent care arrangements in
jeopardy. Can Memorial Hospital step up?

Continued loss of physicians from county
jeopardizes any efforts to preserve or expand
health care coverage.

State level, "shared pain", effort to bring
local low & middle income uninsured,
including undocumented, under coverage has
chance for passage in 2007-08. Will county's
public and private sectors be ready?

Cooperative dialogue among the various
sectors, including Kaiser Health Plan, offers
best hope for county's successful expansion
under framework of new state reform plan
Considerations as We Go
Forward

What part of the problem are we
trying to fix OR do we think we can
fix it all?

Who are the natural institutional allies
for health care reforms or are
consumers, employers & other health
care advocates ready to go it alone?

What can we do locally in the short
term?

How can we leverage State &
federally mandated changes?