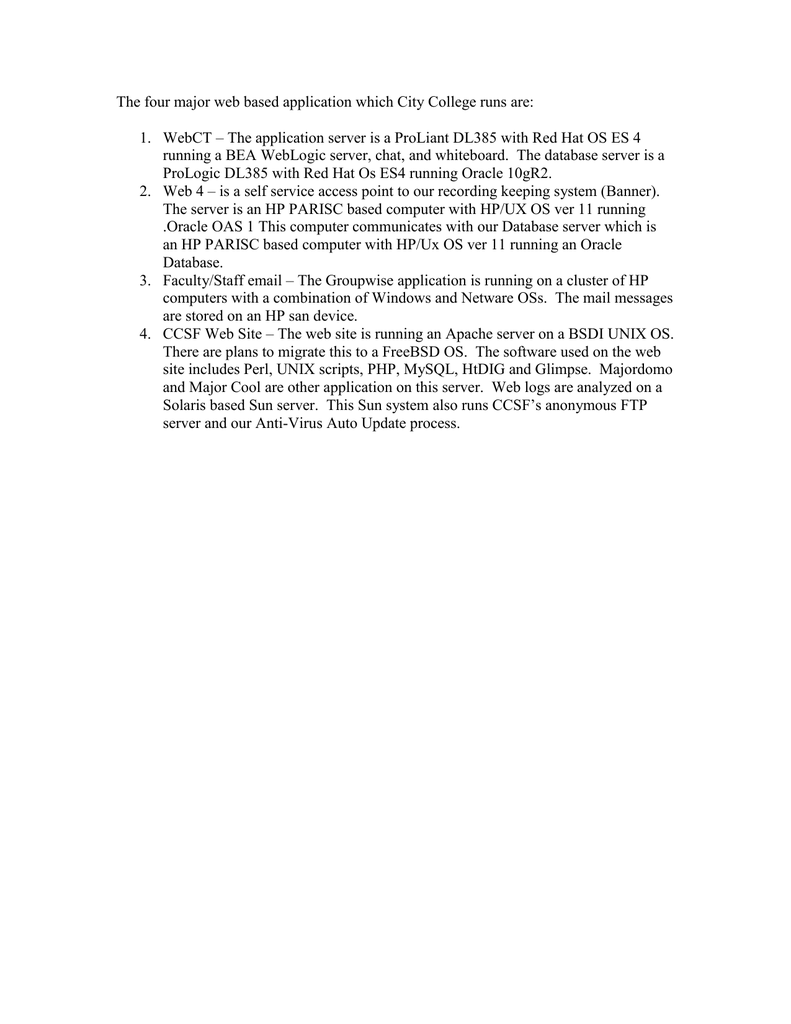 The four major web based application which City College runs are:
1. WebCT – The application server is a ProLiant DL385 with Red Hat OS ES 4
running a BEA WebLogic server, chat, and whiteboard. The database server is a
ProLogic DL385 with Red Hat Os ES4 running Oracle 10gR2.
2. Web 4 – is a self service access point to our recording keeping system (Banner).
The server is an HP PARISC based computer with HP/UX OS ver 11 running
.Oracle OAS 1 This computer communicates with our Database server which is
an HP PARISC based computer with HP/Ux OS ver 11 running an Oracle
Database.
3. Faculty/Staff email – The Groupwise application is running on a cluster of HP
computers with a combination of Windows and Netware OSs. The mail messages
are stored on an HP san device.
4. CCSF Web Site – The web site is running an Apache server on a BSDI UNIX OS.
There are plans to migrate this to a FreeBSD OS. The software used on the web
site includes Perl, UNIX scripts, PHP, MySQL, HtDIG and Glimpse. Majordomo
and Major Cool are other application on this server. Web logs are analyzed on a
Solaris based Sun server. This Sun system also runs CCSF's anonymous FTP
server and our Anti-Virus Auto Update process.