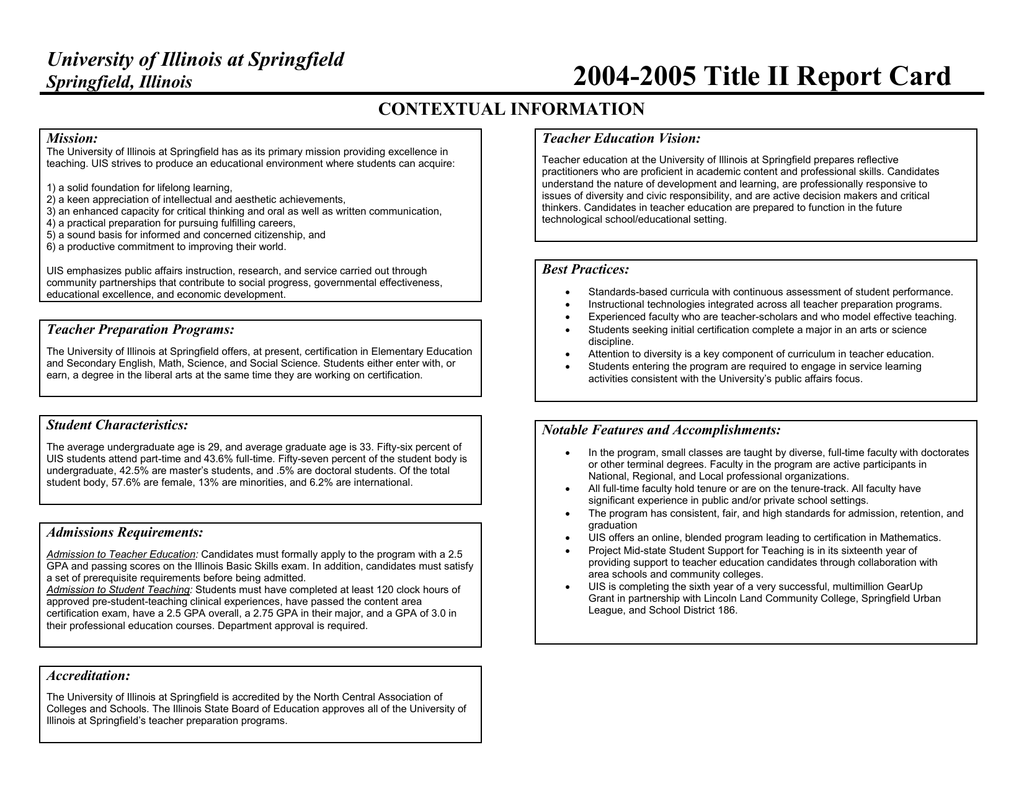 University of Illinois at Springfield
2004-2005 Title II Report Card
Springfield, Illinois
CONTEXTUAL INFORMATION
Mission:
The University of Illinois at Springfield has as its primary mission providing excellence in
teaching. UIS strives to produce an educational environment where students can acquire:
1) a solid foundation for lifelong learning,
2) a keen appreciation of intellectual and aesthetic achievements,
3) an enhanced capacity for critical thinking and oral as well as written communication,
4) a practical preparation for pursuing fulfilling careers,
5) a sound basis for informed and concerned citizenship, and
6) a productive commitment to improving their world.
UIS emphasizes public affairs instruction, research, and service carried out through
community partnerships that contribute to social progress, governmental effectiveness,
educational excellence, and economic development.
Teacher Preparation Programs:
The University of Illinois at Springfield offers, at present, certification in Elementary Education
and Secondary English, Math, Science, and Social Science. Students either enter with, or
earn, a degree in the liberal arts at the same time they are working on certification.
Student Characteristics:
The average undergraduate age is 29, and average graduate age is 33. Fifty-six percent of
UIS students attend part-time and 43.6% full-time. Fifty-seven percent of the student body is
undergraduate, 42.5% are master's students, and .5% are doctoral students. Of the total
student body, 57.6% are female, 13% are minorities, and 6.2% are international.
Teacher Education Vision:
Teacher education at the University of Illinois at Springfield prepares reflective
practitioners who are proficient in academic content and professional skills. Candidates
understand the nature of development and learning, are professionally responsive to
issues of diversity and civic responsibility, and are active decision makers and critical
thinkers. Candidates in teacher education are prepared to function in the future
technological school/educational setting.
Best Practices:






Notable Features and Accomplishments:



Admissions Requirements:
Admission to Teacher Education: Candidates must formally apply to the program with a 2.5
GPA and passing scores on the Illinois Basic Skills exam. In addition, candidates must satisfy
a set of prerequisite requirements before being admitted.
Admission to Student Teaching: Students must have completed at least 120 clock hours of
approved pre-student-teaching clinical experiences, have passed the content area
certification exam, have a 2.5 GPA overall, a 2.75 GPA in their major, and a GPA of 3.0 in
their professional education courses. Department approval is required.
Accreditation:
The University of Illinois at Springfield is accredited by the North Central Association of
Colleges and Schools. The Illinois State Board of Education approves all of the University of
Illinois at Springfield's teacher preparation programs.
Standards-based curricula with continuous assessment of student performance.
Instructional technologies integrated across all teacher preparation programs.
Experienced faculty who are teacher-scholars and who model effective teaching.
Students seeking initial certification complete a major in an arts or science
discipline.
Attention to diversity is a key component of curriculum in teacher education.
Students entering the program are required to engage in service learning
activities consistent with the University's public affairs focus.



In the program, small classes are taught by diverse, full-time faculty with doctorates
or other terminal degrees. Faculty in the program are active participants in
National, Regional, and Local professional organizations.
All full-time faculty hold tenure or are on the tenure-track. All faculty have
significant experience in public and/or private school settings.
The program has consistent, fair, and high standards for admission, retention, and
graduation
UIS offers an online, blended program leading to certification in Mathematics.
Project Mid-state Student Support for Teaching is in its sixteenth year of
providing support to teacher education candidates through collaboration with
area schools and community colleges.
UIS is completing the sixth year of a very successful, multimillion GearUp
Grant in partnership with Lincoln Land Community College, Springfield Urban
League, and School District 186.
Program Information for University of Illinois at Springfield
2004-2005
S.1 Total number of students admitted into
teacher preparation, all specializations, in
academic year 2004-2005
S.2 Number of candidates in supervised student
teaching in academic year 2004-2005
S.3 Number of faculty members who
supervised student teachers:
 S.3A Full-time faculty in professional
education
 S.3B Part-time faculty in professional
education but full-time in the institution
 S.3C Part-time faculty in professional
education, not otherwise employed by the
institution
S.4 Total faculty student teaching supervisors
S.5 Student teacher/faculty ratio (Divide total
given in S.2 by the number given in S.4)
S.6A The average number of student teaching
hours per week
S.6B The total number of weeks of supervised
student teaching required
S.7 Average total number of hours required
330
49
2
10
12
4/1
40
13
520
Illinois Certification Testing System
Annual Institution Report
Program Year: 2004-2005
Process date:
Institution:
Number of Program Completers:
02-22-06 11:44:24
043 - University of Illinois at Springfield
69
Institution
Test Field/Category
Basic Skills
Basic Skills Test
Aggregate
Professional Knowledge/Pedagogy
102 APT: Grades K-9
103 APT: Grades 6-12
104 APT: Grades K-12
Aggregate
Academic Content Areas
003 Elementary/Middle Grades (K-9)
023 History
024 Social Science
025 English
035 Biological Science
105 Science: Biology
110 Elementary/Middle Grades
115 Mathematics
117 Social Science: Political Science
Aggregate
Summary Totals and Pass Rate
Number
Tested
Number
Passed
Statewide
Pass
Rate
Pass
Rate
68
68
68
68
100%
100%
100%
100%
56
11
2
69
56
11
-69
100%
100%
-100%
99%
99%
98%
99%
39
1
2
2
3
1
19
1
1
69
39
-----19
--69
100%
-----100%
--100%
100%
100%
100%
100%
100%
99%
100%
94%
100%
100%
69
69
100%
99%
"--" indicates "Number Passed" and "Pass Rate" not shown because "Number Tested" is less than 10.