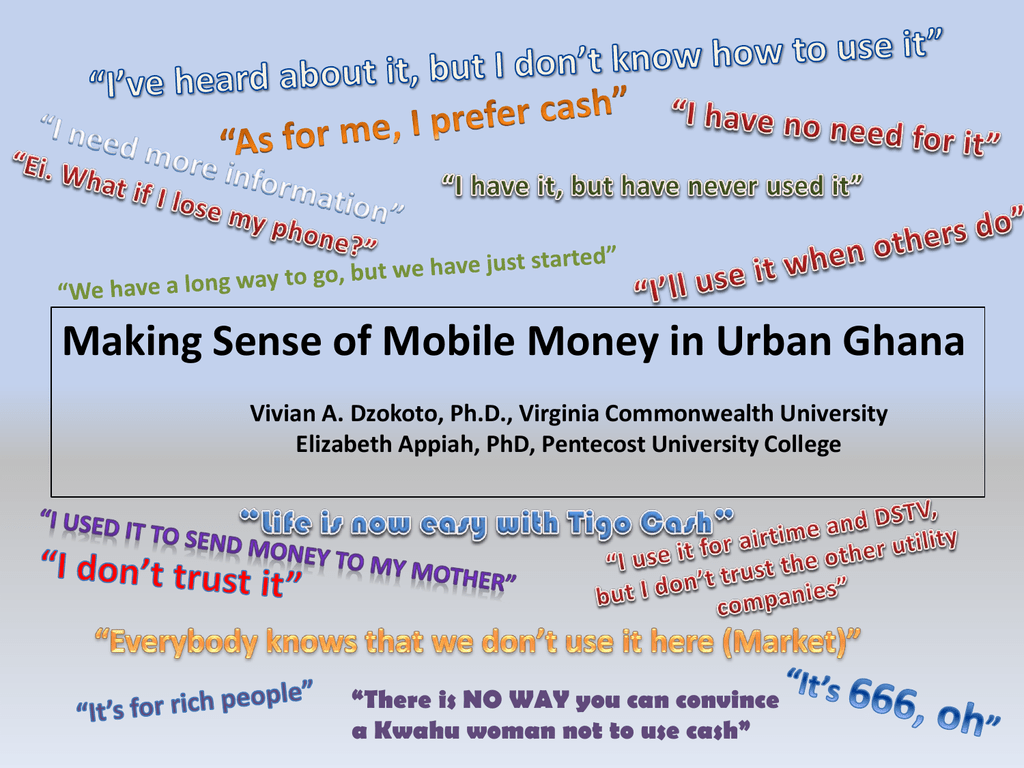 Making Sense of Mobile Money in Urban Ghana
Vivian A. Dzokoto, Ph.D., Virginia Commonwealth University
Elizabeth Appiah, PhD, Pentecost University College
"There is NO WAY you can convince
a Kwahu woman not to use cash"
The Issue
Low rate of Mobile Money uptake in Ghana
compared to other markets, e.g. Kenya
Research Goals
Exploration of
Personal
Business
 Social and
Financial Inclusion
Prospects of Mobile Money in Ghana
The Study
 1250 people polled on MM use, 10 in-depth
interviews of users
 9 industry Interviews
 500 college students: exploring preferences for
cashlessness via Spending Diaries, Pair-wise
comparisons, and Loss-Gain hypothetical
scenarios.
 40 Merchants and 20 Market women interviews
 80 Low and Middle income interviews
MM POLL
Sample Size: 1250
Location: Accra
# of Sites: 20
# per site: 50 +
Poll Questions Asked
Have you ever used MM?
Age
Sex
Company used
MM used for _______
15% of
sample had
used MM
"I now send Mobile Money to all my business partners easily and they receive
all the cash"
MM USERS
MM was used to:
Ghanaian users trust mobile money, but non-users do not
(CGAP, 2012)
Types of Companies Used
Gender Distribution
Across networks, receiving money was #1
SEX (USERS AND NON-USERS)
Total Sample,
Gender Distribution
MM NonUsers gender
distribution
MM Users
gender
distribution
"There is NO WAY you can convince a Kwahu woman not to use cash"
AGE DISTRIBUTION OF MM USERS
"As for me, I am old. I like my cash and dealing with what I
know. Maybe the young people will use it"
Early Adopters?
•
•
•
•
10 in-depth interviews
Not more tech savvy
No obvious lifestyle indicators
First time MM use driven by situation in each
case
• "I needed to send money to … urgently, and …
advised me to use MM"
Jul-12
Jun-12
May-12
Apr-12
Mar-12
Feb-12
Jan-12
Dec-11
Nov-11
Oct-11
Sep-11
Aug-11
Jul-11
Jun-11
May-11
Apr-11
Mar-11
Feb-11
Jan-11
Dec-10
Nov-10
Oct-10
Sep-10
Aug-10
Jul-10
Jun-10
May-10
Apr-10
Mar-10
Log of transaction frequencies
Industry Data:
Mobile Money Transaction Volume
6
5
4
Total Source A
3
Total Source B
Total Source C
2
Total Source D
Total Source E
1
0
Industry Interviews







Limited Utility
Agent Issues
Information Gap
Bank Partnerships and Other Regulatory Issues
Financial Inclusion?
Competition between MM companies
Potential For Growth
Limited Utility of MM
 Airfare, DSTV, Electricity, Money Transfer, Top up,
Insurance, 2nd cycle institutions, investment banks
 Shops have not started using it yet, but accept ezwich, a
biometric smartcard
 Connection to ATMS not started yet
 MM company employees were forced to use it due to low
patronage
 Stonewalling of innovation: MM driven online shopping
business initiative not patronized, other business ideas not
bought into.
 Church and funeral donations? Not likely!!!!
 "We will have to build an entire MM payment ecosystem"
Agents
 Initial MM settlement period was 7 days,
preference for cash
 Agent profit margin too low: "more profitable
to sell bagged water"
 Agents not available (e.g. Apam, Northern
Ghana)
 Agents absent when needed
 "Nobody is driving the agent relationship"
Information Gap
 "On 2 separate occasions, a regional director sent the
BNI to go and arrest (people from) a company that
allowed people to pay their electricity bills with MM"
 Low public awareness despite advertisement overload
 "people just think of it (slogan from MM ad) as a new
term"

More strategic marketing/selective segmentation
needed
 Illiteracy is a barrier
Bank Partnerships & MM Regulation
 Regulatory body "not on our side"
 Regulatory body "10 years behind the curve"
 Varied level of investment from bank partners
(from holding float to active marketing and
product creation)
 Mandated bank partnerships slowing progress
 "Level of partnership needs to be redefined"
 "They (banks) think we telcos are not giving them
recognition"
Financial Inclusion?
 "MM is providing more channels for the
banked (multi-banked), the unbanked are not
using it"
 "MM would provide a great platform for
online shopping"
 Great potential in Northern Ghana which has
fewer banks
Competition Between Companies
 Employee poaching
 Turnover and re-organization of MM
departments
 Alleged sabotaging
 "you have all these things sitting in silos trying
to do different things with a common
objective because there is no national agenda,
so it is all over the place"
Potential For Growth
 "we will get there"
 "the building blocks are there"
 "It will work. I believe strongly that it will
work"
 Potential Microfinance focus
 Need to build trust
 "We have plans in place"
If we build it they will come
vs.
If they need it they will use it
Time Will Tell…..?
13% of Tigo subscribers doing 5-6
transactions a month.