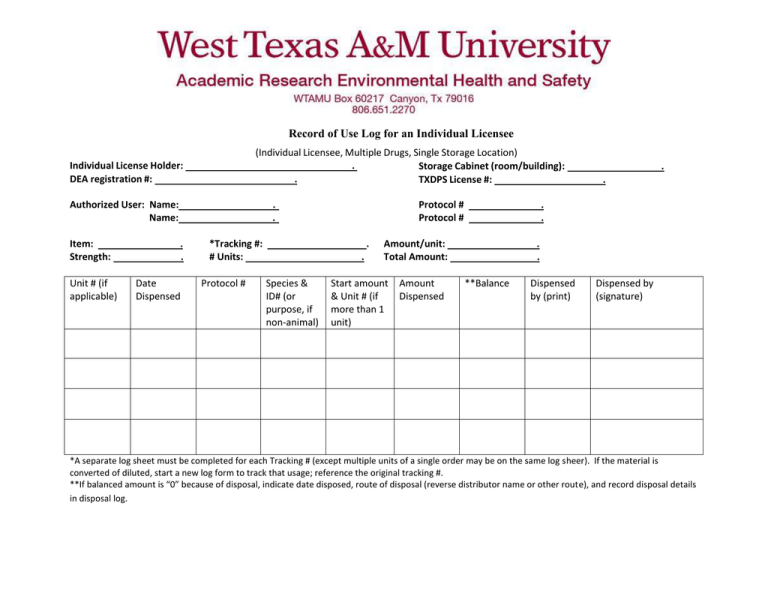 Record of Use Log for an Individual Licensee
(Individual Licensee, Multiple Drugs, Single Storage Location)
.
Storage Cabinet (room/building):
.
TXDPS License #:
Individual License Holder:
DEA registration #:
Authorized User: Name:
Name:
Item:
Strength:
Unit # (if
applicable)
.
.
.
.
Date
Dispensed
*Tracking #:
# Units:
Protocol #
Protocol #
Protocol #
.
.
Species &
ID# (or
purpose, if
non-animal)
Amount
Dispensed
.
.
.
Amount/unit:
Total Amount:
Start amount
& Unit # (if
more than 1
unit)
.
.
.
**Balance
Dispensed
by (print)
Dispensed by
(signature)
*A separate log sheet must be completed for each Tracking # (except multiple units of a single order may be on the same log sheer). If the material is
converted of diluted, start a new log form to track that usage; reference the original tracking #.
**If balanced amount is "0" because of disposal, indicate date disposed, route of disposal (reverse distributor name or other route), and record disposal details
in disposal log.