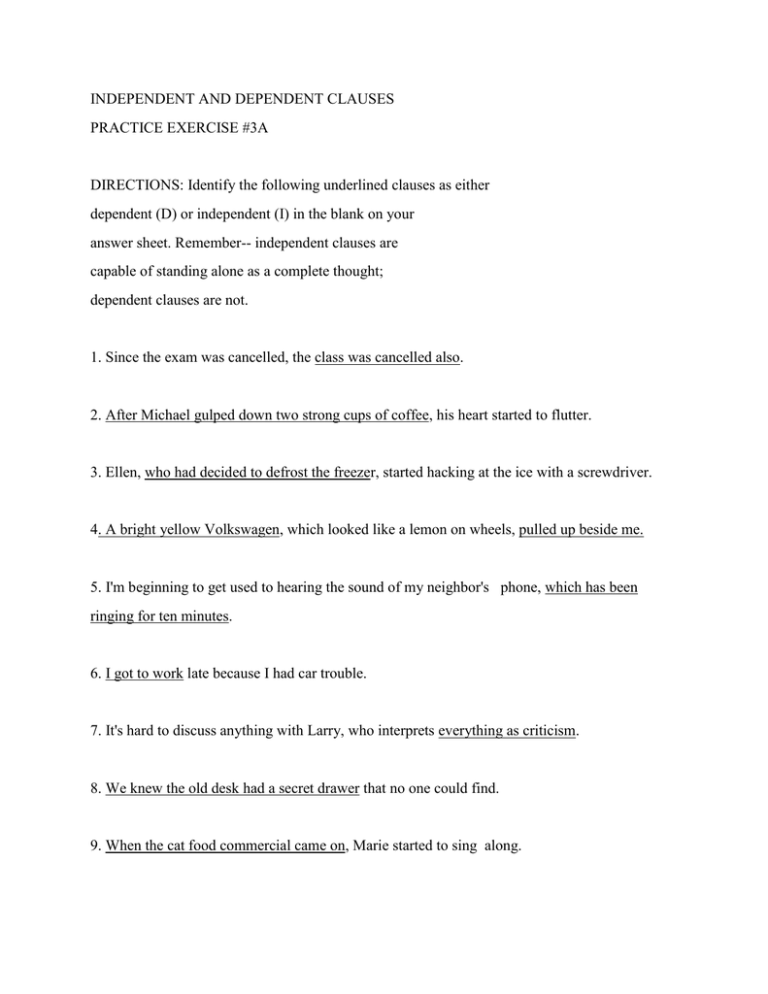 INDEPENDENT AND DEPENDENT CLAUSES
PRACTICE EXERCISE #3A
DIRECTIONS: Identify the following underlined clauses as either
dependent (D) or independent (I) in the blank on your
answer sheet. Remember-- independent clauses are
capable of standing alone as a complete thought;
dependent clauses are not.
1. Since the exam was cancelled, the class was cancelled also.
2. After Michael gulped down two strong cups of coffee, his heart started to flutter.
3. Ellen, who had decided to defrost the freezer, started hacking at the ice with a screwdriver.
4. A bright yellow Volkswagen, which looked like a lemon on wheels, pulled up beside me.
5. I'm beginning to get used to hearing the sound of my neighbor's phone, which has been
ringing for ten minutes.
6. I got to work late because I had car trouble.
7. It's hard to discuss anything with Larry, who interprets everything as criticism.
8. We knew the old desk had a secret drawer that no one could find.
9. When the cat food commercial came on, Marie started to sing along.
10. We haven't watered the lawn too often this summer because it has rained so much.