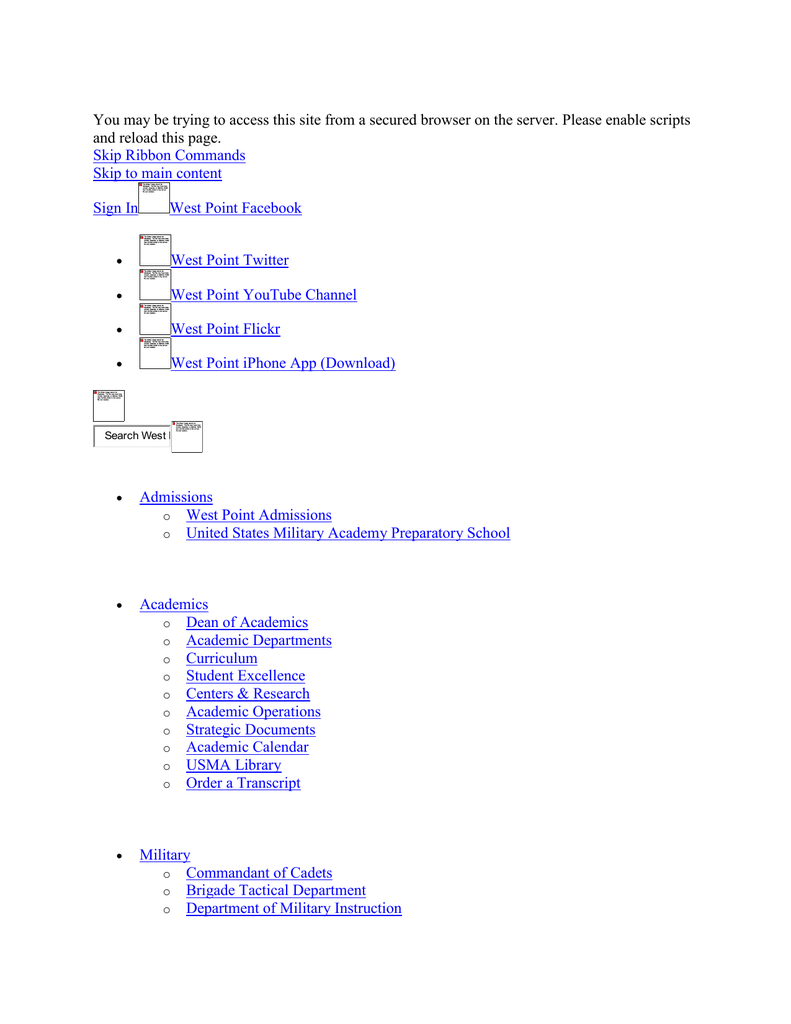 You may be trying to access this site from a secured browser on the server. Please enable scripts
and reload this page.
Skip Ribbon Commands
Skip to main content
Sign In
West Point Facebook

West Point Twitter

West Point YouTube Channel

West Point Flickr

West Point iPhone App (Download)
Search West P

Admissions
o West Point Admissions
o United States Military Academy Preparatory School

Academics
o Dean of Academics
o Academic Departments
o Curriculum
o Student Excellence
o Centers & Research
o Academic Operations
o Strategic Documents
o Academic Calendar
o USMA Library
o Order a Transcript

Military
o Commandant of Cadets
o Brigade Tactical Department
o Department of Military Instruction
o
o
o

Department of Physical Education
Simon Center for the Professional Military Ethic
The Center for the Army Profession and Ethic
Athletics
o NCAA
o Competitive Club Sports
o Company Athletics
o
Superintendent
o
Command Sergeant Major

Community
o Visiting West Point
o West Point Garrison
o Keller Army Community Hospital
o West Point Band
o AAFES
o Commissary
o Employment & Personnel Advisory


News
About Us
o Superintendent
o Command Sergeant Major
o West Point Staff
o Chaplain
o Corps of Cadets
o Directorate of Cadet Activities
o Alumni
o History
o Parents
o Trademark
o West Point Cemetery
o USMA Student Consumer Information

Recently Modified
o Home
o VirtualTour
o 2013 Truman Scholars
o 2013 Recyclemania
o 2013 Black History Month Observation
West Point
404
We're sorry...
The West Point website has recently undergone a significant upgrade. If you've reached this
page, the site you're looking for may either no longer exist, or has been renamed. You can try to
find the page through the navigation menu above, or by contacting the webmaster for assistance.
You may also return to the West Point home page by clicking here.
If you are looking for Garrison or Tenant Activities, click here.
If you reached this message through a bookmarked link, please remember to replace it with the
new web address once you've located the page you're looking for.
We apologize for any inconvenience.
Links Disclaimer - The appearance of hyperlinks to external sites does not constitute endorsement by West
the U.S. Army of the linked web site or the information, products or services contained therein. For other than
ed activities such as military exchanges and Morale, Welfare and Recreation sites, West Point and the U.S. Army
xercise any editorial control over the information you may find at these locations. Such links are provided
nt with the stated purpose of this Department of Army web site.
stions or comments regarding the technical aspects of the Web site should be sent to the web master. If you are
a broken link, please help us by identifying the page or Web site where you found the link or web address.
ick here to send an email to the West Point web team.