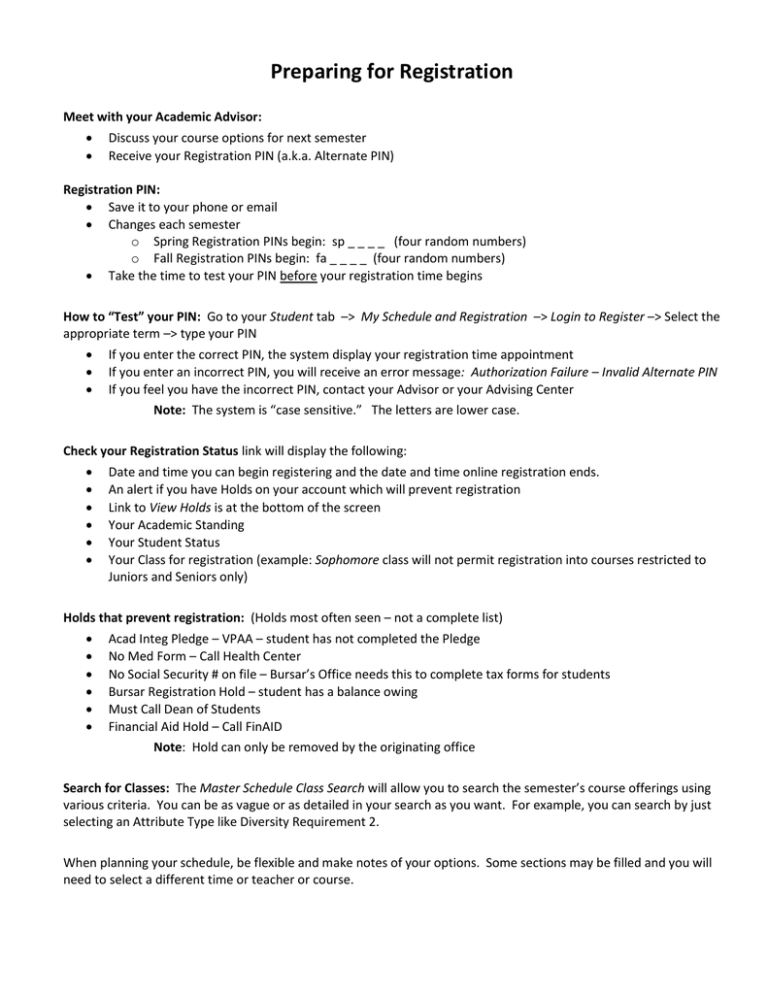 Preparing for Registration
Meet with your Academic Advisor:


Discuss your course options for next semester
Receive your Registration PIN (a.k.a. Alternate PIN)
Registration PIN:
 Save it to your phone or email
 Changes each semester
o Spring Registration PINs begin: sp _ _ _ _ (four random numbers)
o Fall Registration PINs begin: fa _ _ _ _ (four random numbers)
 Take the time to test your PIN before your registration time begins
How to "Test" your PIN: Go to your Student tab –> My Schedule and Registration –> Login to Register –> Select the
appropriate term –> type your PIN



If you enter the correct PIN, the system display your registration time appointment
If you enter an incorrect PIN, you will receive an error message: Authorization Failure – Invalid Alternate PIN
If you feel you have the incorrect PIN, contact your Advisor or your Advising Center
Note: The system is "case sensitive." The letters are lower case.
Check your Registration Status link will display the following:






Date and time you can begin registering and the date and time online registration ends.
An alert if you have Holds on your account which will prevent registration
Link to View Holds is at the bottom of the screen
Your Academic Standing
Your Student Status
Your Class for registration (example: Sophomore class will not permit registration into courses restricted to
Juniors and Seniors only)
Holds that prevent registration: (Holds most often seen – not a complete list)






Acad Integ Pledge – VPAA – student has not completed the Pledge
No Med Form – Call Health Center
No Social Security # on file – Bursar's Office needs this to complete tax forms for students
Bursar Registration Hold – student has a balance owing
Must Call Dean of Students
Financial Aid Hold – Call FinAID
Note: Hold can only be removed by the originating office
Search for Classes: The Master Schedule Class Search will allow you to search the semester's course offerings using
various criteria. You can be as vague or as detailed in your search as you want. For example, you can search by just
selecting an Attribute Type like Diversity Requirement 2.
When planning your schedule, be flexible and make notes of your options. Some sections may be filled and you will
need to select a different time or teacher or course.