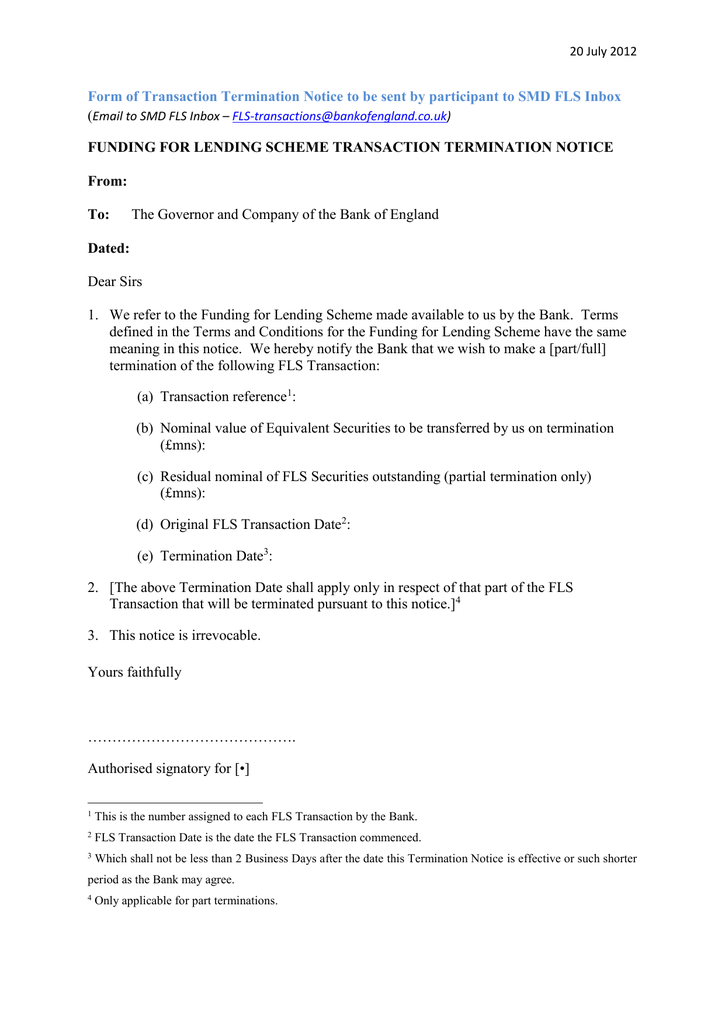 20 July 2012
Form of Transaction Termination Notice to be sent by participant to SMD FLS Inbox
(Email to SMD FLS Inbox – [email protected])
FUNDING FOR LENDING SCHEME TRANSACTION TERMINATION NOTICE
From:
To:
The Governor and Company of the Bank of England
Dated:
Dear Sirs
1. We refer to the Funding for Lending Scheme made available to us by the Bank. Terms
defined in the Terms and Conditions for the Funding for Lending Scheme have the same
meaning in this notice. We hereby notify the Bank that we wish to make a [part/full]
termination of the following FLS Transaction:
(a) Transaction reference1:
(b) Nominal value of Equivalent Securities to be transferred by us on termination
(£mns):
(c) Residual nominal of FLS Securities outstanding (partial termination only)
(£mns):
(d) Original FLS Transaction Date2:
(e) Termination Date3:
2. [The above Termination Date shall apply only in respect of that part of the FLS
Transaction that will be terminated pursuant to this notice.]4
3. This notice is irrevocable.
Yours faithfully
…………………………………….
Authorised signatory for [•]
1
This is the number assigned to each FLS Transaction by the Bank.
2
FLS Transaction Date is the date the FLS Transaction commenced.
3
Which shall not be less than 2 Business Days after the date this Termination Notice is effective or such shorter
period as the Bank may agree.
4
Only applicable for part terminations.