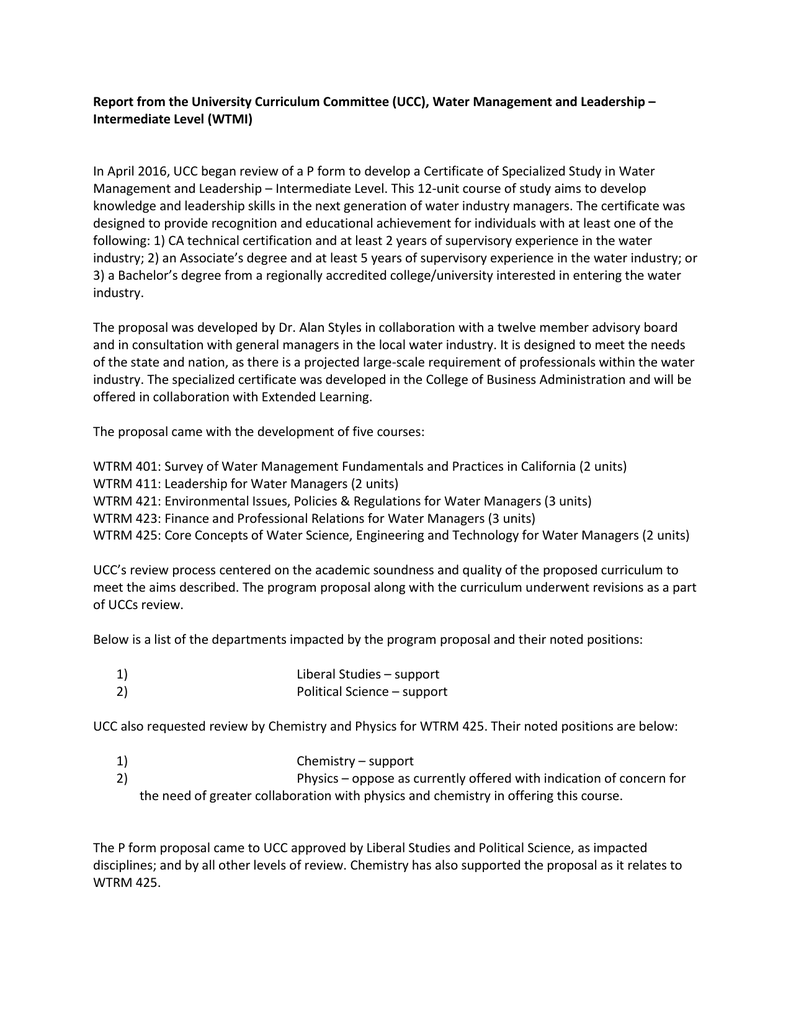 Report from the University Curriculum Committee (UCC), Water Management and Leadership –
Intermediate Level (WTMI)
In April 2016, UCC began review of a P form to develop a Certificate of Specialized Study in Water
Management and Leadership – Intermediate Level. This 12-unit course of study aims to develop
knowledge and leadership skills in the next generation of water industry managers. The certificate was
designed to provide recognition and educational achievement for individuals with at least one of the
following: 1) CA technical certification and at least 2 years of supervisory experience in the water
industry; 2) an Associate's degree and at least 5 years of supervisory experience in the water industry; or
3) a Bachelor's degree from a regionally accredited college/university interested in entering the water
industry.
The proposal was developed by Dr. Alan Styles in collaboration with a twelve member advisory board
and in consultation with general managers in the local water industry. It is designed to meet the needs
of the state and nation, as there is a projected large-scale requirement of professionals within the water
industry. The specialized certificate was developed in the College of Business Administration and will be
offered in collaboration with Extended Learning.
The proposal came with the development of five courses:
WTRM 401: Survey of Water Management Fundamentals and Practices in California (2 units)
WTRM 411: Leadership for Water Managers (2 units)
WTRM 421: Environmental Issues, Policies & Regulations for Water Managers (3 units)
WTRM 423: Finance and Professional Relations for Water Managers (3 units)
WTRM 425: Core Concepts of Water Science, Engineering and Technology for Water Managers (2 units)
UCC's review process centered on the academic soundness and quality of the proposed curriculum to
meet the aims described. The program proposal along with the curriculum underwent revisions as a part
of UCCs review.
Below is a list of the departments impacted by the program proposal and their noted positions:
1)
2)
Liberal Studies – support
Political Science – support
UCC also requested review by Chemistry and Physics for WTRM 425. Their noted positions are below:
1)
2)
Chemistry – support
Physics – oppose as currently offered with indication of concern for
the need of greater collaboration with physics and chemistry in offering this course.
The P form proposal came to UCC approved by Liberal Studies and Political Science, as impacted
disciplines; and by all other levels of review. Chemistry has also supported the proposal as it relates to
WTRM 425.
UCC carefully considered the proposal in light of the stated objective, including the noted concerns of
Physics over WTRM 425, and voted to recommend the WTMI P form and all associated WTRM C forms
for Senate approval.