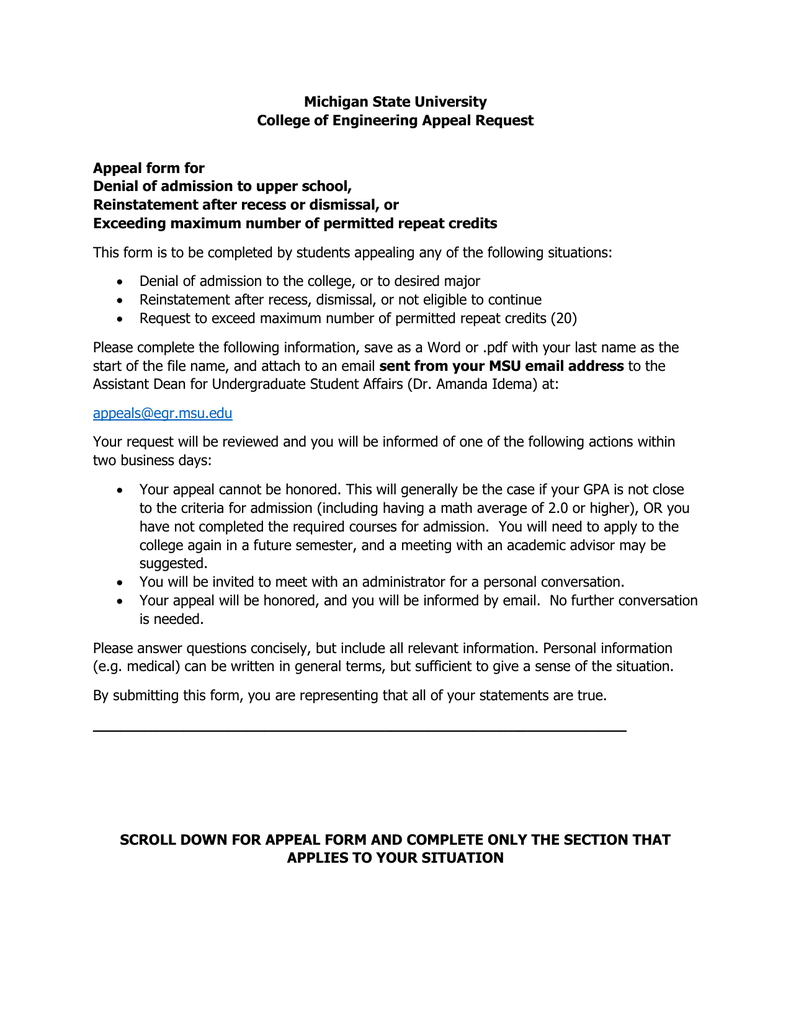 Michigan State University
College of Engineering Appeal Request
Appeal form for
Denial of admission to upper school,
Reinstatement after recess or dismissal, or
Exceeding maximum number of permitted repeat credits
This form is to be completed by students appealing any of the following situations:



Denial of admission to the college, or to desired major
Reinstatement after recess, dismissal, or not eligible to continue
Request to exceed maximum number of permitted repeat credits (20)
Please complete the following information, save as a Word or .pdf with your last name as the
start of the file name, and attach to an email sent from your MSU email address to the
Assistant Dean for Undergraduate Student Affairs (Dr. Amanda Idema) at:
[email protected]
Your request will be reviewed and you will be informed of one of the following actions within
two business days:



Your appeal cannot be honored. This will generally be the case if your GPA is not close
to the criteria for admission (including having a math average of 2.0 or higher), OR you
have not completed the required courses for admission. You will need to apply to the
college again in a future semester, and a meeting with an academic advisor may be
suggested.
You will be invited to meet with an administrator for a personal conversation.
Your appeal will be honored, and you will be informed by email. No further conversation
is needed.
Please answer questions concisely, but include all relevant information. Personal information
(e.g. medical) can be written in general terms, but sufficient to give a sense of the situation.
By submitting this form, you are representing that all of your statements are true.
___________________________________________________________
SCROLL DOWN FOR APPEAL FORM AND COMPLETE ONLY THE SECTION THAT
APPLIES TO YOUR SITUATION
Student name:
PID:
Current major:
Intended major (if different):
Today's Date:
IF YOU ARE APPEALING DENIAL OF ADMISSION, PLEASE COMPLETE THE
FOLLOWING
1. Are your grades over your last two semesters, including those in technical courses, generally
above the required minimum GPA, even if your overall GPA is not? If so, please explain what
occurred to impact your early performance, and what you did to improve your performance.
2. Are there courses in your academic record that are no longer relevant to your intended major
which, if not included in your GPA, would cause you to meet the admission criteria? (e.g., you
started to pursue a different engineering major, and those courses showed you that you were
certainly in the wrong major). If so, please explain.
3. If neither of the above apply, or if you have additional information to provide, please
summarize below. Your desire to pursue engineering with no other extenuating factors is not a
basis for appeal; it is presumed that all engineering students so desire.
IF YOU ARE APPEALING RECESS, DISMISSAL, OR NOT ELIGIBLE TO CONTINUE, OR
PETITIONING FOR PERMISSION TO EXCEED THE REPEAT CREDIT LIMIT, PLEASE
COMPLETE THE FOLLOWING
Your academic performance is below that expected of students at the university and in the
College of Engineering. Continuing in the program can tax the student resources (time and
money) with an uncertain return, and underperforming students in a class can lead to adverse
impacts on the class as a whole.
1. Summarize your self-analysis of why your performance was significantly below that of other
students in your class and major (e.g., health, finances, other commitments, etc.).
2. Summarize the steps you have already taken to mitigate the circumstances in #1 above.
3. Summarize the additional steps you plan to take in the coming semester, if your
appeal/petition is granted.