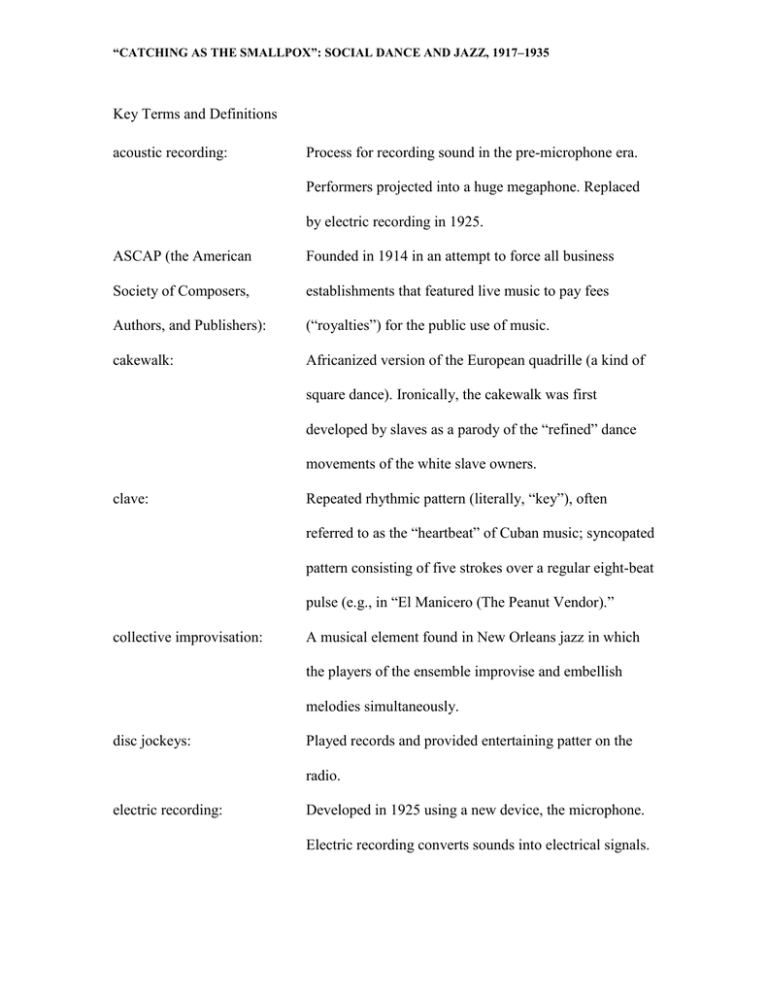 "CATCHING AS THE SMALLPOX": SOCIAL DANCE AND JAZZ, 1917–1935
Key Terms and Definitions
acoustic recording:
Process for recording sound in the pre-microphone era.
Performers projected into a huge megaphone. Replaced
by electric recording in 1925.
ASCAP (the American
Founded in 1914 in an attempt to force all business
Society of Composers,
establishments that featured live music to pay fees
Authors, and Publishers):
("royalties") for the public use of music.
cakewalk:
Africanized version of the European quadrille (a kind of
square dance). Ironically, the cakewalk was first
developed by slaves as a parody of the "refined" dance
movements of the white slave owners.
clave:
Repeated rhythmic pattern (literally, "key"), often
referred to as the "heartbeat" of Cuban music; syncopated
pattern consisting of five strokes over a regular eight-beat
pulse (e.g., in "El Manicero (The Peanut Vendor)."
collective improvisation:
A musical element found in New Orleans jazz in which
the players of the ensemble improvise and embellish
melodies simultaneously.
disc jockeys:
Played records and provided entertaining patter on the
radio.
electric recording:
Developed in 1925 using a new device, the microphone.
Electric recording converts sounds into electrical signals.
"CATCHING AS THE SMALLPOX": SOCIAL DANCE AND JAZZ, 1917–1935
front line:
The wind instruments (cornet, clarinet, and trombone)
that play and embellish the melody in New Orleans jazz
bands.
licensing and copyright
Organizations set up to control the flow of profits from
agencies:
the sale and broadcast of popular music.
polyphonic:
Musical texture with interlocking melodies and rhythms.
sound film:
Introduced in 1927. Became an important means for the
dissemination of popular music.
tango:
Style of dance that developed during the late nineteenth
century in Buenos Aires, Argentina. The tango blended
European ballroom dance music, the Cuban habanera,
Italian light opera, and the ballads of the Argentine
gauchos (cowboys).
turkey trot:
A popular dance of the early twentieth century.
Considered scandalous because of the close contact
between the dancers.