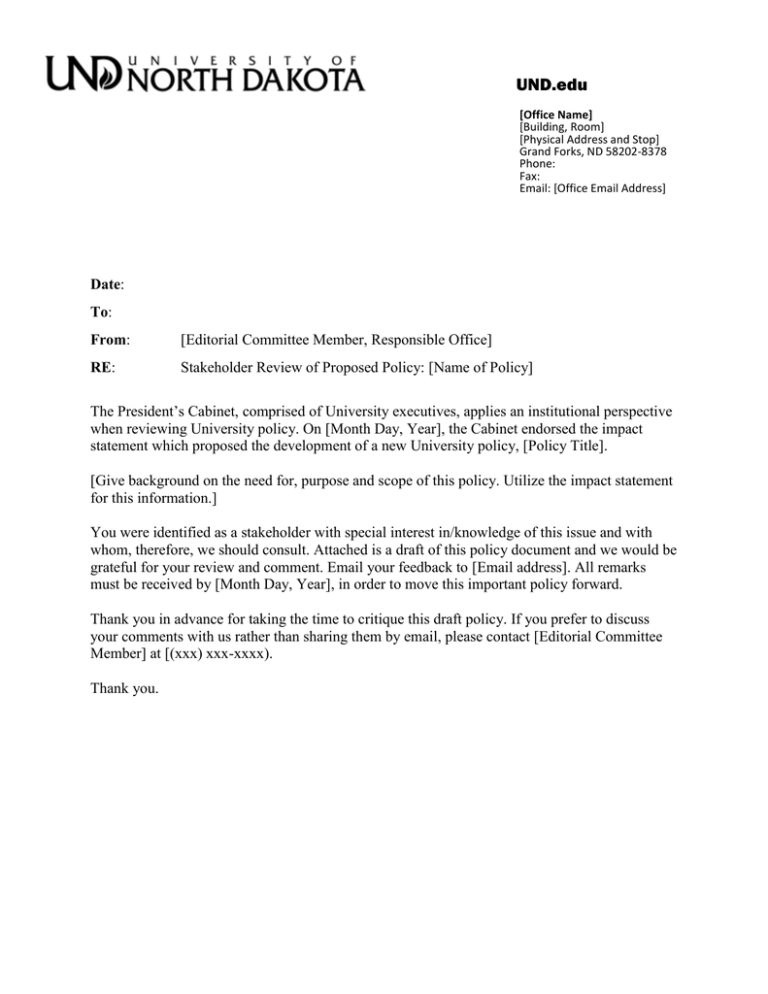 UND.edu
[Office Name]
[Building, Room]
[Physical Address and Stop]
Grand Forks, ND 58202-8378
Phone:
Fax:
Email: [Office Email Address]
Date:
To:
From:
[Editorial Committee Member, Responsible Office]
RE:
Stakeholder Review of Proposed Policy: [Name of Policy]
The President's Cabinet, comprised of University executives, applies an institutional perspective
when reviewing University policy. On [Month Day, Year], the Cabinet endorsed the impact
statement which proposed the development of a new University policy, [Policy Title].
[Give background on the need for, purpose and scope of this policy. Utilize the impact statement
for this information.]
You were identified as a stakeholder with special interest in/knowledge of this issue and with
whom, therefore, we should consult. Attached is a draft of this policy document and we would be
grateful for your review and comment. Email your feedback to [Email address]. All remarks
must be received by [Month Day, Year], in order to move this important policy forward.
Thank you in advance for taking the time to critique this draft policy. If you prefer to discuss
your comments with us rather than sharing them by email, please contact [Editorial Committee
Member] at [(xxx) xxx-xxxx).
Thank you.