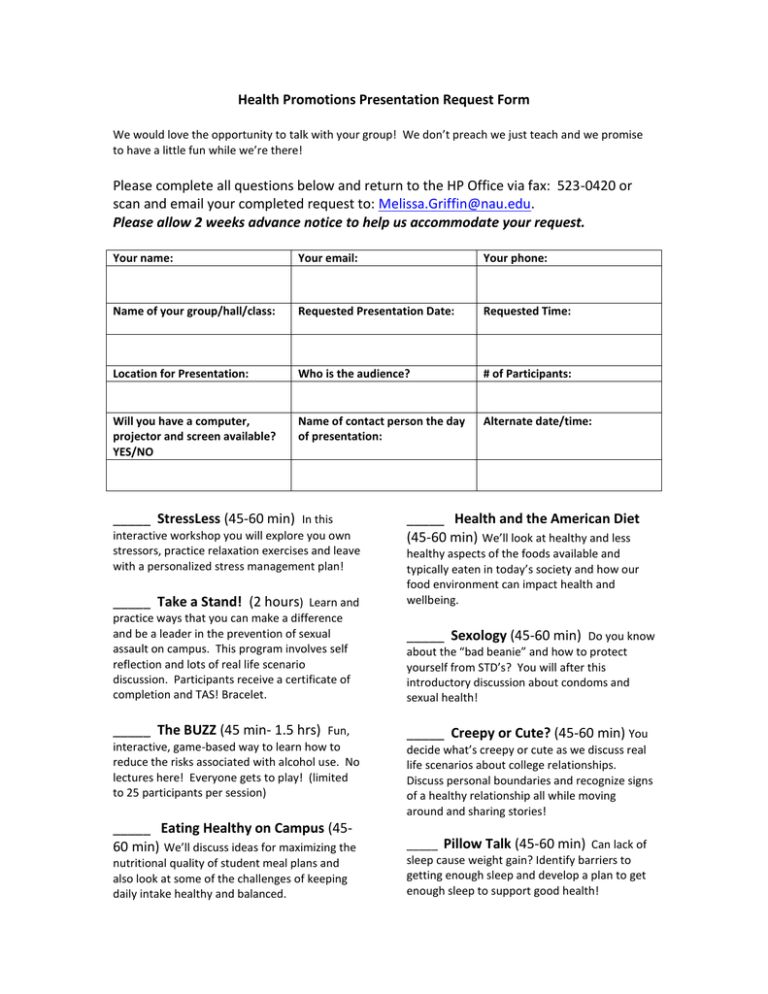 Health Promotions Presentation Request Form
We would love the opportunity to talk with your group! We don't preach we just teach and we promise
to have a little fun while we're there!
Please complete all questions below and return to the HP Office via fax: 523-0420 or
scan and email your completed request to: Melissa.Griffin@nau.edu.
Please allow 2 weeks advance notice to help us accommodate your request.
Your name:
Your email:
Your phone:
Name of your group/hall/class:
Requested Presentation Date:
Requested Time:
Location for Presentation:
Who is the audience?
# of Participants:
Will you have a computer,
projector and screen available?
YES/NO
Name of contact person the day
of presentation:
Alternate date/time:
_____ StressLess (45-60 min) In this
interactive workshop you will explore you own
stressors, practice relaxation exercises and leave
with a personalized stress management plan!
_____ Take a Stand! (2 hours) Learn and
practice ways that you can make a difference
and be a leader in the prevention of sexual
assault on campus. This program involves self
reflection and lots of real life scenario
discussion. Participants receive a certificate of
completion and TAS! Bracelet.
_____ The BUZZ (45 min- 1.5 hrs) Fun,
interactive, game-based way to learn how to
reduce the risks associated with alcohol use. No
lectures here! Everyone gets to play! (limited
to 25 participants per session)
_____ Eating Healthy on Campus (4560 min) We'll discuss ideas for maximizing the
nutritional quality of student meal plans and
also look at some of the challenges of keeping
daily intake healthy and balanced.
_____ Health and the American Diet
(45-60 min) We'll look at healthy and less
healthy aspects of the foods available and
typically eaten in today's society and how our
food environment can impact health and
wellbeing.
_____ Sexology (45-60 min) Do you know
about the "bad beanie" and how to protect
yourself from STD's? You will after this
introductory discussion about condoms and
sexual health!
_____ Creepy or Cute? (45-60 min) You
decide what's creepy or cute as we discuss real
life scenarios about college relationships.
Discuss personal boundaries and recognize signs
of a healthy relationship all while moving
around and sharing stories!
_____ Pillow Talk (45-60 min) Can lack of
sleep cause weight gain? Identify barriers to
getting enough sleep and develop a plan to get
enough sleep to support good health!