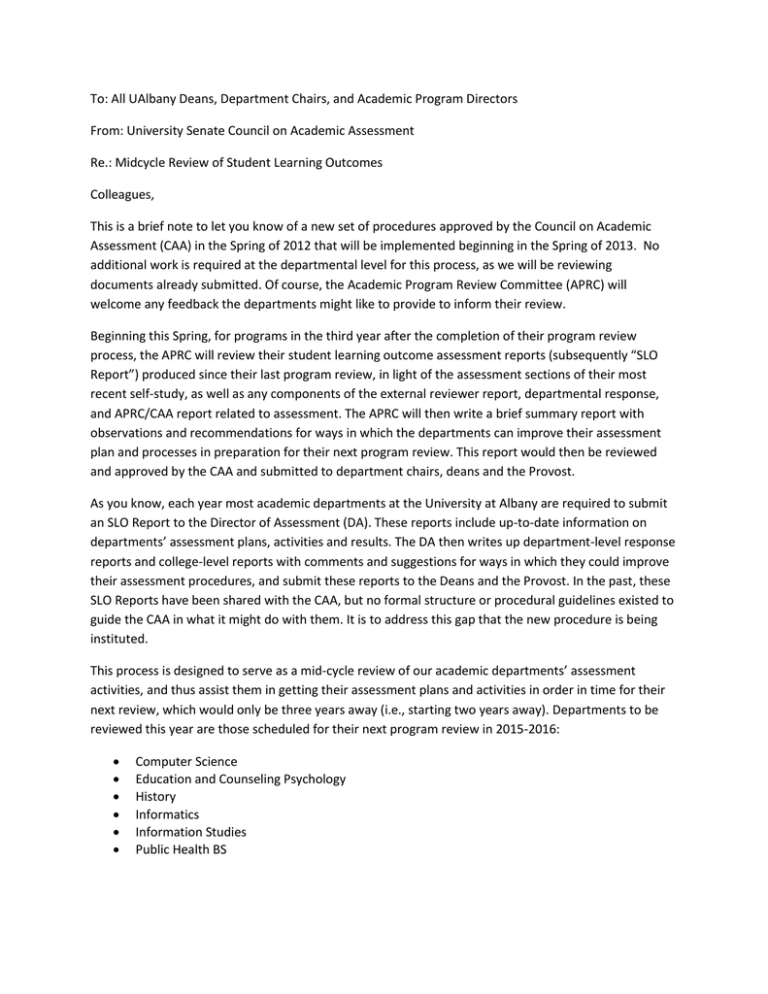 To: All UAlbany Deans, Department Chairs, and Academic Program Directors
From: University Senate Council on Academic Assessment
Re.: Midcycle Review of Student Learning Outcomes
Colleagues,
This is a brief note to let you know of a new set of procedures approved by the Council on Academic
Assessment (CAA) in the Spring of 2012 that will be implemented beginning in the Spring of 2013. No
additional work is required at the departmental level for this process, as we will be reviewing
documents already submitted. Of course, the Academic Program Review Committee (APRC) will
welcome any feedback the departments might like to provide to inform their review.
Beginning this Spring, for programs in the third year after the completion of their program review
process, the APRC will review their student learning outcome assessment reports (subsequently "SLO
Report") produced since their last program review, in light of the assessment sections of their most
recent self-study, as well as any components of the external reviewer report, departmental response,
and APRC/CAA report related to assessment. The APRC will then write a brief summary report with
observations and recommendations for ways in which the departments can improve their assessment
plan and processes in preparation for their next program review. This report would then be reviewed
and approved by the CAA and submitted to department chairs, deans and the Provost.
As you know, each year most academic departments at the University at Albany are required to submit
an SLO Report to the Director of Assessment (DA). These reports include up-to-date information on
departments' assessment plans, activities and results. The DA then writes up department-level response
reports and college-level reports with comments and suggestions for ways in which they could improve
their assessment procedures, and submit these reports to the Deans and the Provost. In the past, these
SLO Reports have been shared with the CAA, but no formal structure or procedural guidelines existed to
guide the CAA in what it might do with them. It is to address this gap that the new procedure is being
instituted.
This process is designed to serve as a mid-cycle review of our academic departments' assessment
activities, and thus assist them in getting their assessment plans and activities in order in time for their
next review, which would only be three years away (i.e., starting two years away). Departments to be
reviewed this year are those scheduled for their next program review in 2015-2016:






Computer Science
Education and Counseling Psychology
History
Informatics
Information Studies
Public Health BS
Joel Bloom, the Director of Academic Assessment, will be contacting chairs of these departments shortly
with additional instructions, and will be available for meetings if needed.
Regards,
Sean M. Rafferty, Department of Anthropology
Chair, Academic Program Review Committee, Council on Academic Assessment.
Adrian Masters, Department of Economics
Chair, Council on Academic Assessment.