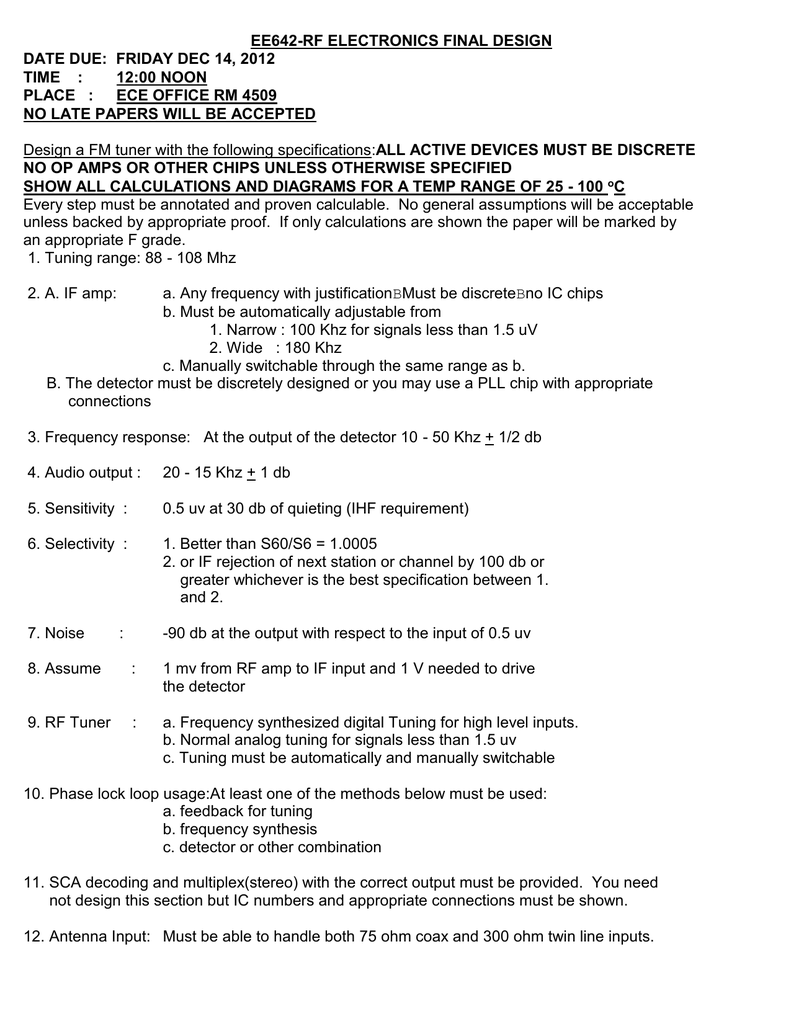 EE642-RF ELECTRONICS FINAL DESIGN
DATE DUE: FRIDAY DEC 14, 2012
TIME :
12:00 NOON
PLACE : ECE OFFICE RM 4509
NO LATE PAPERS WILL BE ACCEPTED
Design a FM tuner with the following specifications:ALL ACTIVE DEVICES MUST BE DISCRETE
NO OP AMPS OR OTHER CHIPS UNLESS OTHERWISE SPECIFIED
SHOW ALL CALCULATIONS AND DIAGRAMS FOR A TEMP RANGE OF 25 - 100 oC
Every step must be annotated and proven calculable. No general assumptions will be acceptable
unless backed by appropriate proof. If only calculations are shown the paper will be marked by
an appropriate F grade.
1. Tuning range: 88 - 108 Mhz
2. A. IF amp:
a. Any frequency with justificationBMust be discreteBno IC chips
b. Must be automatically adjustable from
1. Narrow : 100 Khz for signals less than 1.5 uV
2. Wide : 180 Khz
c. Manually switchable through the same range as b.
B. The detector must be discretely designed or you may use a PLL chip with appropriate
connections
3. Frequency response: At the output of the detector 10 - 50 Khz + 1/2 db
4. Audio output :
20 - 15 Khz + 1 db
5. Sensitivity :
0.5 uv at 30 db of quieting (IHF requirement)
6. Selectivity :
1. Better than S60/S6 = 1.0005
2. or IF rejection of next station or channel by 100 db or
greater whichever is the best specification between 1.
and 2.
7. Noise
-90 db at the output with respect to the input of 0.5 uv
:
8. Assume
:
1 mv from RF amp to IF input and 1 V needed to drive
the detector
9. RF Tuner
:
a. Frequency synthesized digital Tuning for high level inputs.
b. Normal analog tuning for signals less than 1.5 uv
c. Tuning must be automatically and manually switchable
10. Phase lock loop usage:At least one of the methods below must be used:
a. feedback for tuning
b. frequency synthesis
c. detector or other combination
11. SCA decoding and multiplex(stereo) with the correct output must be provided. You need
not design this section but IC numbers and appropriate connections must be shown.
12. Antenna Input: Must be able to handle both 75 ohm coax and 300 ohm twin line inputs.