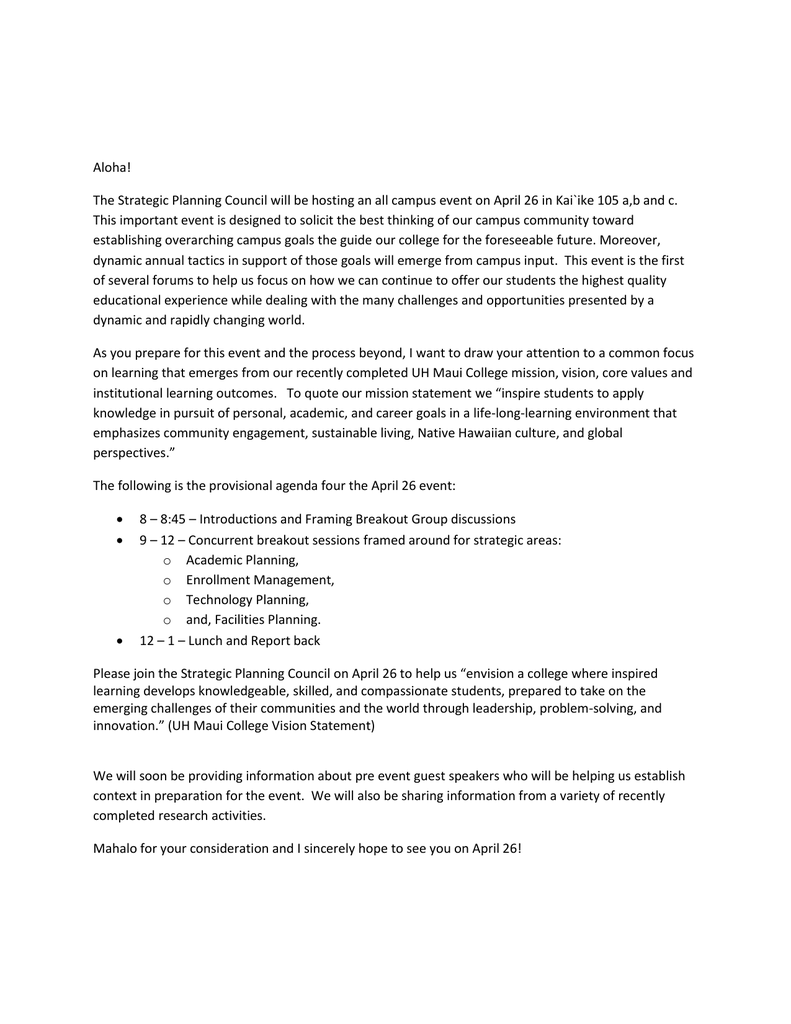 Aloha!
The Strategic Planning Council will be hosting an all campus event on April 26 in Kai`ike 105 a,b and c.
This important event is designed to solicit the best thinking of our campus community toward
establishing overarching campus goals the guide our college for the foreseeable future. Moreover,
dynamic annual tactics in support of those goals will emerge from campus input. This event is the first
of several forums to help us focus on how we can continue to offer our students the highest quality
educational experience while dealing with the many challenges and opportunities presented by a
dynamic and rapidly changing world.
As you prepare for this event and the process beyond, I want to draw your attention to a common focus
on learning that emerges from our recently completed UH Maui College mission, vision, core values and
institutional learning outcomes. To quote our mission statement we "inspire students to apply
knowledge in pursuit of personal, academic, and career goals in a life-long-learning environment that
emphasizes community engagement, sustainable living, Native Hawaiian culture, and global
perspectives."
The following is the provisional agenda four the April 26 event:



8 – 8:45 – Introductions and Framing Breakout Group discussions
9 – 12 – Concurrent breakout sessions framed around for strategic areas:
o Academic Planning,
o Enrollment Management,
o Technology Planning,
o and, Facilities Planning.
12 – 1 – Lunch and Report back
Please join the Strategic Planning Council on April 26 to help us "envision a college where inspired
learning develops knowledgeable, skilled, and compassionate students, prepared to take on the
emerging challenges of their communities and the world through leadership, problem-solving, and
innovation." (UH Maui College Vision Statement)
We will soon be providing information about pre event guest speakers who will be helping us establish
context in preparation for the event. We will also be sharing information from a variety of recently
completed research activities.
Mahalo for your consideration and I sincerely hope to see you on April 26!