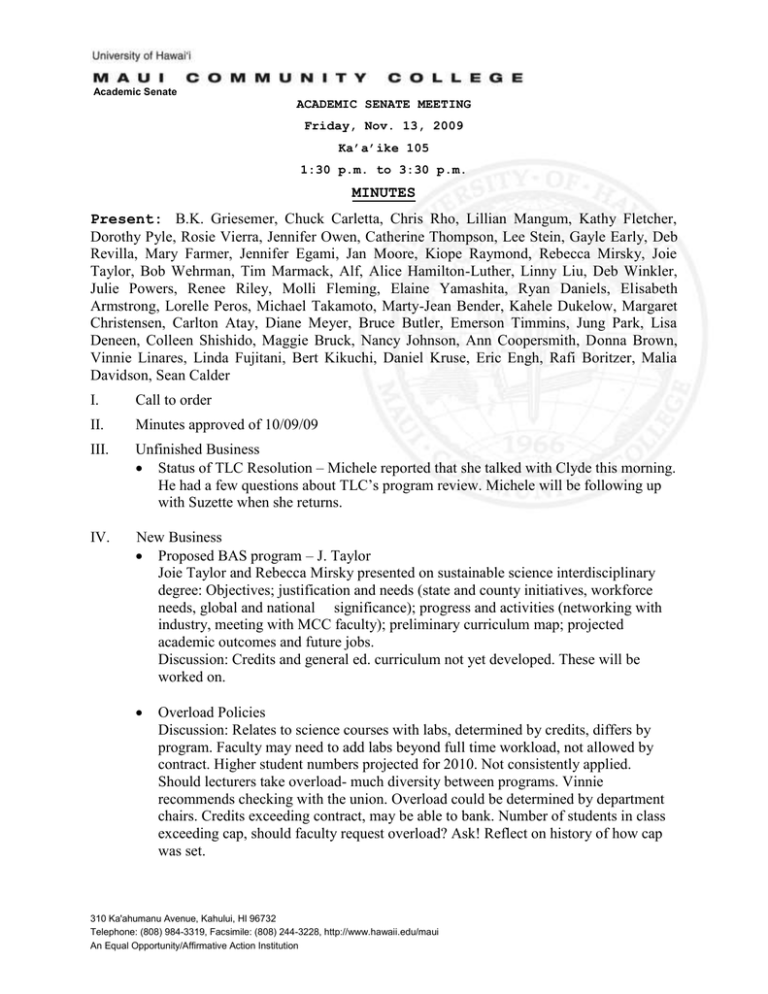 Academic Senate
ACADEMIC SENATE MEETING
Friday, Nov. 13, 2009
Ka'a'ike 105
1:30 p.m. to 3:30 p.m.
MINUTES
Present: B.K. Griesemer, Chuck Carletta, Chris Rho, Lillian Mangum, Kathy Fletcher,
Dorothy Pyle, Rosie Vierra, Jennifer Owen, Catherine Thompson, Lee Stein, Gayle Early, Deb
Revilla, Mary Farmer, Jennifer Egami, Jan Moore, Kiope Raymond, Rebecca Mirsky, Joie
Taylor, Bob Wehrman, Tim Marmack, Alf, Alice Hamilton-Luther, Linny Liu, Deb Winkler,
Julie Powers, Renee Riley, Molli Fleming, Elaine Yamashita, Ryan Daniels, Elisabeth
Armstrong, Lorelle Peros, Michael Takamoto, Marty-Jean Bender, Kahele Dukelow, Margaret
Christensen, Carlton Atay, Diane Meyer, Bruce Butler, Emerson Timmins, Jung Park, Lisa
Deneen, Colleen Shishido, Maggie Bruck, Nancy Johnson, Ann Coopersmith, Donna Brown,
Vinnie Linares, Linda Fujitani, Bert Kikuchi, Daniel Kruse, Eric Engh, Rafi Boritzer, Malia
Davidson, Sean Calder
I.
Call to order
II.
Minutes approved of 10/09/09
III.
Unfinished Business
 Status of TLC Resolution – Michele reported that she talked with Clyde this morning.
He had a few questions about TLC's program review. Michele will be following up
with Suzette when she returns.
IV.
New Business
 Proposed BAS program – J. Taylor
Joie Taylor and Rebecca Mirsky presented on sustainable science interdisciplinary
degree: Objectives; justification and needs (state and county initiatives, workforce
needs, global and national significance); progress and activities (networking with
industry, meeting with MCC faculty); preliminary curriculum map; projected
academic outcomes and future jobs.
Discussion: Credits and general ed. curriculum not yet developed. These will be
worked on.

Overload Policies
Discussion: Relates to science courses with labs, determined by credits, differs by
program. Faculty may need to add labs beyond full time workload, not allowed by
contract. Higher student numbers projected for 2010. Not consistently applied.
Should lecturers take overload- much diversity between programs. Vinnie
recommends checking with the union. Overload could be determined by department
chairs. Credits exceeding contract, may be able to bank. Number of students in class
exceeding cap, should faculty request overload? Ask! Reflect on history of how cap
was set.
310 Ka'ahumanu Avenue, Kahului, HI 96732
Telephone: (808) 984-3319, Facsimile: (808) 244-3228, http://www.hawaii.edu/maui
An Equal Opportunity/Affirmative Action Institution

V.
Plagiarism
Discussion: On the rise? Lecturers may have more difficulty in addressing. Google
and Turn it In can reveal plagiarism. Violation of student conduct code; sanctions
may be imposed- warning (verbal or written), probation, and goes on. May go to
Vice-Chancellor of Student Affairs. Good to put policy in your syllabus. May need
consistency in dealing with this, or could be left to instructor. Should be discussed in
faculty meetings at start of semester, and in student orientations, as well as being in
the syllabus and lecturer's handbook. Add topic to lecturer's orientation meeting.
Standing Committee Reports/Updates
 Service Learning/Civic Engagement – M. Fleming
Check with community partners. Debbie Revilla will be helping. Interns working
without pay could be considered service learning. Service learning students will now
have brief orientation. Americorp slots fill quickly.

Curriculum – BK Griesemer
Deletions submitted as part of the 5-year review process. Moved and seconded.
Motion passed unanimously.
Curriculum Committee also reviewed the package of modification to the Business
Technology program (BUSTECH). It was moved and seconded to accept the
modifications. Motion passed unanimously.
In addition, there was a discussion regarding the EIS, curriculum deadlines, 5 year
review, etc.
See attached Curriculum Committee and Assessment Committee for details.

Assessment – BK Griesemer/J. Moore
Dr. Bresciani will return Jan. 6, 7, 8 for ABIT, Liberal Arts,

Procedures & Policy – V. Linares
1) Compass tests policy seeking endorsement: require all students to take Compass
before registering and then have counseling available.
Discussion- Is compass a good indicator of success? Better than no tool. Might be
better to add credit requirement (6?), or counselor decision for exception. Suggestion
to have Compass required for degree or certificate seeking students only. Possibly
start with case-by-case basis. Policy and Procedure committee will reconsider policy.
2) Students who have satisfied general education requirements at a UH campus will
have satisfied requirements for any UH campus.
Moved and seconded to support this statement.

UHPA- Vinnie has sent an email today, read it.

Planning & Budget – D. Grooms
Committee meeting before next senate meeting.

IT-Committee – R. Riley
Cultural diversity and ESL presentations
Nominations & Elections – J. Powers- no report

VI.
Ad Hoc Committee Reports/Updates
 Social – C. Bio or M. Davidson
Dec. 11 "Let's be a kid again" 4-7PM, $20, no family members

VII.
Safety Plan & Procedures – L. Stein
Unstable situation at student housing; problems with students and non-students.
Reports of drugs and abuse. Refer to Alvin Tagamori.
A sexual violence training is coming up that Lee will attend, please let Lee know if
you would like to be on task force.
Announcements
VIII. Next Meeting
 Friday, Dec. 4th, 1:30 p.m., Ka`a`ike 105
FOR THE DEC. SENATE MEETING, IT IS SET FOR THE 1st FRIDAY OF THE
MONTH
IX.
Adjourn
Minutes submitted by G. Early
At the Academic Senate meeting on Friday, November 13, the Curriculum Committee is
submitting the following Curriculum Proposals for discussion and approval. The
committee approved the proposals unanimously.
All the following two deletions were submitted as part of the 5-year review process.
2009.09 ART 103: Introduction to Fiber Art, 3 cr. – Deletion – Author: Jennifer Owen
2009. 55 AA program - deletion of ART 103 and the previously approved
deletions of ART 104, 107, 107B, and 108 from Human Expression – Author: Jennifer
Owen
2009.56 AA program – deletion of ART 103 and the previously approved
deletions of ART 104 and 107 from the ASC in Visual Arts – Author: Jennifer Owen
2009.10 FSHN 18: Introduction to Nutrition, 1 cr. – Deletion – Author: Karen Robbins
The following is a package of modifications to the Business Technology program
(BUSTECH)
2009.23 Business Technology program, Comprehensive maps and page corrections,
for Modifications following: – Author: Chuck Carletta
2009.23a Business Technology program, Certificate of Completion (CC) in Medical
Assistant I, Modification to course requirements for certificate- Authors: Chuck Carletta
and Nancy Johnson
2009.23b Business Technology program, AAS in Medical Assistant II, Modification in
name from Medical Office Specialty and to course requirements for degree – Authors:
Chuck Carletta and Nancy Johnson
2009.23c Business Technology program, AAS in Information Processing Specialty,
Modification in course requirements for degree – Author: Chuck Carletta
2009.23d Business Technology program , AAS in Legal Office Speciality, Modification in
course requirements for degree – Author: Chuck Carletta
2009.23e Business Technology program, CA in Business Technology, Modification in
course requirements for certificate – Author: Chuck Carletta
2009.23f Business Technology program, Certificate of Completion (CC) in Business
Technology, Modification in course requirements for certificate – Author: Chuck Carletta
2009.24 Business Technology program, AAS Health Unit, Deletion of this credential
from the program (Overlaps with Medical Assistant II) – Authors: Chuck Carletta, Nancy
Johnson
2009.25 BUSN 185: Processing Physician's Orders, 3 cr, Modification to pre-requisite to
NURS 50 and BUSN 123 both with grade C or better, or consent, – Authors: Chuck
Carletta, Nancy Johnson
All proposals are attached to this email. Items are not being posted to the website at
this time.
If you wish further information please call or the email the author. Or call or email the
Curriculum Chair at ext. 259 or bkg@hawaii.edu.
Submitted by: BK. Griesemer, Chair, Curriculum Committee for the committee
Curriculum & Assessment Memo for Academic Senate Meeting, Friday, November 13, 2009.
Submitted by BK. Griesemer, Curriculum Committee Chair & Assessment Coordinator, and Jan
Moore, CTE Assessment Coordinator
Curriculum
EIS Follow-up from April 13, 2009 Senate Meeting – The Curriculum Committee guided by
representative Maggie Bruck has review and added to the list of EIS concerns that were raised
during the April 13, 2009 senate meeting. The committee has compiled a list made up concerns
expressed then and additions from members. Below is the list at this point. The committee is
asking if there are items that members wish to add before we circulate the list to ATP and
Program Proposal authors and reviewers.




Adequate facilities and equipment- physical space, rooms, equipment, parking,
computers
Academic Support - TLC, Media, Ka Lama Computer Center, Library, Outreach Centers,
Health Centers, Business Office
Student Affairs - Admissions & Records, Transcript Evaluations, Financial Aid,
Counseling
Academic Affairs - classes, more prerequisite classes, more instructors, more
classrooms and the impact
Curriculum Deadlines – Although the deadline for Fall Curriculum Proposals was Monday,
October 5, 2009, the committee has an open deadline on deletions so they maybe submitted at
anytime. The deadline for Spring semester is Monday, April 5, 2010.
Posting of Curriculum Proposals, etc. – At this time the posting of any curriculum proposals
or amnesty changes is suspended. The posting will start again in late Spring.
Curriculum Central –You can access Curriculum Central through the Curriculum Committee
website. It has its on blue oval on the side. Over 470 MCC courses are now archived in
Curriculum Central and you can see what is there by accessing Curriculum Central, then going
to Reports, then Display Outline and on the resulting page, click Course Docs. Not ever link
works but much of MCC's Curriculum cannon is there.
Presently we are using CC only in a testing mode. The programmer Thanh Giang will be here
on Friday, November 20, to continue to work on the issues. When exactly MCC will be
transition from its present curriculum system to Curriculum Central is not clear at this time. Our
procedures for curriculum are quite different than other CCs so there have been issues in
making the conversion realistic. When the conversion is complete Curriculum Central will be
available for new, modified and deleted course proposals. Proposals for program, certificate and
other matters will remain in our current system for now.
5-year Review –There is no fixed deadline for submitting amnesty (5 year review) course updates. They can be sent to the Curriculum Chair at any time. However, the target date to have
out-of-dated courses up-dated is March 31, 2010. Sooner if would be better. The up-date for
most of these courses requires adding SLOs to the courses as well as up-dating other portions
of the course outline. And, of course, a great place to start is with deletions. The form to delete
a course in on the Curriculum website. Thank you to all who have submitted their up-dates.
"Topics" Courses (90V to 490V series) – The information and form for Topics Courses is on
the Curriculum Committee website under Blank Forms. To teach a "topics" course it must be
approved by the department in which the faculty member is housed before the course can be
added to the schedule of classes. So, if you are planning to teach one in Spring 2010, your
department needs to discuss and approve ASAP. If you are teaching one this Fall, please
review the procedures and file the course syllabus as required. Thank you to Kiope Raymond
for his endorsement of the use of Topics Courses to try out a new course.
Curriculum Committee Meetings - Curriculum Committee meetings are scheduled for
Tuesdays at 3:00 PM. In Ka Lama 102. This will be the schedule for this academic year and
most likely the next. The committee will be meeting for Fall semester through Tuesday,
December 8.
Curriculum Committee Reps for AY 2010-2011 – If a department plans to change their
Curriculum Rep, the new representative is to be selected in conjunction with the Curriculum
Committee Chair. There is a need to keep the committee balanced in a number of ways. A
rep's schedule must allow for them to attend the Tuesday meetings.
Assessment
Assessment Consultant and College-wide Presentation – As a result of input at the end of
Dr. Bresciani's presentations on assessment, are making arrangements to have her return on
January 6, 7, and 8, 2010.
A recording was made of the open presentation and is available for viewing. You can ask BK.
for copies of the handouts from her presentations in September.
Initiatives – Jan will continue to work with CTE Program Coordinators and faculty on PLO
outcomes, program review, and timelines. Jan is being support through Perkins Funding.
The college-wide General Education SLOs project will continue with phase 2 this Fall semester.
Faculty members will be trying out the assessment meta-rubrics developed last Spring semester
in courses across the campus. The meta-rubrics developed are in Written Communication,
Creativity, Quantitative Reasoning, Information Retrieval and Technology, and Critical Thinking.
If you would like to try one out in one or more of your courses, please contact the facultylearning community team leader. They are: Written Communication leaders Tim Marmack and
Elisabeth Armstrong; Quantitative Reasoning: leader Kate Acks; Critical Thinking leaders Ryan
Daniels and Bud Clark; Information Retrieval: leaders Anne Scharnhorst and Lisa Deneen;
Creativity: leaders Mike Takemoto and Jennifer Owens.
Assessment Team Meetings – Assessment Team meetings are scheduled for Thursdays at
3:00 PM for the academic year in Ka Lama 102. The next meeting is scheduled for Thursday,
November 19.