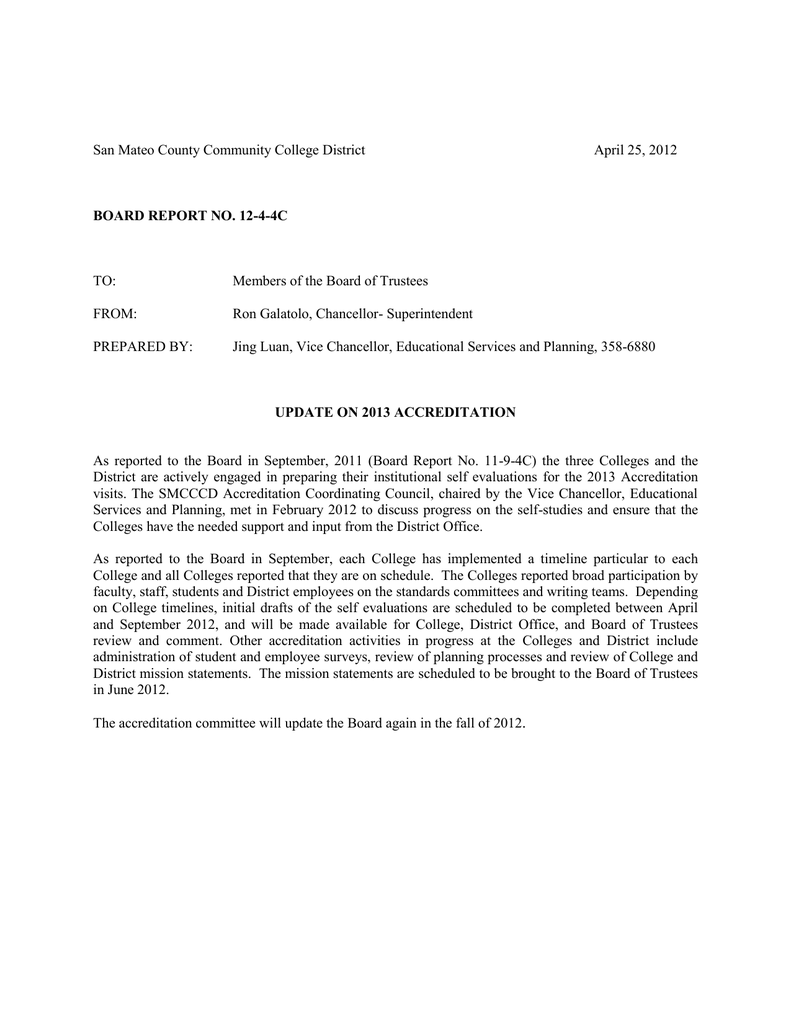 San Mateo County Community College District
April 25, 2012
BOARD REPORT NO. 12-4-4C
TO:
Members of the Board of Trustees
FROM:
Ron Galatolo, Chancellor- Superintendent
PREPARED BY:
Jing Luan, Vice Chancellor, Educational Services and Planning, 358-6880
UPDATE ON 2013 ACCREDITATION
As reported to the Board in September, 2011 (Board Report No. 11-9-4C) the three Colleges and the
District are actively engaged in preparing their institutional self evaluations for the 2013 Accreditation
visits. The SMCCCD Accreditation Coordinating Council, chaired by the Vice Chancellor, Educational
Services and Planning, met in February 2012 to discuss progress on the self-studies and ensure that the
Colleges have the needed support and input from the District Office.
As reported to the Board in September, each College has implemented a timeline particular to each
College and all Colleges reported that they are on schedule. The Colleges reported broad participation by
faculty, staff, students and District employees on the standards committees and writing teams. Depending
on College timelines, initial drafts of the self evaluations are scheduled to be completed between April
and September 2012, and will be made available for College, District Office, and Board of Trustees
review and comment. Other accreditation activities in progress at the Colleges and District include
administration of student and employee surveys, review of planning processes and review of College and
District mission statements. The mission statements are scheduled to be brought to the Board of Trustees
in June 2012.
The accreditation committee will update the Board again in the fall of 2012.