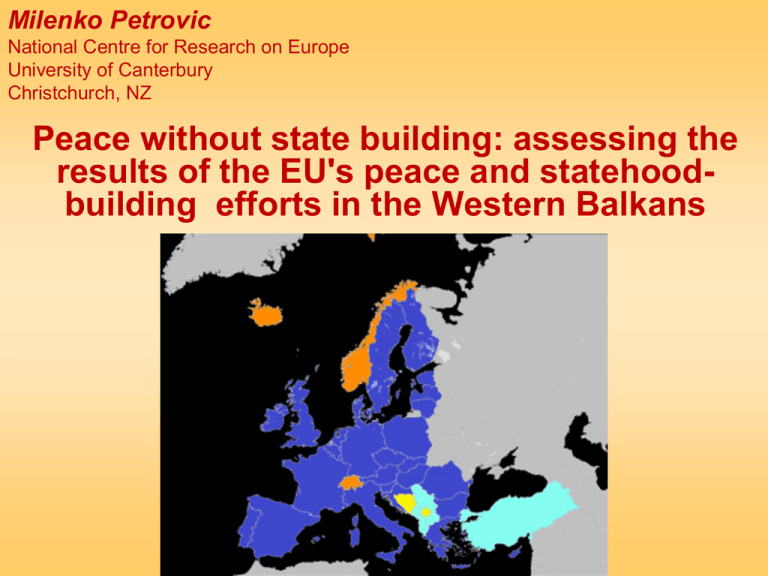 Milenko Petrovic
National Centre for Research on Europe
University of Canterbury
Christchurch, NZ
Peace without state building: assessing the
results of the EU's peace and statehoodbuilding efforts in the Western Balkans
?
Peace without state building: assessing the results of
the EU's peace and statehood-building efforts in the
Western Balkans
1. The EU and the post-communist Balkans in the 1990s
2. The establishment and purpose of EU missions in
the Western Balkans
3. The results of 20 years of EU (and International) state
building efforts in the WB
4. Why did it not work in the Western Balkans?
1.The EU and the post-communist Balkans in the 1990s
1.1. A slow start but similar EU approach to all
European
post-communist states after 1989
• PHARE, Association Agreements (AA) and 'Aid Package' for
Yugoslavia during 1990-91, but different responses from Central
Europe and the Balkans
• Victory of ex-communists (or national populists in Cro and B&H) in all
SEE states – no real reforms; problematic relations with the West and
the EU - lack of foreign technical/administrative and financial assistance
for reforms; civil wars in Croatia and Bosnia and Herzegovina – the
relevance of timing
1.2. Only after the end of the post-Yugoslav wars did the EU offer a
"coherent strategy" for the Western Balkans (1997)
• Conditionality (the return of refugees, respect for the Dayton
Agreement and cooperation with the ICTY) and graduality (in providing
assistance) for regional peace, stability and progress in democratic and
market reforms (EUGA Council, April 1997; EU Commission, May
1999; Pippan, 2004)
• Stabilisation and Association Process (SAP) in 1999 and strong
support for the establishment of UN peace-keeping and monitoring
missions in B&H and Kosovo
2. The establishment and purpose of EU missions
in the Western Balkans
1. Established in the early 2000s as a substantial replacement for the (formally still
existing) UN civil and military peace-keeping and monitoring missions in B&H and
Kosovo. The 'original' mission(s) aimed to monitor and mentor the implementation of the
2001 Ohrid Agreement on the peaceful resolution to the ethnic conflict in Macedonia.
2. The basic aim of all missions: to secure peaceful development, the rule of law and
assist these countries 'to make further progress towards European integration in the
context of the Stabilisation and Association Process' (EUEA website, June 2012)
3. BOSNIA AND HERZEGOVINA
• The Office of the High Representative (OHR , 1995 - present) established by the
UNSC (but all High Representatives were from EU countries and the EU is the main
donor) '[to] oversee implementation of civilian aspects of the Peace Agreement
ending the war in B&H' and 'to ensure that B&H evolves into a peaceful and viable
democracy on course for integration in Euro-Atlantic institutions' (OHR website)
• The European Union Police Mission (EUPM, 2003-2012) to 'strengthen… the rule
of law in Bosnia and Herzegovina' and to 'create, under B&H ownership, a modern,
sustainable, professional multi-ethnic police force, trained, equipped and able to
assume full responsibility and to independently uphold law enforcement at the level
of international standards' (EUEA, June 2012)
• The EUFOR ALTHEA military operation (B&H, 2004 – present) to provide
capacity-building and training support for the Armed Forces of Bosnia and
Herzegovina while retaining the capacity to intervene to support B&H efforts in
maintaining the safe and secure environment (EUEA, June 2015)
2. The establishment and purpose of EU missions in
the Western Balkans (cont: Macedonia and Kosovo)
4. KOSOVO
The European Union Rule of Law Mission (EULEX, 2008 – present) to
'provide support to Kosovo's rule of law institutions at the strategic level' through
its "Monitoring, Mentoring and Advising (MMA) objective" ('assistance to
the senior management of the Kosovo Judicial Council, Kosovo Prosecutorial
Council, Kosovo Police etc.') and through its "Executive" objective" by doing its
own 'investigations, prosecutions, and adjudications of war crimes, terrorism,
organised crime, corruption and other serious crimes' (EULEX, June 2015)
5. FYR MACEDONIA
CONCORDIA and EUPOL PROXIMA police missions (2003-2005) for
'monitoring, mentoring and advising the country's police thus helping to fight
organised crime as well as promoting European policing standards" (EUEA,
June 2015)
6. The important roles of the EU Special Representative in Kosovo and the head of
the EU delegation in Macedonia
3. The results of 20 years of EU state building efforts in the WB
•
•
•
Bosnia and Herzegovina 'remains at a standstill in the European integration
process. There remains a lack of collective political will on the part of the political
leaders to address the reforms necessary for progress on the EU path. There has
been very limited progress on political and economic issues and on moving towards
European standards' (European Commission, October 2014*).
Despite the recently completed negotiations of a SA agreement with the EU,
'the rule of law in Kosovo, including judicial independence, and limited results in
the fight against organised crime and corruption remains a major concern…Kosovo
made limited progress on its path to become a functioning market economy'
(European Commission, October 2014*).
'The EU accession process for the former Yugoslav Republic of Macedonia is at an
impasse. Failure to act on the Commission's recommendation to the Council
means that accession negotiations have still not been opened. At the same time,
the government's failure to deliver sufficiently on a number of key issues damaged
the sustainability of reforms, with backsliding evident in some areas…[particularly
regarding] the increasing politicization of state institutions and government control
over media, including in the context of elections …[and] growing concerns about
selective justice…' (European Commission, October 2014*).
*European Commission, "Enlargement Strategy and Main Challenges", Communication from
the Commission…COM(2014) 700 final, Brussels, 8.10.2014.
Table 1. Progress in Political and Economic Transition
Democracy*
Economic Transition**
1999
2006
2014
1999
2006
2014
Hungary
1.88
2.00
2.96
3.7
4.0
3.9
Poland
1.58
2.14
2.18
3.5
3.7
4.0
Romania
3.54
3.39
3.46
2.8
3.3
3.7
Bulgaria
3.58
2.93
3.25
2.8
3.5
3.7
Croatia
4.46
3.71
3.68
3.0
3.5
3.8
Maced FYR
3.83
3.82
4.00
2.7
3.1
3.6
Serbia
5.50
3.79
3.64
1.4
2.7
3.2
Montenegro
5.50
3.89
3.86
1.6
2.5
3.3
Albania
4.75
3.79
4.18
2.6
2.9
3.5
Bosnia-Hrz
5.42
4.07
4.43
2.0
2.6
3.1
* Freedom House "Democracy score" (1 being the highest; 7 being the lowest)
* * EBRD transition indicators (4.33 = standards of advanced industrial
economies; 1 = standards of a centrally planned economy)
Table 2. Progress in Stabilisation and Association Process
Country
SA Agreement
Application for EU
Membership
Official Candidate
Status
Albania
YES
(12/06/2006, in force
since 1/04/09)
YES
(28/04/2009)
YES
(27/06/2014)
Bosnia-Herzeg.
YES
(16/06/2008; in force
since 1/06/15)
NO
Croatia
YES
(9/04/2001, in force
since 1/02/ 2005)
YES
(20/02/2003)
YES
(18/06/2004, acc. neg.
Oct. 2005 to June 2011;
EU member, 1/07/2013)
Macedonia FYR
YES
(9/04/2001, in force
since 1/04/2004)
YES
(22/03/ 2004)
YES
(16/12/2005)**
Montenegro
YES
(15/10/2007, in force
since 1/05/10)
YES
(15/12/2008)
YES
(17/12/2010, acc. neg.
opened in June 2012)
Serbia
YES
(29/04/2008)*
YES
(22/12/2009)
NO
YES
(1/03/2012)**
* frozen pending further Serbian cooperation with the ICTY from 29/04/2008 to 7/12/2009
** accession negotiations are still waiting to be opened
3. Why did it not work in the Western Balkans?
3.1. Contrasting visions of constitutional/statehood status by different ethnic/political
groups continue to be the main source of political instability and obstacle for the consolidation of
institutions of democracy in most (multi-national) WB states; they desperately need
international assistance, but
3.2. Decreased motivation for new enlargements and enlargement fatigue in the core
Western members of the EU since 2005 and especially since 2007, have contributed to make
conditions for accession tougher (by June 2011 Croatia and Turkey had more accession
negotiations talks with the EU than any accessory state of the 2004/2007 enlargement) and
have lessened interest in deeper analytical work in preparing the (right) policy incentives
3.3. The EU (i.e. its most powerful member states) was not able to offer a coordinated
and comprehensive EU approach towards the challenges to statehood status in the
Western Balkan states which would be based on undisputed/universal standards and norms
(such as democracy, the rule of law and respect for human rights), but
3.3. Different proposed solutions for basically the same problem of contesting the
current (or proposed) statehood/constitutional status of a particular state by the dominant
majority of an ethnic group which makes up a significant portion of the population of that state:
- centralisation for B&H - decentralisation/dissolution for Macedonia, (the former) Serbia and
Montenegro, and Serbia (with Kosovo)
- the 'partial' EU recognition of Kosovo independence as a 'sui generis' case was particularly
controversial because of both its damaging effects on the realisation of Serbia's (and
Kosovo's) EU membership ambitions* and the mixed signals send to the neighbouring
Western Balkan states, particularly B&H and Macedonia
* Progress "in the Belgrade-Pristina dialogue" is currently more important than meeting the original
Copenhagen accession conditions defined in 1993.