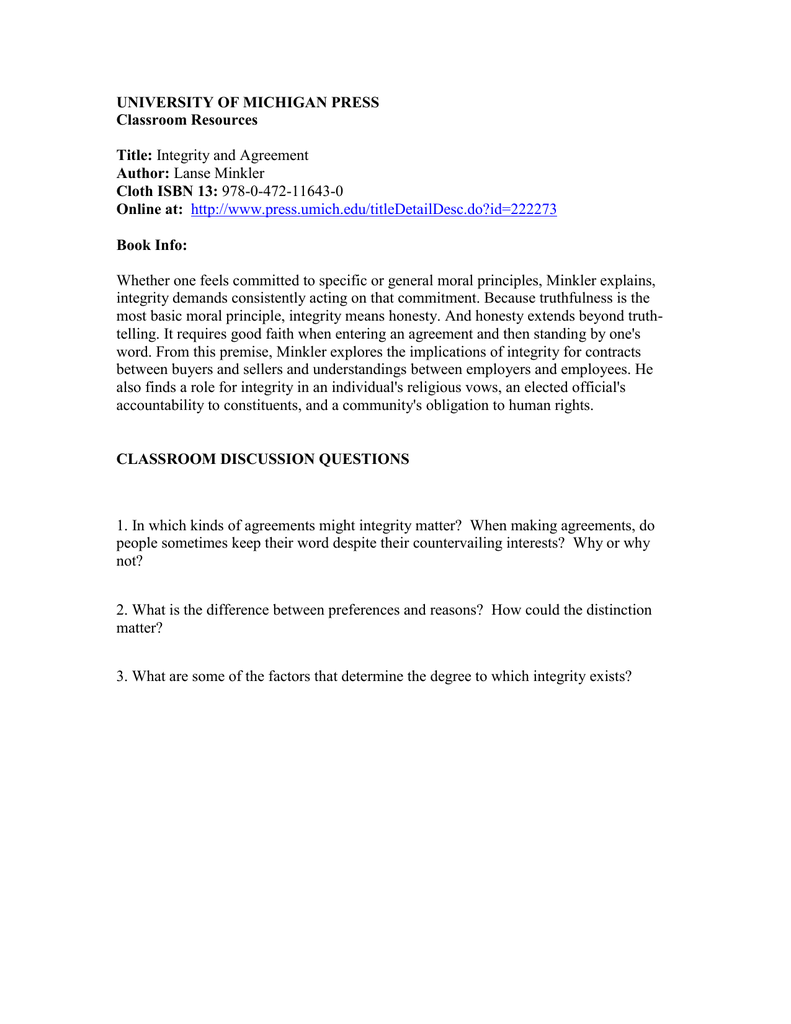 UNIVERSITY OF MICHIGAN PRESS
Classroom Resources
Title: Integrity and Agreement
Author: Lanse Minkler
Cloth ISBN 13: 978-0-472-11643-0
Online at: http://www.press.umich.edu/titleDetailDesc.do?id=222273
Book Info:
Whether one feels committed to specific or general moral principles, Minkler explains,
integrity demands consistently acting on that commitment. Because truthfulness is the
most basic moral principle, integrity means honesty. And honesty extends beyond truthtelling. It requires good faith when entering an agreement and then standing by one's
word. From this premise, Minkler explores the implications of integrity for contracts
between buyers and sellers and understandings between employers and employees. He
also finds a role for integrity in an individual's religious vows, an elected official's
accountability to constituents, and a community's obligation to human rights.
CLASSROOM DISCUSSION QUESTIONS
1. In which kinds of agreements might integrity matter? When making agreements, do
people sometimes keep their word despite their countervailing interests? Why or why
not?
2. What is the difference between preferences and reasons? How could the distinction
matter?
3. What are some of the factors that determine the degree to which integrity exists?