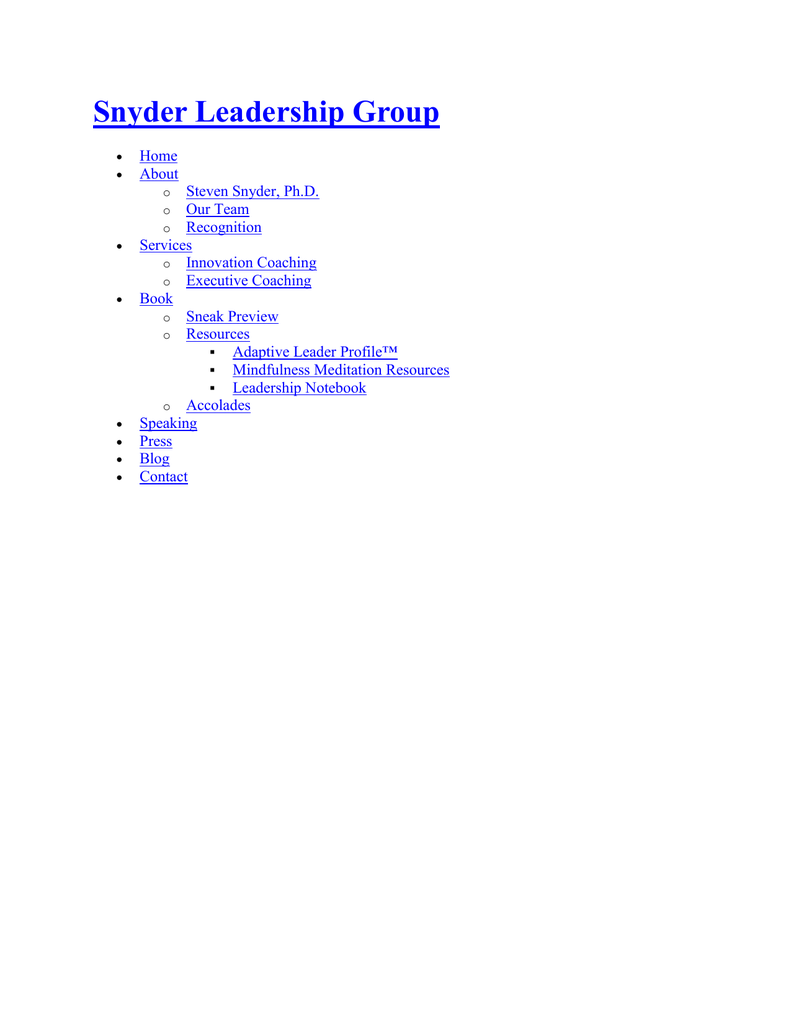 Snyder Leadership Group


Home
About
o
o
o






Steven Snyder, Ph.D.
Our Team
Recognition
Services
o Innovation Coaching
o Executive Coaching
Book
o Sneak Preview
o Resources
 Adaptive Leader Profile™
 Mindfulness Meditation Resources
 Leadership Notebook
o Accolades
Speaking
Press
Blog
Contact
Turbocharge Your Innovation Project with Lean Startup
To win in an ever-increasing competitive world requires a unique approach to accelerating
innovation and catalyzing discovery –
this is it….
Over the past several decades, lean management techniques such as value stream mapping and
root cause analysis have yielded untold billions of dollars of savings, helping businesses run
more smoothly and efficiently. Still, these approaches center mainly on optimizing existing
operations and provide little guidance for those who wish to introduce radical innovation in their
organizations, like introducing a new product line or entering a new market.
Fortunately, a new set of tools—inspired by lean principles—are emerging to help organizations
grapple with this messy and unpredictable world. This new approach, called Lean Startup (or
Lean LaunchPad), emanated as a tool to help budding entrepreneurs, but is increasingly being
tapped by forward-thinking organizations who aspire to increase revenue and profit through
breakthrough innovation.
More on how to increase revenue and profit here →



Loading Quotes...

Stay Connected!
Email Address
First Name
Last Name
Subscribe
(all fields required)
Copyright © 2016 Snyder Leadership Group, All Rights Reserved.