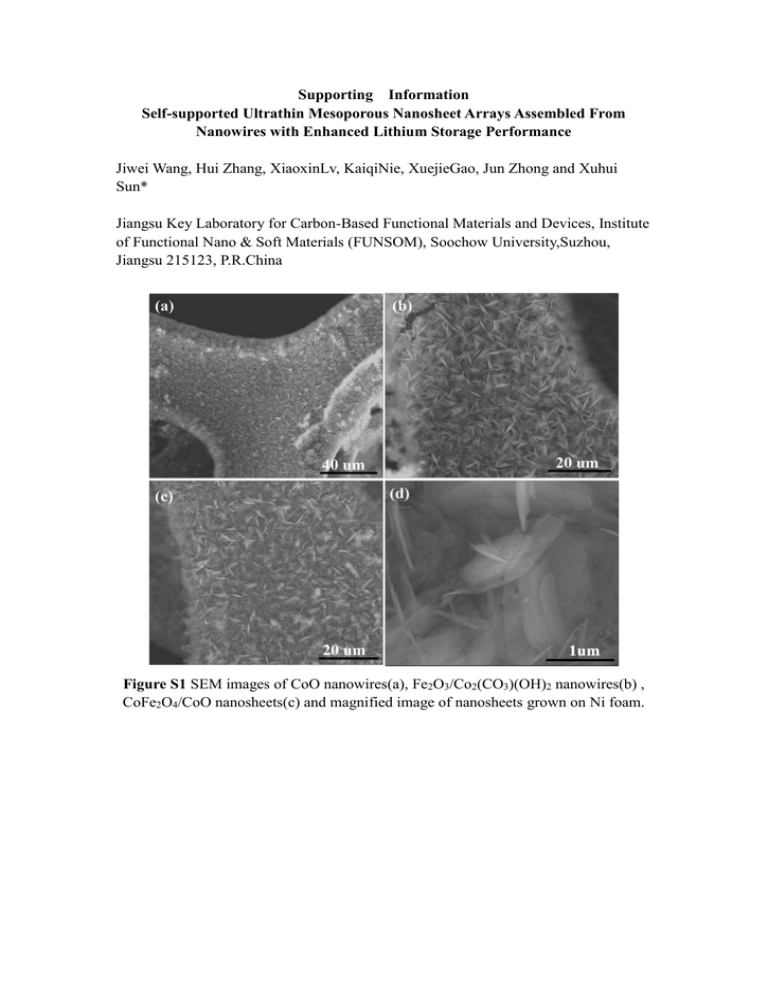 Supporting Information
Self-supported Ultrathin Mesoporous Nanosheet Arrays Assembled From
Nanowires with Enhanced Lithium Storage Performance
Jiwei Wang, Hui Zhang, XiaoxinLv, KaiqiNie, XuejieGao, Jun Zhong and Xuhui
Sun*
Jiangsu Key Laboratory for Carbon-Based Functional Materials and Devices, Institute
of Functional Nano & Soft Materials (FUNSOM), Soochow University,Suzhou,
Jiangsu 215123, P.R.China
Figure S1 SEM images of CoO nanowires(a), Fe2O3/Co2(CO3)(OH)2 nanowires(b) ,
CoFe2O4/CoO nanosheets(c) and magnified image of nanosheets grown on Ni foam.
Figure S2 TEM images of the CoFe2O4/CoO NSs at different magnification.
Figure S3 XRD patterns of Co2(CO3)(OH)2 NWs, pure CoO NWs and CoFe2O4/CoO
NSs.
Figure S4 Equivalent circuit for the electrochemical impedance spectroscopy, Re: The
electrolyte resistance, Rct: The charge transfer resistance, Zw: The Warburg diffusion
resistance, Cdl: The double layer capacitance, RMO: The internal resistance of metal
oxides, CMO: The pseudo-capacitance of metal oxides.
Figure S5 SEM images of CoO NWs and CoFe2O4/CoO NSs after 50 cycles at 0.5C
Table S1. Summary of electrochemical performance data for CoOx-based anodes in
LIBs
Reversible capacity after
Current
CoOx-based anodes
Reference
-1
(W) cycles (mAhg )
density(A g-1)
SiO2/CoO NWs on
Cu foil
1250 after 200 cycles
0.716
[1]
CoO@C wall arrays
on Ni foam
804 after 60 cycles
0.5
[2]
CoO nanosheet arrays
on Ni foam
1495 after 100 cycles
1
[3]
Branched
Co3O4/Fe2O3 NWs
980 after 60 cycles
0.1
[4]
Mesoporous NiCo2O4
NWs/Carbon Textiles
854 after 100 cycles
0.5
[5]
CoO/carbon nanofiber
networks
633 after 52 cycles
0.1
[6]
Hollow CoO
832 after 50 cycles
0.0716
[7]
CoFe2O4/CoO NSs on
Ni foam
1043 after 50 cycles
0.358
This work
1
K Cao, L Jiao, Y Liu, H Liu, Y Wang, H Yuan, (2015). Ultra-High Capacity Lithium-Ion Batteries with
Hierarchical CoO Nanowire Clusters as Binder Free Electrodes. Advanced Functional Materials, 25(7):
1082-1089.
2
F Wu, X Ma, J Feng, Y Qian, S Xiong, (2014). 3D Co3O4and CoO@C wall arrays: morphology
control, formation mechanism, and lithium-storage properties. Journal of Materials Chemistry A, 2(30):
11597.
3
D Li, L-X Ding, S Wang, D Cai, H Wang, (2014). Ultrathin and highly-ordered CoO nanosheet arrays
for lithium-ion batteries with high cycle stability and rate capability. Journal of Materials Chemistry A,
2(16): 5625.
4
H Wu, M Xu, Y Wang, G Zheng, (2013). Branched Co3O4/Fe2O3 nanowires as high capacity
lithium-ion battery anodes. Nano Research, 6(3): 167-173.
5
L Shen, Q Che, H Li, X Zhang, (2014). Mesoporous NiCo2O4Nanowire Arrays Grown on Carbon
Textiles as Binder-Free Flexible Electrodes for Energy Storage. Advanced Functional Materials, 24(18):
2630-2637.
6
M Zhang, E Uchaker, S Hu, et al., (2013). CoO-carbon nanofiber networks prepared by
electrospinning as binder-free anode materials for lithium-ion batteries with enhanced properties.
Nanoscale, 5(24): 12342-12349.
7
Z Wen, F Zheng, Z Jiang, M Li, Y Luo, (2012). Solvothermal synthesis of solid and hollow CoO
nanospheres and their electrochemical properties in lithium-ion battery. Journal of Materials Science,
48(1): 342-347.