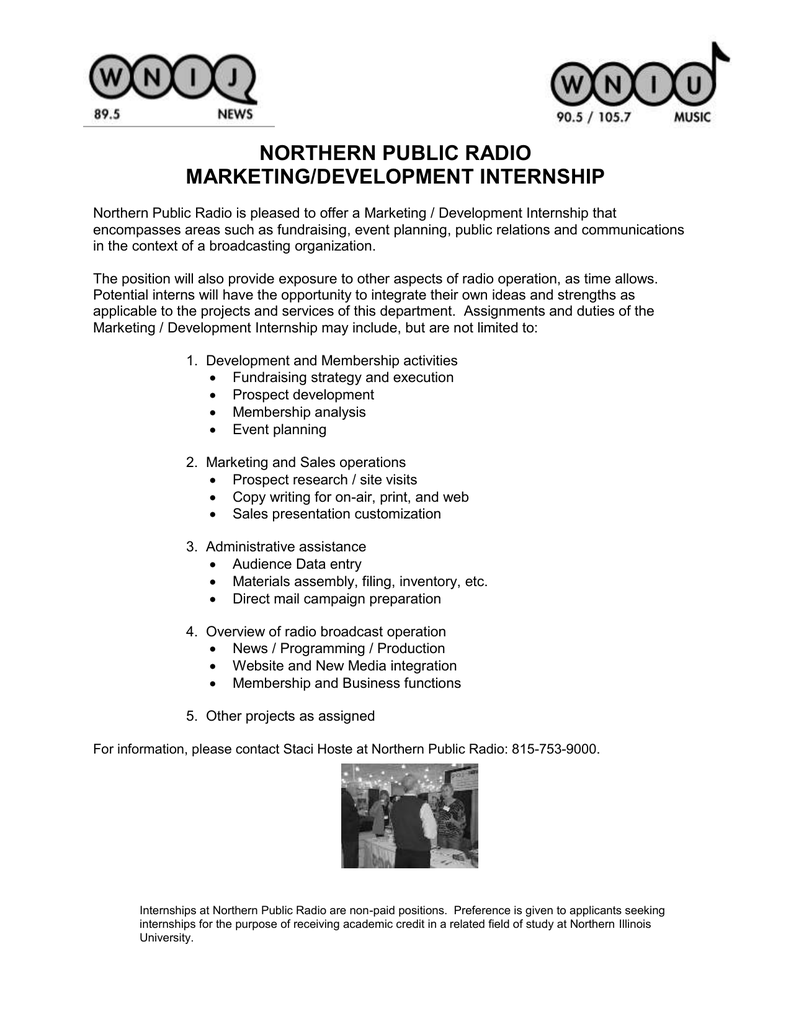 NORTHERN PUBLIC RADIO
MARKETING/DEVELOPMENT INTERNSHIP
Northern Public Radio is pleased to offer a Marketing / Development Internship that
encompasses areas such as fundraising, event planning, public relations and communications
in the context of a broadcasting organization.
The position will also provide exposure to other aspects of radio operation, as time allows.
Potential interns will have the opportunity to integrate their own ideas and strengths as
applicable to the projects and services of this department. Assignments and duties of the
Marketing / Development Internship may include, but are not limited to:
1. Development and Membership activities
 Fundraising strategy and execution
 Prospect development
 Membership analysis
 Event planning
2. Marketing and Sales operations
 Prospect research / site visits
 Copy writing for on-air, print, and web
 Sales presentation customization
3. Administrative assistance
 Audience Data entry
 Materials assembly, filing, inventory, etc.
 Direct mail campaign preparation
4. Overview of radio broadcast operation
 News / Programming / Production
 Website and New Media integration
 Membership and Business functions
5. Other projects as assigned
For information, please contact Staci Hoste at Northern Public Radio: 815-753-9000.
Internships at Northern Public Radio are non-paid positions. Preference is given to applicants seeking
internships for the purpose of receiving academic credit in a related field of study at Northern Illinois
University.