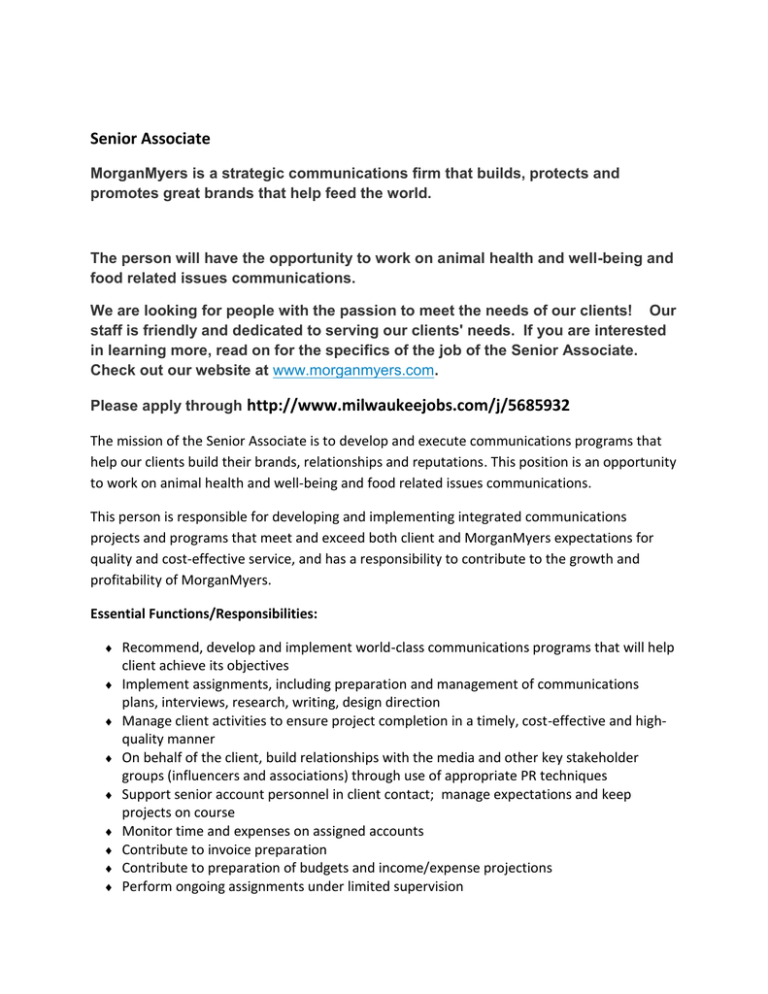 Senior Associate
MorganMyers is a strategic communications firm that builds, protects and
promotes great brands that help feed the world.
The person will have the opportunity to work on animal health and well-being and
food related issues communications.
We are looking for people with the passion to meet the needs of our clients! Our
staff is friendly and dedicated to serving our clients' needs. If you are interested
in learning more, read on for the specifics of the job of the Senior Associate.
Check out our website at www.morganmyers.com.
Please apply through http://www.milwaukeejobs.com/j/5685932
The mission of the Senior Associate is to develop and execute communications programs that
help our clients build their brands, relationships and reputations. This position is an opportunity
to work on animal health and well-being and food related issues communications.
This person is responsible for developing and implementing integrated communications
projects and programs that meet and exceed both client and MorganMyers expectations for
quality and cost-effective service, and has a responsibility to contribute to the growth and
profitability of MorganMyers.
Essential Functions/Responsibilities:









Recommend, develop and implement world-class communications programs that will help
client achieve its objectives
Implement assignments, including preparation and management of communications
plans, interviews, research, writing, design direction
Manage client activities to ensure project completion in a timely, cost-effective and highquality manner
On behalf of the client, build relationships with the media and other key stakeholder
groups (influencers and associations) through use of appropriate PR techniques
Support senior account personnel in client contact; manage expectations and keep
projects on course
Monitor time and expenses on assigned accounts
Contribute to invoice preparation
Contribute to preparation of budgets and income/expense projections
Perform ongoing assignments under limited supervision

Perform other duties as required by team leader
Education/Experience:





Degree in public relations, journalism or related communications field
3 to 7 years experience in marketing communications
Agricultural, food or integrated marketing interest and/or experience is a plus
Proven writing ability
Fluency in Spanish helpful
Knowledge/Skill Qualifications:










Strong project management skills, as well as writing, interviewing and editing skills
Ability to understand and translate technical information into marketing communications
tools
Knowledge of and ability to deal with agricultural issues and trends
Excellent organizational abilities, utilizing personal skills, other people and material
resources
Extreme attention to detail
Ability to manage multiple projects simultaneously
Ability to remain cool under pressure
Self-confident and takes pride in high-quality work
Respect for and support of other team members
Desire to become immersed in the agriculture and food industries
Physical/Mental Demands: Ability to give, receive and analyze information, formulate work
plans, prepare written materials, and articulate goals and action plans. Must understand
people and be able to communicate effectively with them. Must be able to handle frequent
high-stress situations. Computer keyboarding and sitting at desk for extended periods of time
are required as part of each day.
Special Working Conditions: Work in a typical office setting. Up to 20% travel required
annually.