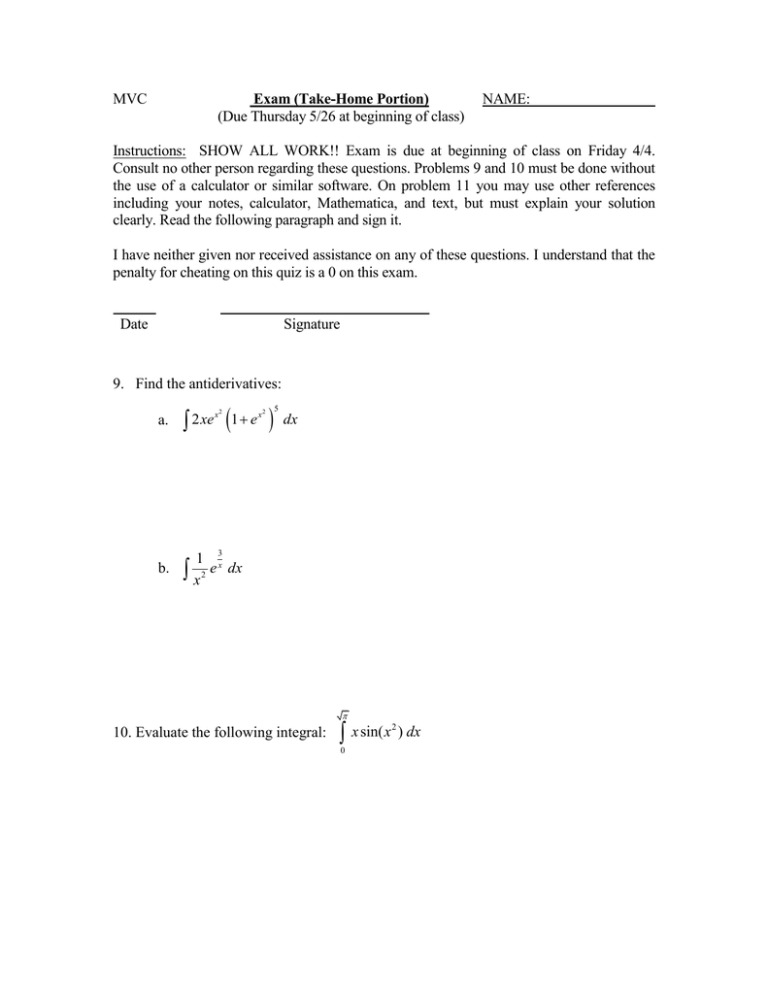 MVC
Exam (Take-Home Portion)
(Due Thursday 5/26 at beginning of class)
NAME:
Instructions: SHOW ALL WORK!! Exam is due at beginning of class on Friday 4/4.
Consult no other person regarding these questions. Problems 9 and 10 must be done without
the use of a calculator or similar software. On problem 11 you may use other references
including your notes, calculator, Mathematica, and text, but must explain your solution
clearly. Read the following paragraph and sign it.
I have neither given nor received assistance on any of these questions. I understand that the
penalty for cheating on this quiz is a 0 on this exam.
Date
Signature
9. Find the antiderivatives:
a.
 2 xe
x2
1  e 
x2
5
dx
1 3x
b.  2 e dx
x

10. Evaluate the following integral:
 x sin( x ) dx
2
0
11. Dr. Condie's body was found at 7:00 a.m. Friday morning. The forensic pathologist
found the body temperature to be 73 at 7:00 a.m. and 72 an hour later at 8:00 a.m..
The working theory is that a BC Fast student murdered Dr. Condie because he wasn't
giving the class enough concepts questions and the ones he was giving just weren't
challenging enough. Suppose the room temperature is 71 and that Dr. Condie's
temperature decreased from an initial temperature of 98.6 according to Newton's law
of cooling. If no BC Fast students had access to the math office after 8:00 pm the
previous evening, determine if it is possible that one of you is responsible for the
murder.