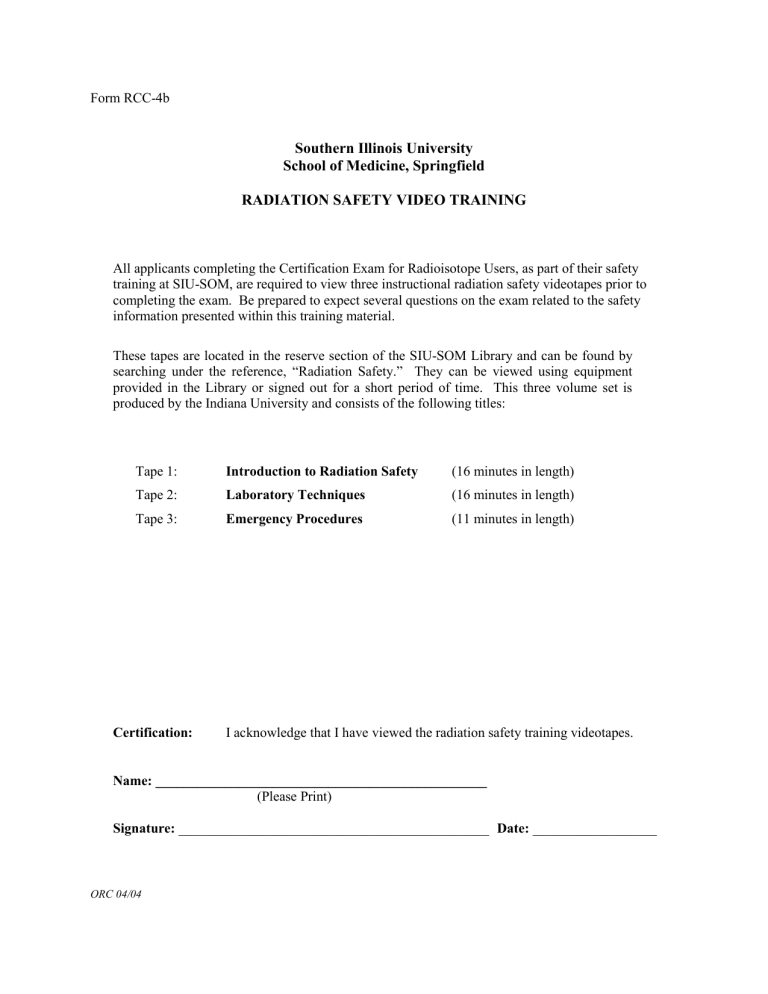 Form RCC-4b
Southern Illinois University
School of Medicine, Springfield
RADIATION SAFETY VIDEO TRAINING
All applicants completing the Certification Exam for Radioisotope Users, as part of their safety training at SIU-SOM, are required to view three instructional radiation safety videotapes prior to completing the exam. Be prepared to expect several questions on the exam related to the safety information presented within this training material.
These tapes are located in the reserve section of the SIU-SOM Library and can be found by searching under the reference, "Radiation Safety." They can be viewed using equipment provided in the Library or signed out for a short period of time. This three volume set is produced by the Indiana University and consists of the following titles:
Tape 1:
Tape 2:
Tape 3:
Introduction to Radiation Safety
Laboratory Techniques
Emergency Procedures
(16 minutes in length)
(16 minutes in length)
(11 minutes in length)
Certification: I acknowledge that I have viewed the radiation safety training videotapes.
Name: ________________________________________________
(Please Print)
Signature: _____________________________________________ Date: __________________
ORC 04/04