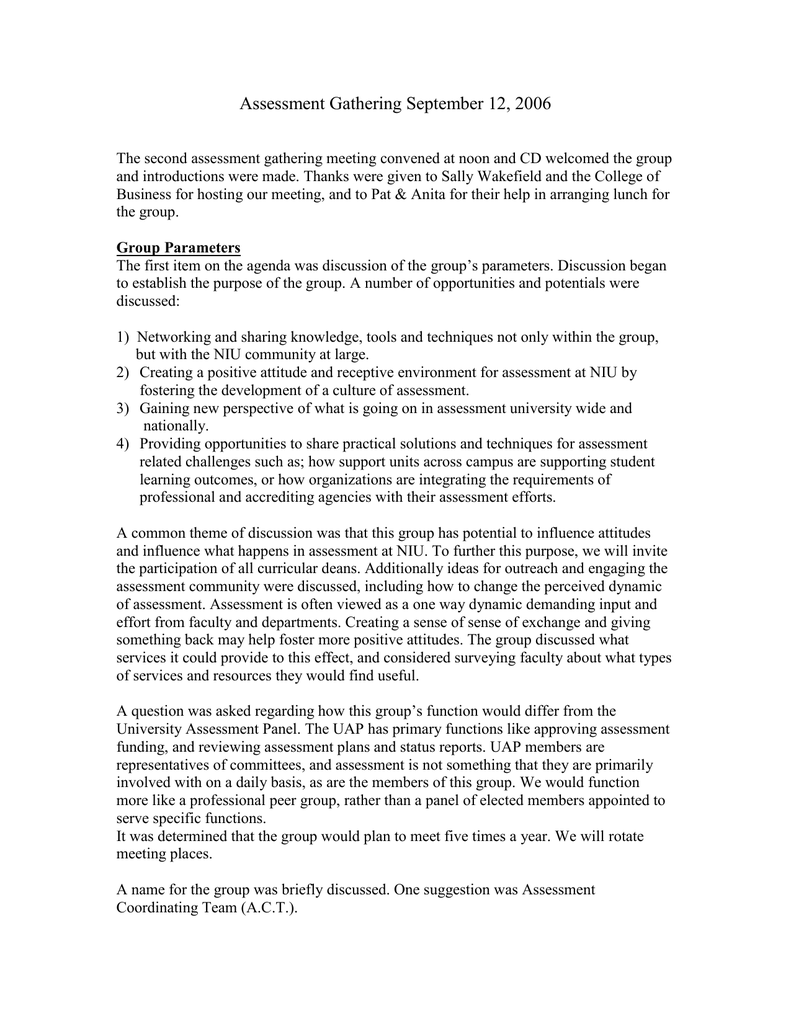 Assessment Gathering September 12, 2006
The second assessment gathering meeting convened at noon and CD welcomed the group
and introductions were made. Thanks were given to Sally Wakefield and the College of
Business for hosting our meeting, and to Pat & Anita for their help in arranging lunch for
the group.
Group Parameters
The first item on the agenda was discussion of the group's parameters. Discussion began
to establish the purpose of the group. A number of opportunities and potentials were
discussed:
1) Networking and sharing knowledge, tools and techniques not only within the group,
but with the NIU community at large.
2) Creating a positive attitude and receptive environment for assessment at NIU by
fostering the development of a culture of assessment.
3) Gaining new perspective of what is going on in assessment university wide and
nationally.
4) Providing opportunities to share practical solutions and techniques for assessment
related challenges such as; how support units across campus are supporting student
learning outcomes, or how organizations are integrating the requirements of
professional and accrediting agencies with their assessment efforts.
A common theme of discussion was that this group has potential to influence attitudes
and influence what happens in assessment at NIU. To further this purpose, we will invite
the participation of all curricular deans. Additionally ideas for outreach and engaging the
assessment community were discussed, including how to change the perceived dynamic
of assessment. Assessment is often viewed as a one way dynamic demanding input and
effort from faculty and departments. Creating a sense of sense of exchange and giving
something back may help foster more positive attitudes. The group discussed what
services it could provide to this effect, and considered surveying faculty about what types
of services and resources they would find useful.
A question was asked regarding how this group's function would differ from the
University Assessment Panel. The UAP has primary functions like approving assessment
funding, and reviewing assessment plans and status reports. UAP members are
representatives of committees, and assessment is not something that they are primarily
involved with on a daily basis, as are the members of this group. We would function
more like a professional peer group, rather than a panel of elected members appointed to
serve specific functions.
It was determined that the group would plan to meet five times a year. We will rotate
meeting places.
A name for the group was briefly discussed. One suggestion was Assessment
Coordinating Team (A.C.T.).
Carolinda will draft a purpose statement to be sent out for the groups review and further
input.
CAS Symposium
Virginia Cassidy has offered to fund registration fees for any group members who are
interested in attending the upcoming Council for the Advancement of Standards in
Higher Education (CAS) National Symposium on Standards, Self-Assessment, and
Student Learn Outcomes Nov 12-14.
COB Technology Assessment
Sally Wakefield gave a presentation on the COB assessment of technology skills. In
2004-2005 The COB Strategic Planning Council determined the need to implement a
technology skills assessment method for their programs. In addition, they sought a
product that would also serve as a training platform for Microsoft
access/Excel/PowerPoint/Word/Explorer skills.
The project, headed by Brian Mackie, reviewed available products and selected Prentice
Hall's Train & Assess IT based on its training/assessment capabilities, ease of use,
installation stability, cost-effectiveness and access to results. A pilot project was initiated
in Fall of 2005, and an expanded 'universal test' was administered in Spring 2006. This
expanded test utilizes questions of varying difficulty covering all technology tools,
enabling monitoring of improvement of skill levels from the entering freshmen
(Beginning) through the Exiting Sophomore/Junior (intermediate), and exiting senior
(advanced) phases.
Our next meeting will be hosted by the College of Education. David Walker has offered
to demo the Livetext system- a recently implemented assessment tool, which provides a
useful source of feedback for faculty, as well as for departmental assessment of learning
outcomes.