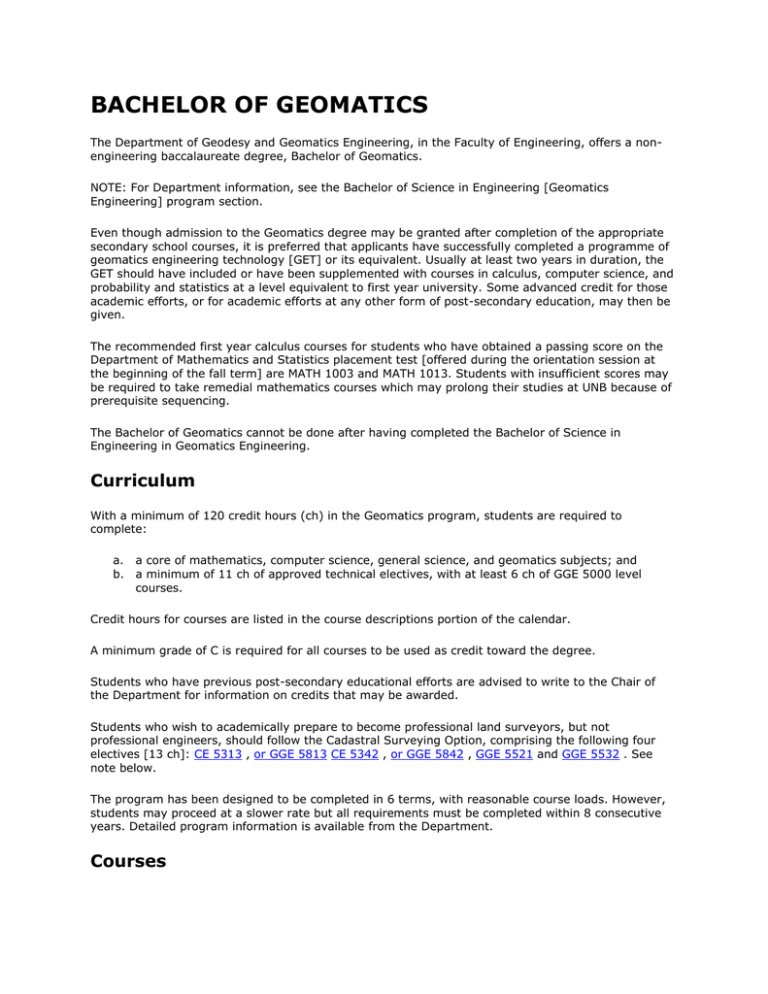 BACHELOR OF GEOMATICS
The Department of Geodesy and Geomatics Engineering, in the Faculty of Engineering, offers a nonengineering baccalaureate degree, Bachelor of Geomatics.
NOTE: For Department information, see the Bachelor of Science in Engineering [Geomatics
Engineering] program section.
Even though admission to the Geomatics degree may be granted after completion of the appropriate
secondary school courses, it is preferred that applicants have successfully completed a programme of
geomatics engineering technology [GET] or its equivalent. Usually at least two years in duration, the
GET should have included or have been supplemented with courses in calculus, computer science, and
probability and statistics at a level equivalent to first year university. Some advanced credit for those
academic efforts, or for academic efforts at any other form of post-secondary education, may then be
given.
The recommended first year calculus courses for students who have obtained a passing score on the
Department of Mathematics and Statistics placement test [offered during the orientation session at
the beginning of the fall term] are MATH 1003 and MATH 1013. Students with insufficient scores may
be required to take remedial mathematics courses which may prolong their studies at UNB because of
prerequisite sequencing.
The Bachelor of Geomatics cannot be done after having completed the Bachelor of Science in
Engineering in Geomatics Engineering.
Curriculum
With a minimum of 120 credit hours (ch) in the Geomatics program, students are required to
complete:
a.
b.
a core of mathematics, computer science, general science, and geomatics subjects; and
a minimum of 11 ch of approved technical electives, with at least 6 ch of GGE 5000 level
courses.
Credit hours for courses are listed in the course descriptions portion of the calendar.
A minimum grade of C is required for all courses to be used as credit toward the degree.
Students who have previous post-secondary educational efforts are advised to write to the Chair of
the Department for information on credits that may be awarded.
Students who wish to academically prepare to become professional land surveyors, but not
professional engineers, should follow the Cadastral Surveying Option, comprising the following four
electives [13 ch]: CE 5313 , or GGE 5813 CE 5342 , or GGE 5842 , GGE 5521 and GGE 5532 . See
note below.
The program has been designed to be completed in 6 terms, with reasonable course loads. However,
students may proceed at a slower rate but all requirements must be completed within 8 consecutive
years. Detailed program information is available from the Department.
Courses
Descriptions of courses offered by the various Departments are given in the "Fredericton Courses"
Section of this Calendar.
As stated in their descriptions, many courses have prerequisite courses or corequisite courses or both.
It is expected that students will have completed at least the prerequisite courses prior to doing a
course in order to be adequately prepared to deal with the material of that course. Those who have
not completed these prerequisites can expect to spend additional time acquiring this background
knowledge on their own and should budget more time for that course. Nonetheless, a course
instructor has the right to insist that students may take her/his course only if they have met the
prerequisite or corequisite stipulations or both.
The credit hour weighting of a course is also an indication of the amount of time that may have to be
spent on a course. Generally, the number of hours per week [including all scheduled class time] could
be from 2 to 3 times the number of credit hours. As an example, a course is shown as being "(2C, 3L)
4 ch". This means that a student might spend up to 8 to 12 hours per week, including the scheduled 5
hours of lectures [C] and lab [L]. Students who have not completed the prerequisites can expect to
spend more time than this.
CORE COURSES [all required]:
CE 3963
Engineering Economy
CS 1003
Introduction to Computer Programming
ECON 1073 Economics for Engineers
ENGG 4013 Law and Ethics for Engineers
GGE 1001
Introduction to Geodesy & Geomatics
GGE 2012
Advanced Surveying
GGE 2013
Advanced Surveying Practicum
GGE 2423
Introduction to Geographic Information Systems
GGE 2501
Land Administration I
GGE 3022
Survey Design and Analysis
GGE 3023
Surveying Design Practicum
GGE 3042
Space Geodesy
GGE 3111
Introduction to Adjustment Calculus
GGE 3122
Advanced Adjustment Calculus
GGE 3202
Geodesy I
GGE 3342
Imaging and Mapping I
GGE 3353
Imaging and Mapping II
GGE 4022
Precision Surveying
GGE 4211
Geodesy II
GGE 4313
Imaging and Mapping III
GGE 4423
Advanced Geographic Information Systems
GGE 4512
Land Administration II
MATH 1003 Introduction to Calculus I
MATH 1013 Introduction to Calculus II
MATH 1503 Introduction to Linear Algebra
MATH 2513 Multivariable Calculus for Engineers
STAT 2593 Probability and Statistics for Engineers
TME 3313
Managing Engineering & IT Projects
TECHNICAL ELECTIVES [at least 6 ch required]:
GGE 5013
Oceanography for Hydrographers
GGE 5023
Tides and Water Levels
GGE 5033
Marine Geology for Hydrographers
GGE 5041
Engineering Surveying
GGE 5042
Kinematic Positioning
GGE 5043
Marine Geophysics for Hydrographers
GGE 5061
Mining Surveying
GGE 5072
Hydrographic Data Management
GGE 5093
Industrial Metrology
GGE 5131
Special Studies in Adjustments
GGE 5222
Gravity Field and Geodetic Networks
GGE 5242
Special Studies in Geodesy
GGE 5322
Digital Image Processing
GGE 5332
Special Studies in Photogrammetry
GGE 5413
Special Studies in Digital Mapping
GGE 5521
Survey Law
GGE 5532
Land Economy & Administration
GGE 5543
Marine Policy, Law, and Administration
GGE 5813
Urban Planning for Geomatics
GGE 5842
Site Planning for Geomatics
Other technical electives may be done, with prior Departmental approval.
Cadastral Surveying Option within Geomatics
Students who complete the Bachelor of Geomatics at UNB with the four technical electives, CE 5313 or
GGE 5813 , CE 5342 or GGE 5842 , GGE 5521 and GGE 5532 , will have the following notation placed
on their transcripts: "COMPLETED CADASTRAL SURVEYING OPTION".