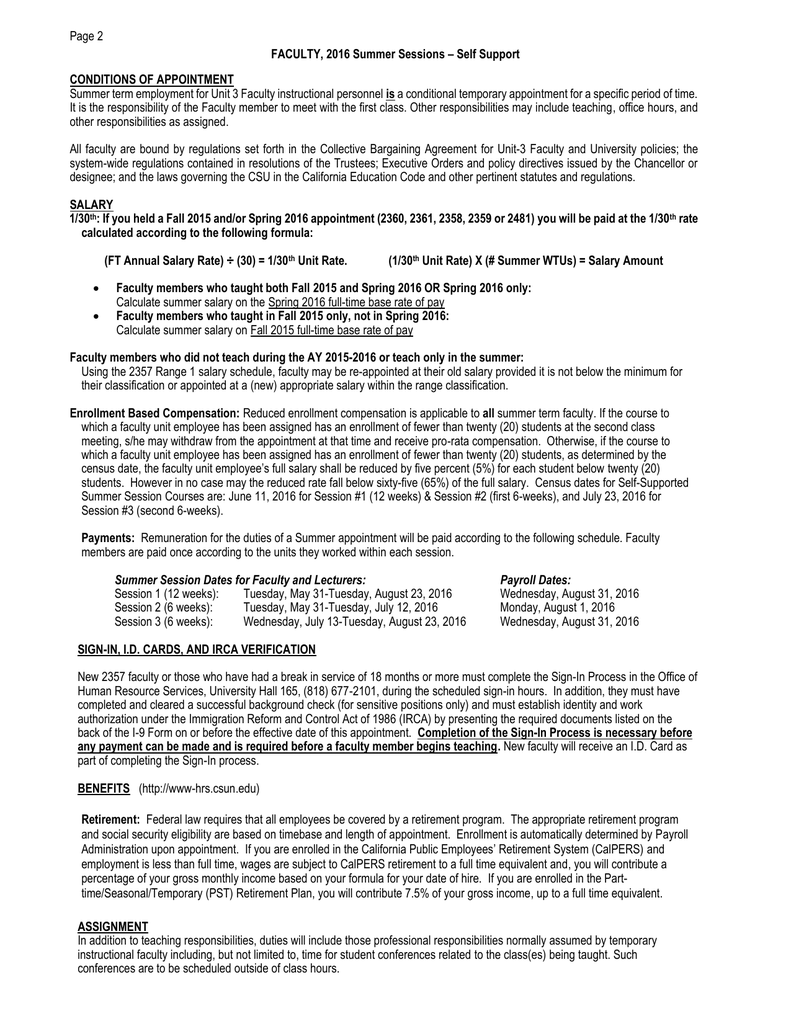 Page 2
FACULTY, 2016 Summer Sessions – Self Support
CONDITIONS OF APPOINTMENT
Summer term employment for Unit 3 Faculty instructional personnel is a conditional temporary appointment for a specific period of time.
It is the responsibility of the Faculty member to meet with the first class. Other responsibilities may include teaching, office hours, and
other responsibilities as assigned.
All faculty are bound by regulations set forth in the Collective Bargaining Agreement for Unit-3 Faculty and University policies; the
system-wide regulations contained in resolutions of the Trustees; Executive Orders and policy directives issued by the Chancellor or
designee; and the laws governing the CSU in the California Education Code and other pertinent statutes and regulations.
SALARY
1/30th: If you held a Fall 2015 and/or Spring 2016 appointment (2360, 2361, 2358, 2359 or 2481) you will be paid at the 1/30 th rate
calculated according to the following formula:
(FT Annual Salary Rate) ÷ (30) = 1/30th Unit Rate.


(1/30th Unit Rate) X (# Summer WTUs) = Salary Amount
Faculty members who taught both Fall 2015 and Spring 2016 OR Spring 2016 only:
Calculate summer salary on the Spring 2016 full-time base rate of pay
Faculty members who taught in Fall 2015 only, not in Spring 2016:
Calculate summer salary on Fall 2015 full-time base rate of pay
Faculty members who did not teach during the AY 2015-2016 or teach only in the summer:
Using the 2357 Range 1 salary schedule, faculty may be re-appointed at their old salary provided it is not below the minimum for
their classification or appointed at a (new) appropriate salary within the range classification.
Enrollment Based Compensation: Reduced enrollment compensation is applicable to all summer term faculty. If the course to
which a faculty unit employee has been assigned has an enrollment of fewer than twenty (20) students at the second class
meeting, s/he may withdraw from the appointment at that time and receive pro-rata compensation. Otherwise, if the course to
which a faculty unit employee has been assigned has an enrollment of fewer than twenty (20) students, as determined by the
census date, the faculty unit employee's full salary shall be reduced by five percent (5%) for each student below twenty (20)
students. However in no case may the reduced rate fall below sixty-five (65%) of the full salary. Census dates for Self-Supported
Summer Session Courses are: June 11, 2016 for Session #1 (12 weeks) & Session #2 (first 6-weeks), and July 23, 2016 for
Session #3 (second 6-weeks).
Payments: Remuneration for the duties of a Summer appointment will be paid according to the following schedule. Faculty
members are paid once according to the units they worked within each session.
Summer Session Dates for Faculty and Lecturers:
Session 1 (12 weeks):
Tuesday, May 31-Tuesday, August 23, 2016
Session 2 (6 weeks):
Tuesday, May 31-Tuesday, July 12, 2016
Session 3 (6 weeks):
Wednesday, July 13-Tuesday, August 23, 2016
Payroll Dates:
Wednesday, August 31, 2016
Monday, August 1, 2016
Wednesday, August 31, 2016
SIGN-IN, I.D. CARDS, AND IRCA VERIFICATION
New 2357 faculty or those who have had a break in service of 18 months or more must complete the Sign-In Process in the Office of
Human Resource Services, University Hall 165, (818) 677-2101, during the scheduled sign-in hours. In addition, they must have
completed and cleared a successful background check (for sensitive positions only) and must establish identity and work
authorization under the Immigration Reform and Control Act of 1986 (IRCA) by presenting the required documents listed on the
back of the I-9 Form on or before the effective date of this appointment. Completion of the Sign-In Process is necessary before
any payment can be made and is required before a faculty member begins teaching. New faculty will receive an I.D. Card as
part of completing the Sign-In process.
BENEFITS (http://www-hrs.csun.edu)
Retirement: Federal law requires that all employees be covered by a retirement program. The appropriate retirement program
and social security eligibility are based on timebase and length of appointment. Enrollment is automatically determined by Payroll
Administration upon appointment. If you are enrolled in the California Public Employees' Retirement System (CalPERS) and
employment is less than full time, wages are subject to CalPERS retirement to a full time equivalent and, you will contribute a
percentage of your gross monthly income based on your formula for your date of hire. If you are enrolled in the Parttime/Seasonal/Temporary (PST) Retirement Plan, you will contribute 7.5% of your gross income, up to a full time equivalent.
ASSIGNMENT
In addition to teaching responsibilities, duties will include those professional responsibilities normally assumed by temporary
instructional faculty including, but not limited to, time for student conferences related to the class(es) being taught. Such
conferences are to be scheduled outside of class hours.