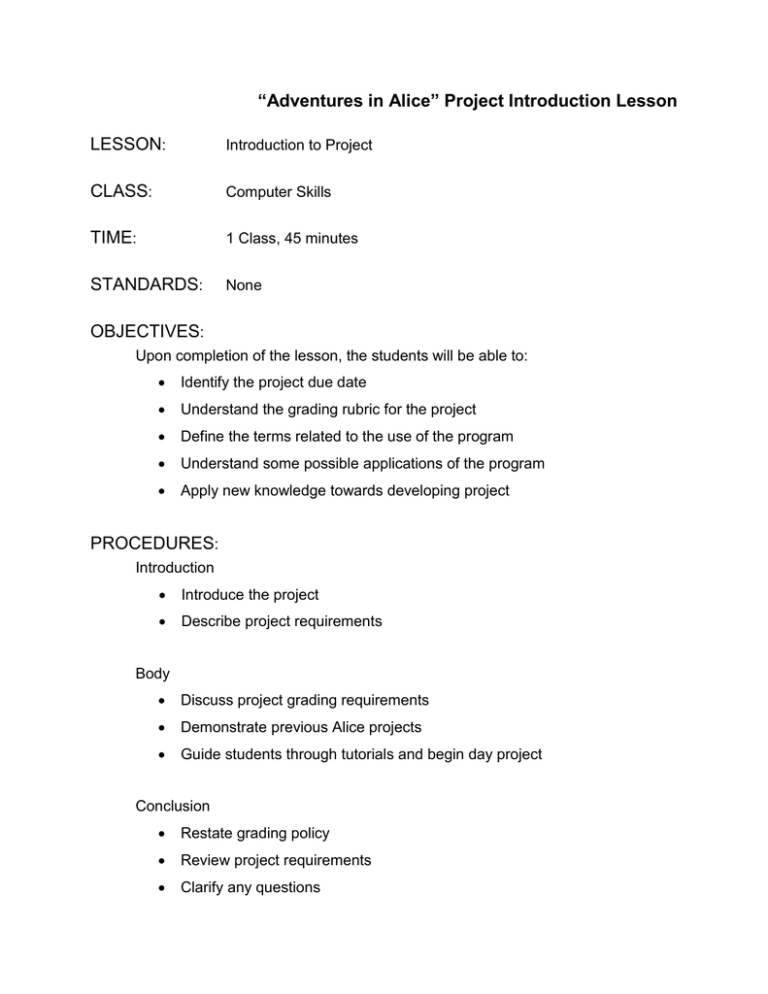 "Adventures in Alice" Project Introduction Lesson
LESSON:
Introduction to Project
CLASS:
Computer Skills
TIME:
1 Class, 45 minutes
STANDARDS:
None
OBJECTIVES:
Upon completion of the lesson, the students will be able to:

Identify the project due date

Understand the grading rubric for the project

Define the terms related to the use of the program

Understand some possible applications of the program

Apply new knowledge towards developing project
PROCEDURES:
Introduction

Introduce the project

Describe project requirements
Body

Discuss project grading requirements

Demonstrate previous Alice projects

Guide students through tutorials and begin day project
Conclusion

Restate grading policy

Review project requirements

Clarify any questions
MATERIALS/RESOURCES:

Computers


"Adventures in Alice" Program
Blank Paper


Handouts
Pencil
ASSESSMENT:

Pre-quiz (Not counted in grade)
QUESTIONS:

Can a character be placed under the ground?


Which menu do you go in to move a character?
How do you add characters to your world?


What is a method?
What is a world?