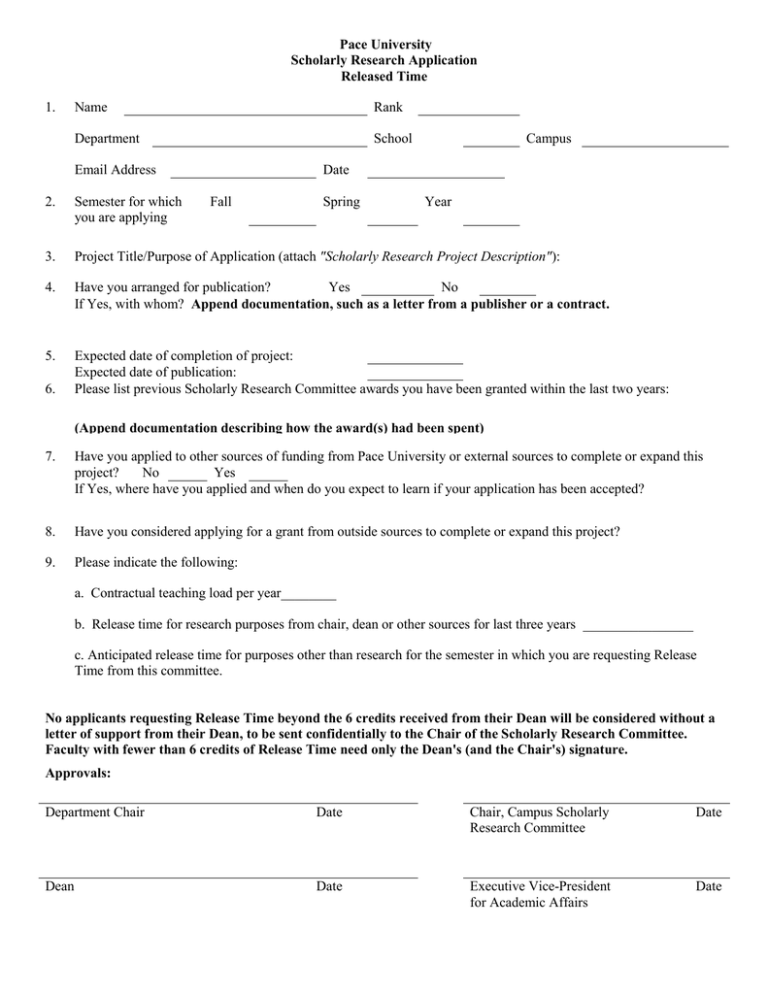 Pace University
Scholarly Research Application
Released Time
1.
Name
Rank
Department
School
Email Address
Campus
Date
2.
Semester for which
you are applying
3.
Project Title/Purpose of Application (attach "Scholarly Research Project Description"):
4.
Have you arranged for publication?
Yes
No
If Yes, with whom? Append documentation, such as a letter from a publisher or a contract.
5.
Expected date of completion of project:
Expected date of publication:
Please list previous Scholarly Research Committee awards you have been granted within the last two years:
6.
Fall
Spring
Year
(Append documentation describing how the award(s) had been spent)
7.
Have you applied to other sources of funding from Pace University or external sources to complete or expand this
project?
No
Yes
If Yes, where have you applied and when do you expect to learn if your application has been accepted?
8.
Have you considered applying for a grant from outside sources to complete or expand this project?
9.
Please indicate the following:
a. Contractual teaching load per year________
b. Release time for research purposes from chair, dean or other sources for last three years ________________
c. Anticipated release time for purposes other than research for the semester in which you are requesting Release
Time from this committee.
No applicants requesting Release Time beyond the 6 credits received from their Dean will be considered without a
letter of support from their Dean, to be sent confidentially to the Chair of the Scholarly Research Committee.
Faculty with fewer than 6 credits of Release Time need only the Dean's (and the Chair's) signature.
Approvals:
Department Chair
Date
Chair, Campus Scholarly
Research Committee
Date
Dean
Date
Executive Vice-President
for Academic Affairs
Date
Pace University
Scholarly Research Project Description
Released Time
Name
Project Title
In the space provided, describe the proposed study. Your presentation should be clear and precise; technical details
should be kept to a minimum to allow evaluation by committee members from diverse disciplines. In not more than 1000
words indicate the following:
a. Provide a brief introduction for the field of study
b. the significance of the study to your field (i.e., how your project relates to extant scholarship and research in your
field).
c. the specific program of study or research planned, including the basic thesis or queries to be explored, how this
will further your field of study , and the ways in which the study will be pursued. Include a schedule.
d. the relationship of the proposed study to your immediate and long range study and research objectives.
e. the present state of the proposed study: whether it is just beginning or in progress; the progress to date; and the
stage yet to be completed.
f.
Most tenured and tenure-track faculty receive 6 credits of release time per academic year to conduct their
scholarly or artistic endeavors, and have a 9/9 credit load. Please describe the project(s) undertaken during this
release time.
g. If the project described in the current application is related to the project described in f, please clarify the
difference and justify the need for additional release time.
In addition, please append a Progress Report for your most recent award from the Scholarly Research Committee within
the last two years, as listed in #6 above.