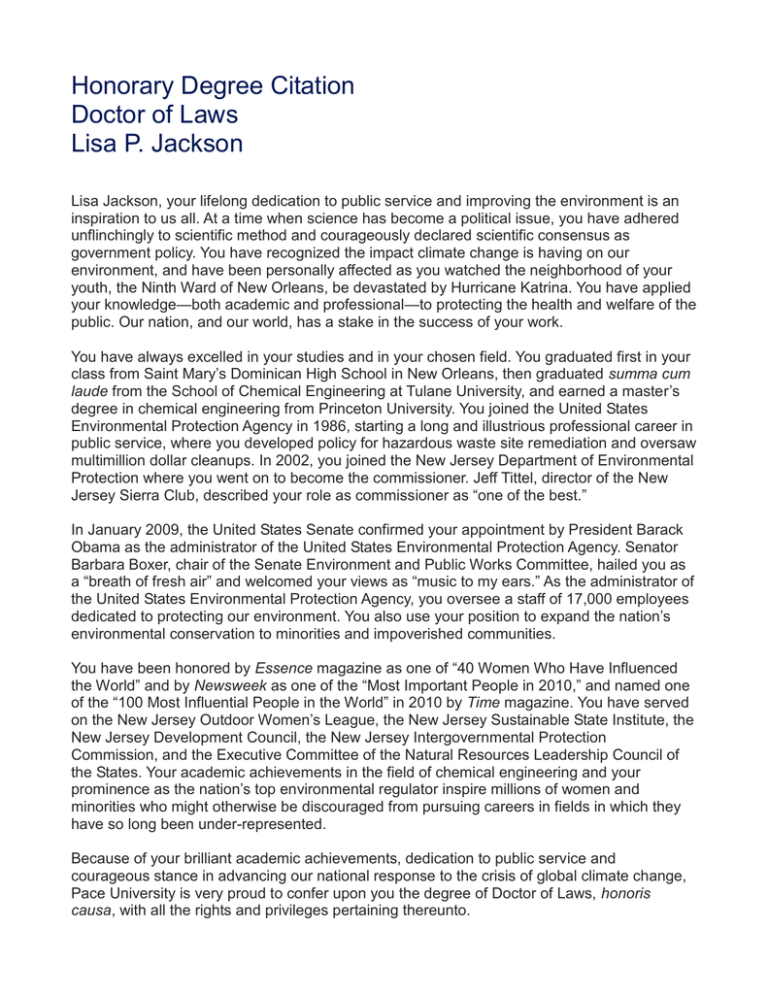 Honorary Degree Citation
Doctor of Laws
Lisa P. Jackson
Lisa Jackson, your lifelong dedication to public service and improving the environment is an
inspiration to us all. At a time when science has become a political issue, you have adhered
unflinchingly to scientific method and courageously declared scientific consensus as
government policy. You have recognized the impact climate change is having on our
environment, and have been personally affected as you watched the neighborhood of your
youth, the Ninth Ward of New Orleans, be devastated by Hurricane Katrina. You have applied
your knowledge—both academic and professional—to protecting the health and welfare of the
public. Our nation, and our world, has a stake in the success of your work.
You have always excelled in your studies and in your chosen field. You graduated first in your
class from Saint Mary's Dominican High School in New Orleans, then graduated summa cum
laude from the School of Chemical Engineering at Tulane University, and earned a master's
degree in chemical engineering from Princeton University. You joined the United States
Environmental Protection Agency in 1986, starting a long and illustrious professional career in
public service, where you developed policy for hazardous waste site remediation and oversaw
multimillion dollar cleanups. In 2002, you joined the New Jersey Department of Environmental
Protection where you went on to become the commissioner. Jeff Tittel, director of the New
Jersey Sierra Club, described your role as commissioner as "one of the best."
In January 2009, the United States Senate confirmed your appointment by President Barack
Obama as the administrator of the United States Environmental Protection Agency. Senator
Barbara Boxer, chair of the Senate Environment and Public Works Committee, hailed you as
a "breath of fresh air" and welcomed your views as "music to my ears." As the administrator of
the United States Environmental Protection Agency, you oversee a staff of 17,000 employees
dedicated to protecting our environment. You also use your position to expand the nation's
environmental conservation to minorities and impoverished communities.
You have been honored by Essence magazine as one of "40 Women Who Have Influenced
the World" and by Newsweek as one of the "Most Important People in 2010," and named one
of the "100 Most Influential People in the World" in 2010 by Time magazine. You have served
on the New Jersey Outdoor Women's League, the New Jersey Sustainable State Institute, the
New Jersey Development Council, the New Jersey Intergovernmental Protection
Commission, and the Executive Committee of the Natural Resources Leadership Council of
the States. Your academic achievements in the field of chemical engineering and your
prominence as the nation's top environmental regulator inspire millions of women and
minorities who might otherwise be discouraged from pursuing careers in fields in which they
have so long been under-represented.
Because of your brilliant academic achievements, dedication to public service and
courageous stance in advancing our national response to the crisis of global climate change,
Pace University is very proud to confer upon you the degree of Doctor of Laws, honoris
causa, with all the rights and privileges pertaining thereunto.