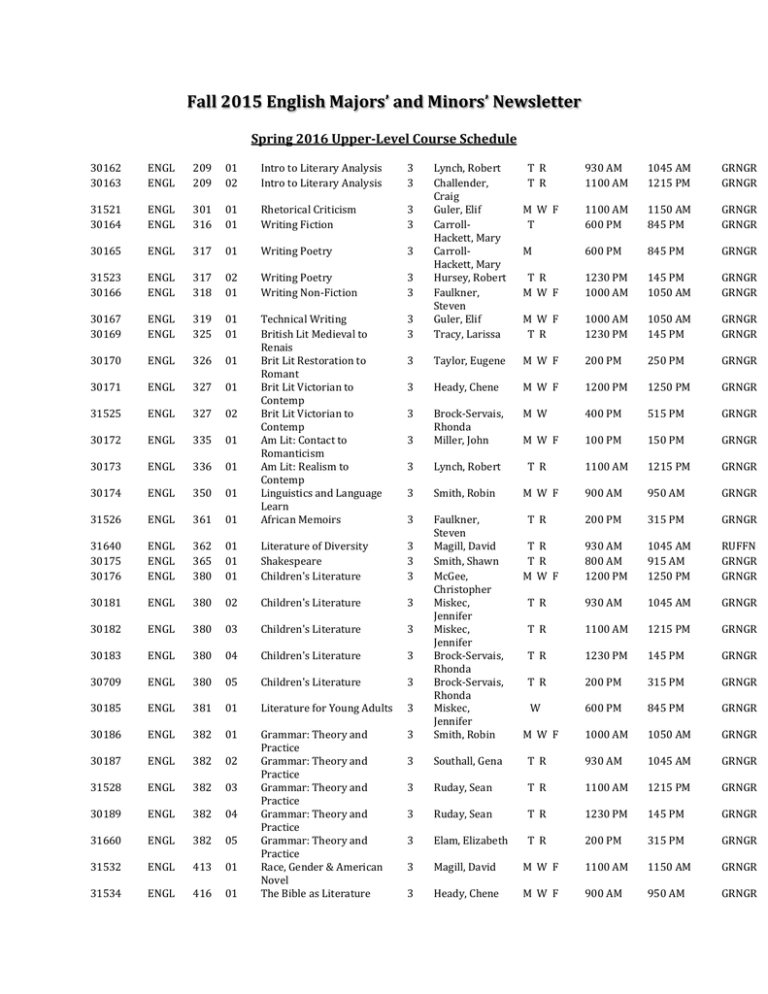 Fall 2015 English Majors' and Minors' Newsletter
Spring 2016 Upper-Level Course Schedule
30162
30163
ENGL
ENGL
209
209
01
02
Intro to Literary Analysis
Intro to Literary Analysis
3
3
31521
30164
ENGL
ENGL
301
316
01
01
Rhetorical Criticism
Writing Fiction
3
3
30165
ENGL
317
01
Writing Poetry
3
31523
30166
ENGL
ENGL
317
318
02
01
Writing Poetry
Writing Non-Fiction
3
3
30167
30169
ENGL
ENGL
319
325
01
01
3
3
30170
ENGL
326
01
3
30171
ENGL
327
01
31525
ENGL
327
02
30172
ENGL
335
01
30173
ENGL
336
01
30174
ENGL
350
01
31526
ENGL
361
01
Technical Writing
British Lit Medieval to
Renais
Brit Lit Restoration to
Romant
Brit Lit Victorian to
Contemp
Brit Lit Victorian to
Contemp
Am Lit: Contact to
Romanticism
Am Lit: Realism to
Contemp
Linguistics and Language
Learn
African Memoirs
Lynch, Robert
Challender,
Craig
Guler, Elif
CarrollHackett, Mary
CarrollHackett, Mary
Hursey, Robert
Faulkner,
Steven
Guler, Elif
Tracy, Larissa
31640
30175
30176
ENGL
ENGL
ENGL
362
365
380
01
01
01
Literature of Diversity
Shakespeare
Children's Literature
3
3
3
30181
ENGL
380
02
Children's Literature
3
30182
ENGL
380
03
Children's Literature
3
30183
ENGL
380
04
Children's Literature
3
30709
ENGL
380
05
Children's Literature
3
30185
ENGL
381
01
Literature for Young Adults
3
30186
ENGL
382
01
30187
ENGL
382
02
31528
ENGL
382
03
30189
ENGL
382
04
31660
ENGL
382
05
31532
ENGL
413
01
31534
ENGL
416
01
Grammar: Theory and
Practice
Grammar: Theory and
Practice
Grammar: Theory and
Practice
Grammar: Theory and
Practice
Grammar: Theory and
Practice
Race, Gender & American
Novel
The Bible as Literature
T R
T R
930 AM
1100 AM
1045 AM
1215 PM
GRNGR
GRNGR
M W F
T
1100 AM
600 PM
1150 AM
845 PM
GRNGR
GRNGR
M
600 PM
845 PM
GRNGR
T R
M W F
1230 PM
1000 AM
145 PM
1050 AM
GRNGR
GRNGR
M W F
T R
1000 AM
1230 PM
1050 AM
145 PM
GRNGR
GRNGR
Taylor, Eugene
M W F
200 PM
250 PM
GRNGR
3
Heady, Chene
M W F
1200 PM
1250 PM
GRNGR
3
M W
400 PM
515 PM
GRNGR
3
Brock-Servais,
Rhonda
Miller, John
M W F
100 PM
150 PM
GRNGR
3
Lynch, Robert
T R
1100 AM
1215 PM
GRNGR
3
Smith, Robin
900 AM
950 AM
GRNGR
3
200 PM
315 PM
GRNGR
930 AM
800 AM
1200 PM
1045 AM
915 AM
1250 PM
RUFFN
GRNGR
GRNGR
T R
930 AM
1045 AM
GRNGR
T R
1100 AM
1215 PM
GRNGR
T R
1230 PM
145 PM
GRNGR
T R
200 PM
315 PM
GRNGR
W
600 PM
845 PM
GRNGR
3
Faulkner,
Steven
Magill, David
Smith, Shawn
McGee,
Christopher
Miskec,
Jennifer
Miskec,
Jennifer
Brock-Servais,
Rhonda
Brock-Servais,
Rhonda
Miskec,
Jennifer
Smith, Robin
1000 AM
1050 AM
GRNGR
3
Southall, Gena
T R
930 AM
1045 AM
GRNGR
3
Ruday, Sean
T R
1100 AM
1215 PM
GRNGR
3
Ruday, Sean
T R
1230 PM
145 PM
GRNGR
3
Elam, Elizabeth
T R
200 PM
315 PM
GRNGR
3
Magill, David
M W F
1100 AM
1150 AM
GRNGR
3
Heady, Chene
M W F
900 AM
950 AM
GRNGR
M W F
T R
T R
T R
M W F
M W F
31536
ENGL
421
01
3
Tracy, Larissa
01
01
Tolkien & Medieval
Sources
Literature and Culture
Harry Potter
31060
31539
ENGL
ENGL
444
445
3
3
461
470
01
01
Lit Criticism:Senior Sem
Professional Writing Skills
3
3
ENGL
470
02
Professional Writing Skills
3
30230
ENGL
475
01
3
30232
ENGL
477
01
Advanced Dramatic
Writing
Advanced Poetry Writing
Barry, Sean
McGee,
Christopher
Smith, Shawn
Lettner-Rust,
Heather
Lettner-Rust,
Heather
Hursey, Robert
30228
30229
ENGL
ENGL
31542
30713
30234
30235
30236
30237
31871
ENGL
ENGL
ENGL
ENGL
ENGL
ENGL
482
483
483
483
483
483
01
01
02
03
04
JB1
Directed Secondary Teach
Writing:Elementary Clsrm
Writing:Elementary Clsrm
Writing:Elementary Clsrm
Writing:Elementary Clsrm
Writing:Elementary Clsrm
12
3
3
3
3
3
30238
ENGL
485
01
Practical Issue Working
Writer
1
3
Challender,
Craig
Smith, Robin
Ruday, Sean
Ruday, Sean
Elam, Elizabeth
Southall, Gena
Everhart,
Jeffrey
Howarth,
Edward
M
600 PM
845 PM
GRNGR
T
R
600 PM
600 PM
845 PM
845 PM
GRNGR
GRNGR
T R
W
930 AM
600 PM
1045 AM
845 PM
GRNGR
GRNGR
800 AM
850 AM
GRNGR
T R
200 PM
315 PM
GRNGR
T R
1230 PM
145 PM
GRNGR
M W F
M W F
M W F
T R
ARR
1000 AM
1100 AM
200 PM
1100 AM
ARR
ARR
1050 AM
1150 AM
250 PM
1215 PM
ARR
GRNGR
GRNGR
GRNGR
GRNGR
WEB
M
400 PM
450 PM
GRNGR
M W F
Spring 2016 Upper-Level Electives and Variable Topic Course Descriptions
ENGL 305 Rhetoric & Public Culture: Presidential Debates in a Global Theater (Guler)
This course will present the rhetorical tools to understand the shared values and
communicative symbols of the national and international contexts in which students
participate, so that students can be active and successful members of these contexts. The
course will offer students the opportunity to research the use of classical and
contemporary rhetorical principles within a featured segment of public culture. This
offering of the course will center on US Presidential debates, paying particular attention to
how these debates are perceived by the international community. Students will be guided
through empirical research practices, gathering data and analyzing their findings, for
dissemination of results to a public audience. The purpose of this analysis will be to
understand the rhetoric of political discourse aimed at the common good.
ENGL 361 Literature of Places and Spaces: African Memoirs (Faulkner)
We'll read three twentieth-century memoirs written by white women who grew up or lived
in Kenya or Rhodesia (modern Zimbabwe): West with the Night by Beryl Markham, Out of
Africa by Isak Dinesen, and Don't Let's Go to the Dogs Tonight by Alexandra Fuller, three
marvelous explorations of colonial Africa. We'll follow these by reading two twenty-firstcentury memoirs by black Africans: One Day I Will Write About this Place by Binyavanga
Wainaina and The House at Sugar Beach by Helene Cooper, the first about a black boy
growing up in post-colonial Kenya, the second about a black girl growing up in modern
Liberia. Some of these are the best memoirs I have ever read, and all of them are a
revelation that charts the evolution of cultures within a continent Americans often ignore.
(I myself spent my childhood in Sudan and Ethiopia, so these books have a personal
connection.)
ENGL 362 Social Psychology and the Literature of Diverse Selves (Magill and Blincoe)
This course, team-taught by Dr. Sarai Blincoe and Dr. David Magill, will bring together
students from English and Psychology to examine how each discipline approaches the idea
of understanding the self. We will examine that understanding both in individual and
collective settings that will allow us to ask how cultural ideals of race, gender, class,
sexuality, and other determinants influence the individual's self-awareness and
development. We will place theories of psychology in dialogue with literary texts and see
how each informs the other.
ENGL 400 Special Themes
Sections -04, -06, -11 and intersession (Green): An exploration of the risks and rewards of
cultivating a life online via social media.
Sections -01, -02, and -05 (Simmons): An LGBT focus.
Section -03 (Lettner-Rust): A volume of stories from veterans of the school strike and the
school closings in Prince Edward County.
Sections -09, -12, -16 (Holsinger): American exceptionalism.
ENGL 413 Race, Gender, and the American Novel (Magill)
This course will study a range of novels from 19th and 20th -century America as a means of
understanding how novelists approached cultural issues of race and gender in their
work. We will look at these fictional texts both to understand how they represented their
own era and how they speak to ours. Authors will include Chesnutt, Wharton, Faulkner,
Baldwin, Morrison, Delillo, Alexie, and others.
ENGL 416 The Bible as Literature (Heady)
This course will both study the Bible as a work of literature and glance at its appropriation
in later literary works. Students will examine the Bible itself primarily through the lens of
the principal genres of biblical literature: wisdom writings, liturgical poetry, theological
history, prophecy, gospel, epistle, and apocalypse. Students will also look at how the Bible
is treated in later literature as both a generally accepted source of literary authority and a
contested site of interpretive debate.
ENGL 421/521 Major Figures in Fiction: Tolkien and his Sources (Tracy)
For more than half a century, J.R.R. Tolkien has gripped the public imagination with his
tales of wizards, hobbits, orcs, and elves. But Tolkien took his inspiration from a far older
body of literature, the epics, poems, lais and sagas of the Middle Ages. As one of the premier
medievalists of his time, Tolkien edited texts like Sir Gawain and the Green Knight and
wrote extensively on Anglo Saxon and Middle English, weaving the essence of these works
into his own. This course is designed as a study of a selection of Tolkien's works in concert
with his earlier medieval sources in order to trace the transformation of medieval texts in
the popular modern imagination and emphasize their relevance to modern audiences. We
will read these texts closely and discuss them thoroughly, examining issues of folklore,
socio-economic mobility, gender, religion, heresy, and the shifting relationship of class
structure.
Announcements
LSEM: If you did not pass LSEM this fall, please contact Dr. Chris McGee
(mcgeecw@longwood.edu) about enrolling in the spring semester's section(s).
Megan Almond, a senior, has been selected to receive the Richard A. Meade Student
Teaching Scholarship from the Virginia Association of Teachers of English (VATE).
Megan is the third consecutive Longwood English education student, and the fourth since
2011, to win the $1,000 scholarship, which is awarded to only one student each year. It was
created to recognize "the efforts of highly capable students entering teaching." In addition
to the monetary award, the scholarship covered Almond's expenses at this year's October
VATE conference in Richmond, where the award was presented.
Faculty News
Professor Steve Faulkner will be joining a group of students and faculty laying down the
groundwork for a sister program to the annual Longwood Yellowstone trip. This one will
travel through parts of Alaska researching land and water use. He will also be doing a book
tour to promote his new book Bitterroot: Echoes of Beauty and Loss, starting in St. Louis and
traveling to the replica of the Lewis and Clark winter camp at Fort Clatsop near the Pacific
Ocean.
Professor Elise Green presented "Teaching Argumentative Writing: Opposition and
Rebuttal with the Eight Alabama Clergymen and Martin Luther King, Jr." at the Summer
Literacy Institute at Longwood on July 23, 2015. She also presented "More than a Ham and
Cheese Sandwich: Cooking a Three Course Feast with the Literacy Narrative Argument" at
the annual VATE conference in Richmond on October 17, 2015.
Professor Elif Guler was invited to present her study, "Resurrecting Women from the
Historical Ideal of the Kayi Tribe," at the upcoming Feminisms and Rhetorics Conference to
be held at Arizona State University from October 28-31, 2015. Dr. Guler's paper, "The
Turkish Rhetorical Tradition and its Implications for Public Rhetorics in the U.S. Writing
Classroom," was also accepted for presentation at The Rhetoric Society of America
Conference to be held in Atlanta, Georgia, from May 28-31, 2015.
Professor Chene Heady published "An Apologia for Buffoons: The Paradox of G.K.
Chesterton's Literary Authority in his Autobiography" in Literary Careers in the Modern
Era, Eds. Guy Davidson and Nicola Evans (New York: Palgrave Macmillan, 2015).
Two of Professor Edd Howarth's screenplays, "The Birthday Greeting" and "The Date,"
were quarter-finalists in the 2015 ScreenCraft Short Screenplay Competition. His
screenplay "The Birthday Greeting" was a semi-finalist in the PAGE International
Screenwriting Awards.
Professor David Magill published "Bromance and the Evolution of Male Intimacy in the
Jump Street Films," forthcoming in Interactions: A Journal of Communication and Culture;
and "Racial Hybridity and the Reconstruction of White Masculinity in Underworld,"
forthcoming in Darker Than the Night: Race and the Vampire Narrative. He will present at
SAMLA this fall on "Volatile Bodies in Toni Morrison's Paradise."
At the Women's & Gender Studies program in Greenwood Library on Oct. 21, Professor
Jess Simmons discussed her life as a transsexual English professor in her talk "Yes! I Have
No Banana, or More Than the Sum of My Parts: Surviving (Trans)Gender Discrimination in
Academe." Professor Simmons reflected on a teaching career that spanned two decades and
two genders and how she endured, survived, and eventually prevailed over careerdestroying discrimination after gender-confirmation surgery: From getting chalk-dust on a
tweed jacket as a tenured male associate professor in a college classroom to getting butter
on her blouse as a woman working concessions at a movie theater.
Professor Kat Tracy was invited to deliver a paper titled "Wounds and Wound Repair: The
Medieval Literary Surgeon in Text and Cultural Tradition" at an international symposium,
"Soldiers and Surgeons: Wounds of War and Their Treatment from Prehistory to the
Crusades," organized by the University of Salzburg and Oxford University, held at the
Carnuntum Archaeological Park, Austria, September 17–19, 2015. She also co-edited
Wounds and Wound Repair in Medieval Culture (Leiden: Brill, 2015) and had published
"Wounded Bodies: Kingship, National Identity, and Illegitimate Torture in the English
Arthurian Tradition" in Arthurian Literature 32 (2015): 1–29.
Professor Gordon Van Ness published James Dickey's Death, and the Day's Light, the final
volume of poetry on which Dickey was working when he died. Professor Van Ness edited
the two long unfinished poems and wrote an extended introduction placing the volume in
the context of his career. He was also invited to participate at the John Updike Conference
next year; his presentation is titled "'A certain starstruck quality': The Curious Relationship
of John Updike and James Dickey." Also forthcoming in Five Points: A Journal of Literature
and Art is "Eden," the last poem on which Dickey was working when he died, which
Professor Van Ness edited with the permission of the Dickey Estate.
Did You Know?
Dear English and Modern Languages Majors,
Many of you recently left summer jobs ranging from fast food to retail, and are now back
again assuming your familiar, quasi-professional position: English/Modern Languages
Student at Work. But what about those authoritative figures facing you across the podium
or from behind the monitor? What did their past lives consist of? What odd jobs did they
have to help fund their tuition? Below, in alphabetical order, are some of those lives.
Bradley Boswell, Lecturer in Spanish: In addition to all my travels . . . , I spent a few
summers working as a research assistant for an Astronomy professor at Bowling Green
State University, Dr. Andrew Layden. I spent my nights operating a telescope from dusk 'till
dawn taking digital pictures of RR Lyrae variable stars, which I later analyzed the next day
for Dr. Layden's research.
Lee Carleton, Lecturer in English: I . . . train[ed] briefly with Service Corporation
International (global pre-need burial company with graveyards worldwide) but coldcalling is hard enough without the "product" having to do with everyone's least favorite
topic. I've also been a courier, siding & window installer, ranch wrangler, truck driver,
kitchen & bath product wholesaler, outdoor gear retailer, taxi driver (2 weeks), and a 7-11
worker.
Craig Challender, Professor of English: For six months during grad school, I worked as a
phlebotomist (a "sticker"—drawer of blood) at St. Anthony's Hospital in Oklahoma City. I
got really good at sticking drunks in the ER, but was an abject failure at sticking the heels of
infants. My gig taught me a lot about mortality, and I got a poem out of it.
Heather Edwards, Senior Lecturer in French: I supported the fossil fuel industry as
Administrative Assistant to the President of International Sales, AMVEST Coal. Not my
finest hour.
Steve Faulkner, Associate Professor of English: I have worked in lawn service, been a dish
washer at a Big Boys' restaurant in Dearborn, MI; I've been a roofer, a carpet cleaner, a
painter, a driver of dump trucks and concrete mixers for a company named Maybee
Trucking . . . I was a carpenter for 14 years, a night-time newspaper deliveryman for over
20 years . . . , I delivered doughnuts for 3 years, and finally was a grave vault maker, which
also involved the planting of those vaults in the earth, after which we installed the
occupants. If this seems to indicate that I must be 100 years old, the answer is that I
normally held two or three jobs at once.
Lily Goetz, Professor of Spanish: I worked on a banana boat one summer. I stood on the
boat with a clicker and counted the boxes of bananas that workers were unloading off the
boat, in Norfolk harbor.
Elise Green, Lecturer in English: I started working various odd jobs at the age of 12 as an
assistant for a handyman repair business in Atlantic City. . . . I did this for 4 years, and the
summer I turned 16 I changed jobs and worked a an airbrush tattoo artist on the
boardwalk of Ocean City, N.J. The summer I turned 19, I waited tables at Applebee's in
Billings, MT. Then I moved to southside Virginia, and for about a year . . . I waited tables at
Pizza Hut, worked as a veterinary technician, and a receptionist for a dentist's office—all at
the same time. At 21, [I became a dental assistant]. One day . . . a patient of mine asked if
I'd be interested in clerking for his auction company. . . . Today, I still clean teeth during
winter breaks, and I still clerk for the auction company.
Elif Guler, Assistant Professor of English: I previously held jobs as statistics tutor (yes, I
once knew how to do math . . .), translator (bilingual in Turkish and English). import
director assistant, and web content manager.
Renee Gutierrez, Assistant Professor of Spanish: I had a CDL (Commercial Driver's License)
and drove a part-time transit bus route for two years (with occasional jobs driving coach
busses—like Greyhound-sized ones), and was in the Navy for almost 11 years.
Chene Heady, Associate Professor of English: I've been: 1) Midnight Manager at Hardee's;
2) Shelver at a Used Textbook Warehouse; and 3) Assembly Line Worker at
Cadillac. (Among many less interesting jobs.)
Brett Martz, Assistant Professor of German: I worked 6 months in sales for a German based
.com startup before it imploded into the black hole of the bubble burst in 2001.
Sam Mayer, Graduate Assistant in English: I currently work [an] off-beat job as a eBay
consignment seller and an "American Pickers" style junk hunter. This job has me buying
and selling all sorts of weird and unique items, from 1980s insect-men-hybird action
figures and G-bots to antique ukuleles and early 19th century paintings. Some of the . . .
items I have sold include a WWI era leather prosthetic arm, the front end of an old Cadillac .
. . , a 17th century French coin, and a baseball field scoreboard, as well as items sold to
museums, television and movie prop departments, and the office of the Vice President of
France.
Chris McGee, Associate Professor of English: I worked in a butter factory to build up some
money for college.
Jennifer Miskec, Associate Professor of English: My favorite off-beat job was taking bets at
a dog track. I made really good money—the tips were outrageous. I just sat there pushing
buttons and people would give me money if they won.
Jes Simmons, Lecturer in English: I once worked as a ticket-taker/concessioner at the ClaZel Theater in Bowling Green, Ohio. Built in 1926, the Cla-Zel was the longest-operating
single-screen movie theater in Ohio until it closed in 2005.
Shawn Smith, Associate Professor of English: During the first two summers of my college
years, I worked for a hybrid seed company in Nebraska. Most of our work involved
breeding corn. In the mornings, we walked through rows of corn and put small waxed bags
over the shoots—the part of the plant that eventually produces silks and turns into the ear
of corn when pollinated. These waxed bags were about the size of a condom, and they
served the same function—they prevented the shoots from being pollinated. After
covering the shoots, we put paper bags over the tassels—the part of the plant that
produces pollen. In the late morning and afternoon, when the corn started to produce
pollen . . . , we would self-pollinate most of the plants—the tassel bag holding the pollen
would be placed over the shoot to ensure inbreeding, which preserved traits that could be
identified for hybridization. Some plants were cross-pollinated, in order to develop new
hybrids. So, I spent two summers forcing corn to have sex.
Jeff Spicer, Lecturer in English: [For odd jobs], I've been a tobacco farmer, a census taker, a
call-center rep, a bartender and a horse groom. Most of it seemed odd at the time.
Larissa (Kat) Tracy, Associate Professor of English: Mine other iterations are hardly "odd" .
. . but I worked as a sushi waitress in a Japanese restaurant in Tallahassee as an undergrad,
while also working as a new reporter for a liberal daily; in Ireland, I did occasional work in
my boyfriend's father's clothing factory running the stay-flex machine that fused
interfacing to collars and cuffs, and I also worked as a free-lance journalist and a
design/layout editor for a national Sunday paper.