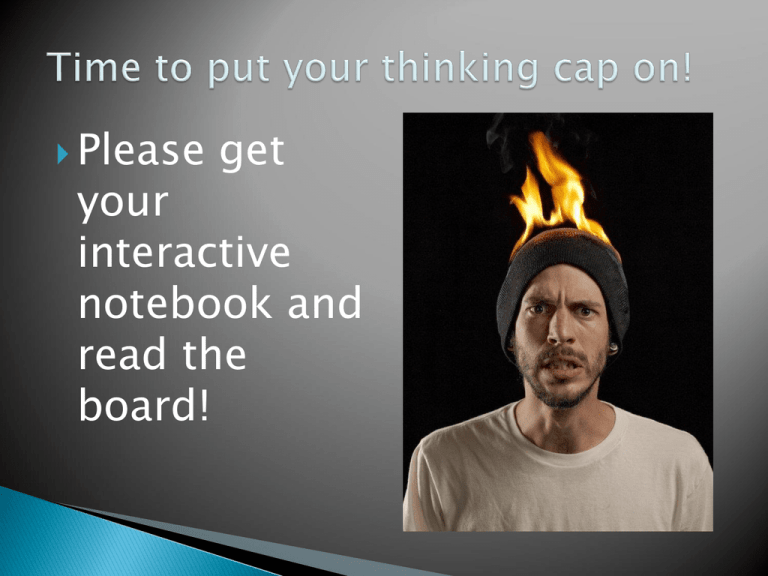  Please
get
your
interactive
notebook and
read the
board!
 Left
side:
 Double Bubble! Compare and
contrast coal formation and oil
formation



500+ mountains
leveled in W Va
1.2 million acres of
hardwood forest
destroyed
Overburden (rocks,
soil) is dumped into
river valleys, increasing
turbidity and exposure
to heavy metals and
radioactive materials.




Coal/natural gas – fuel which is burned
Furnace – place fuel is burned to turn water
to steam
Turbine – steam makes this spin which is
connected to generator
Generator – makes electricity sent to your
home
 Major
air pollutants:
 CO2, SOx, NOx, particulates,
Mercury
 Title:
How an Electric Power Plant
Works
 Date: Jan 28/29
Potential
•Position
•Chemical
Bonds
Kinetic
•Heat
•Motion
•Light
•Electricity



2007 – coal provided 50% of US electricity.
2011 – coal provided 34% of US electricity.
WHY?





1. Explain how a power plant makes
electricity.
2. What type of fuel does our power plant
use?
3. Where is our power plant?
4. How is coal formation different from the
formation of oil and natural gas?
5. Name three kinds of air pollution created
by our power plant.