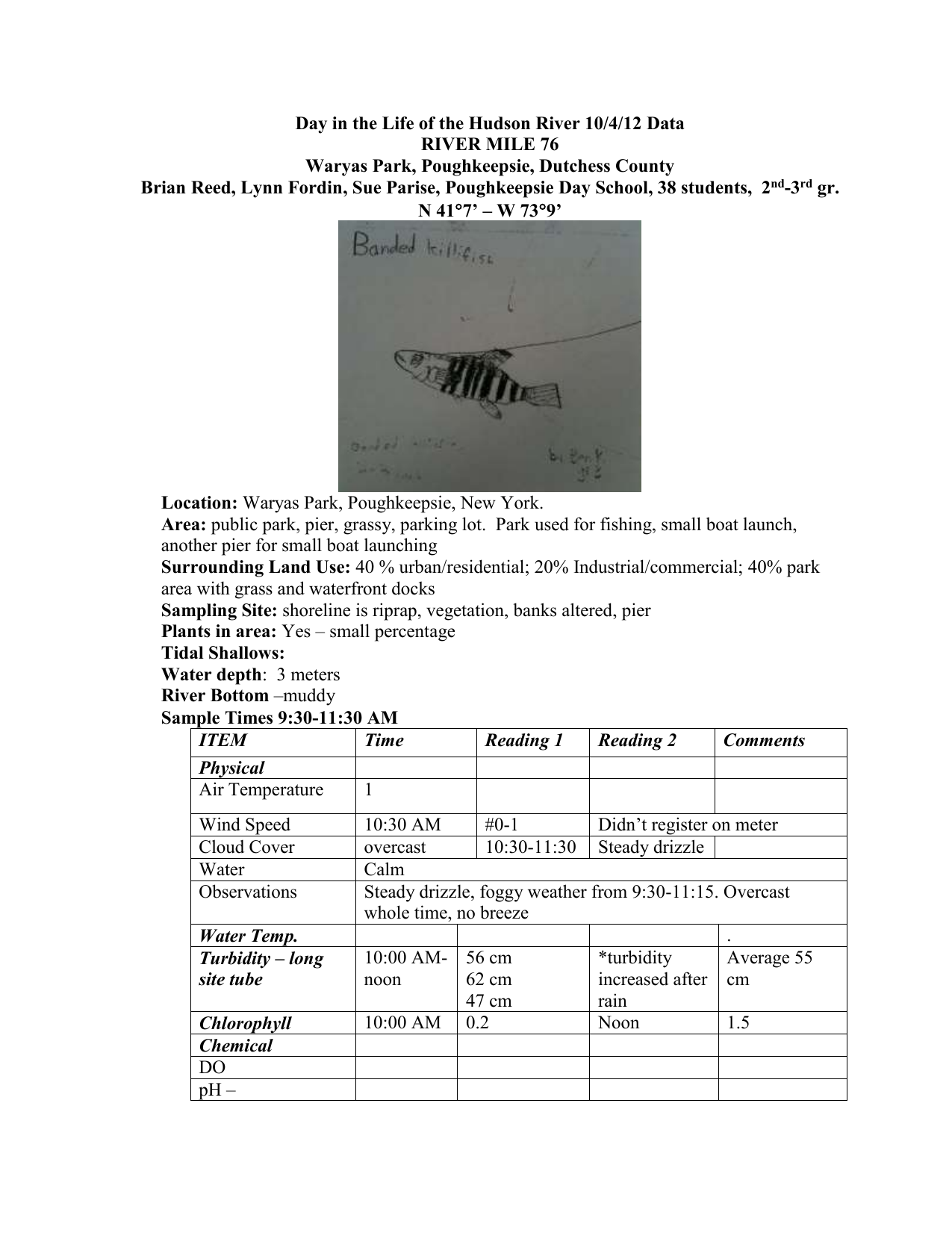 Day in the Life of the Hudson River 10/4/12 Data
RIVER MILE 76
Waryas Park, Poughkeepsie, Dutchess County
Brian Reed, Lynn Fordin, Sue Parise, Poughkeepsie Day School, 38 students, 2nd-3rd gr.
N 417' – W 739'
Location: Waryas Park, Poughkeepsie, New York.
Area: public park, pier, grassy, parking lot. Park used for fishing, small boat launch,
another pier for small boat launching
Surrounding Land Use: 40 % urban/residential; 20% Industrial/commercial; 40% park
area with grass and waterfront docks
Sampling Site: shoreline is riprap, vegetation, banks altered, pier
Plants in area: Yes – small percentage
Tidal Shallows:
Water depth: 3 meters
River Bottom –muddy
Sample Times 9:30-11:30 AM
ITEM
Time
Reading 1
Reading 2
Comments
Physical
Air Temperature
1
Wind Speed
Cloud Cover
Water
Observations
Water Temp.
Turbidity – long
site tube
Chlorophyll
Chemical
DO
pH –
10:30 AM
#0-1
Didn't register on meter
overcast
10:30-11:30 Steady drizzle
Calm
Steady drizzle, foggy weather from 9:30-11:15. Overcast
whole time, no breeze
.
10:00 AM- 56 cm
*turbidity
Average 55
noon
62 cm
increased after cm
47 cm
rain
10:00 AM 0.2
Noon
1.5
Salinity Fish Catch –
10feet net
9:30-11:30 AM
Tides
Currents
Core
Observations
Number
Caught
47
Species
Largest
Banded
8 cm
Killifish
Diversity 8
3
Tessellated
7 cm
Totals 75
Darter
18
Spottail Shiner 10 cm
1
Striped Bass
9 cm
2
Pumpkinseed
6 cm
Sunfish
1
Smallmouth
11 cm
Bass
1
Eel
18 cm
2
Blue Crab
~1.75 cm
Tide stick fell victim to a huge wake from a passing ship
9:30 AM
810 cm/60sec
13.5cm/sec
Flood
10:45 AM
Still
11:30AM
1200 cm/60sec 20cm/sec
flood
Length of Rare
Common
Abundant
Core
10 inches
Clay, pebbles, Mud, gravel,
sand
4 inch top leaves, wood,
shells (tiny
6 inch
brick, slag
pieces)
bottom
Boat Station: Lots of river traffic - crew rowers; tug and oil
barges. Pleasure motor yachts; ocean going ships - The cruise
ship was loading for an The cruise ship was loading for an
excursion, singing, and then heading out with a horn blast that
the kids loved (woke them right up!).
Seine Station: We were 3 classes of second-third graders.
Each class did three or more sweeps of the net totaling 9-10
seines. First group had an abundance of spottail shiners, most
managed to survive! The most exciting was coming up with
the juvenile blue-claw crab – less than 2 cm across – and the
eel. Interestingly, almost everything we caught was 7 cm. The
larger lengths recorded here are the one exception for the most
part.