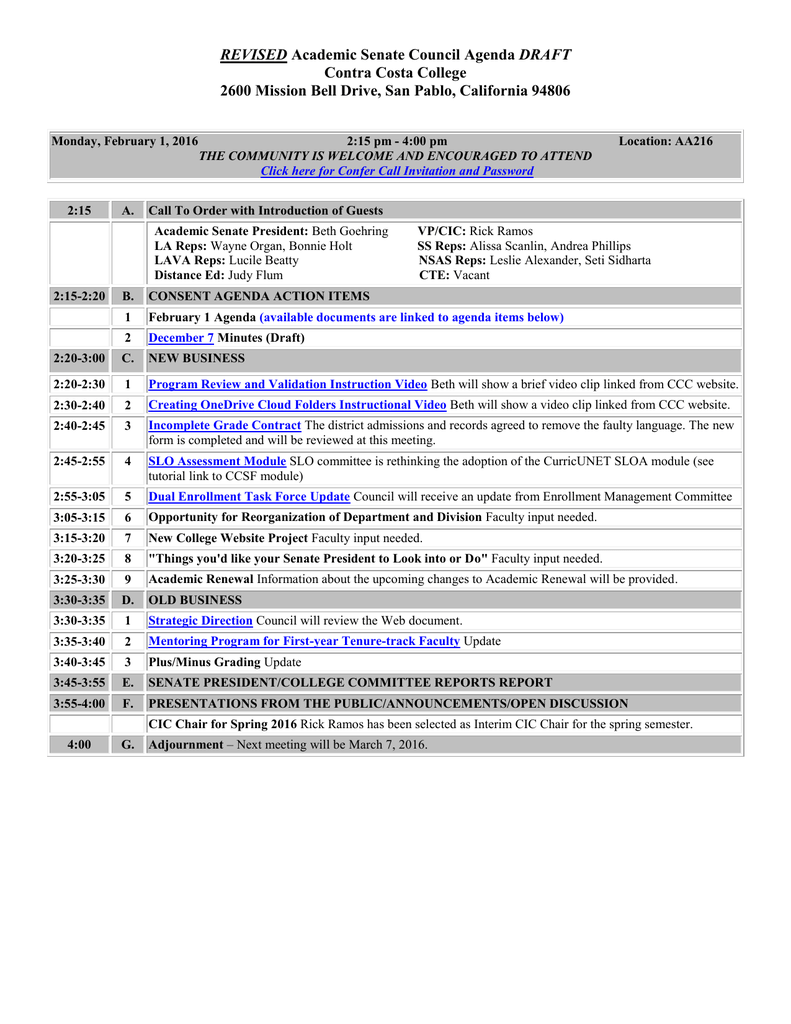 REVISED Academic Senate Council Agenda DRAFT
Contra Costa College
2600 Mission Bell Drive, San Pablo, California 94806
Monday, February 1, 2016
2:15
A.
2:15 pm - 4:00 pm
THE COMMUNITY IS WELCOME AND ENCOURAGED TO ATTEND
Click here for Confer Call Invitation and Password
Call To Order with Introduction of Guests
Academic Senate President: Beth Goehring
LA Reps: Wayne Organ, Bonnie Holt
LAVA Reps: Lucile Beatty
Distance Ed: Judy Flum
2:15-2:20
Location: AA216
VP/CIC: Rick Ramos
SS Reps: Alissa Scanlin, Andrea Phillips
NSAS Reps: Leslie Alexander, Seti Sidharta
CTE: Vacant
B.
CONSENT AGENDA ACTION ITEMS
1
February 1 Agenda (available documents are linked to agenda items below)
2
December 7 Minutes (Draft)
2:20-3:00
C.
NEW BUSINESS
2:20-2:30
1
Program Review and Validation Instruction Video Beth will show a brief video clip linked from CCC website.
2:30-2:40
2
Creating OneDrive Cloud Folders Instructional Video Beth will show a video clip linked from CCC website.
2:40-2:45
3
Incomplete Grade Contract The district admissions and records agreed to remove the faulty language. The new
form is completed and will be reviewed at this meeting.
2:45-2:55
4
SLO Assessment Module SLO committee is rethinking the adoption of the CurricUNET SLOA module (see
tutorial link to CCSF module)
2:55-3:05
5
Dual Enrollment Task Force Update Council will receive an update from Enrollment Management Committee
3:05-3:15
6
Opportunity for Reorganization of Department and Division Faculty input needed.
3:15-3:20
7
New College Website Project Faculty input needed.
3:20-3:25
8
"Things you'd like your Senate President to Look into or Do" Faculty input needed.
3:25-3:30
9
Academic Renewal Information about the upcoming changes to Academic Renewal will be provided.
3:30-3:35
D.
OLD BUSINESS
3:30-3:35
1
Strategic Direction Council will review the Web document.
3:35-3:40
2
Mentoring Program for First-year Tenure-track Faculty Update
3:40-3:45
3
Plus/Minus Grading Update
3:45-3:55
E.
SENATE PRESIDENT/COLLEGE COMMITTEE REPORTS REPORT
3:55-4:00
F.
PRESENTATIONS FROM THE PUBLIC/ANNOUNCEMENTS/OPEN DISCUSSION
CIC Chair for Spring 2016 Rick Ramos has been selected as Interim CIC Chair for the spring semester.
4:00
G.
Adjournment – Next meeting will be March 7, 2016.