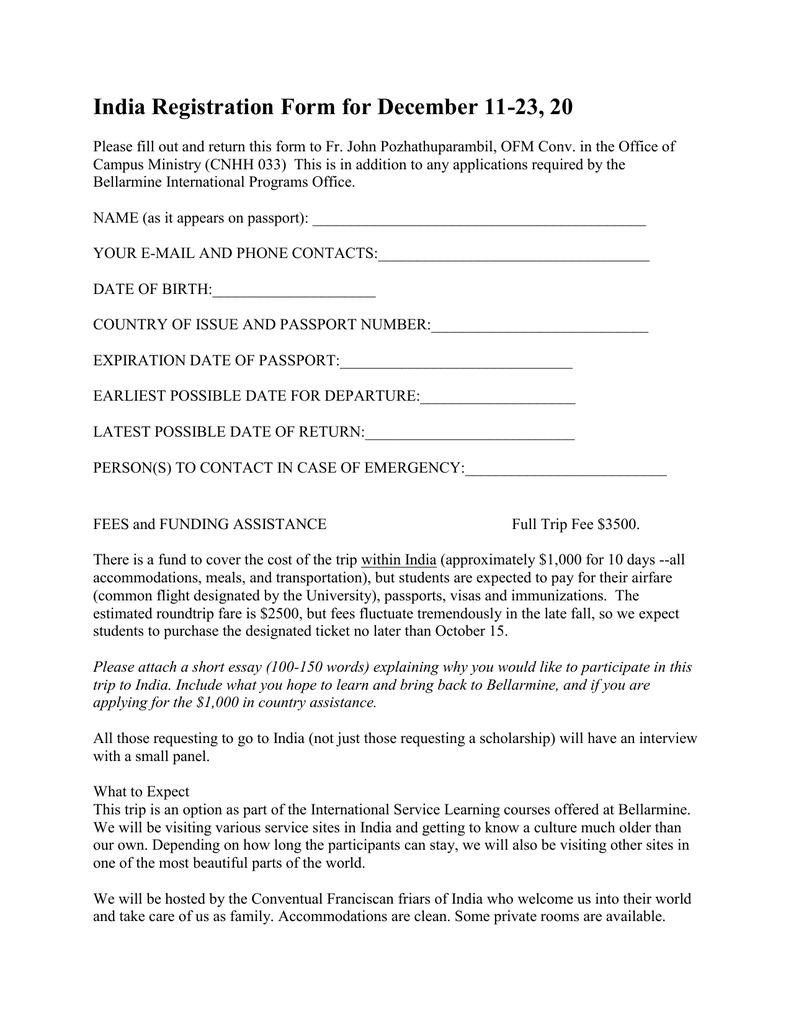 India Registration Form for December 11-23, 20
Please fill out and return this form to Fr. John Pozhathuparambil, OFM Conv. in the Office of
Campus Ministry (CNHH 033) This is in addition to any applications required by the
Bellarmine International Programs Office.
NAME (as it appears on passport): ___________________________________________
YOUR E-MAIL AND PHONE CONTACTS:___________________________________
DATE OF BIRTH:_____________________
COUNTRY OF ISSUE AND PASSPORT NUMBER:____________________________
EXPIRATION DATE OF PASSPORT:______________________________
EARLIEST POSSIBLE DATE FOR DEPARTURE:____________________
LATEST POSSIBLE DATE OF RETURN:___________________________
PERSON(S) TO CONTACT IN CASE OF EMERGENCY:__________________________
FEES and FUNDING ASSISTANCE
Full Trip Fee $3500.
There is a fund to cover the cost of the trip within India (approximately $1,000 for 10 days --all
accommodations, meals, and transportation), but students are expected to pay for their airfare
(common flight designated by the University), passports, visas and immunizations. The
estimated roundtrip fare is $2500, but fees fluctuate tremendously in the late fall, so we expect
students to purchase the designated ticket no later than October 15.
Please attach a short essay (100-150 words) explaining why you would like to participate in this
trip to India. Include what you hope to learn and bring back to Bellarmine, and if you are
applying for the $1,000 in country assistance.
All those requesting to go to India (not just those requesting a scholarship) will have an interview
with a small panel.
What to Expect
This trip is an option as part of the International Service Learning courses offered at Bellarmine.
We will be visiting various service sites in India and getting to know a culture much older than
our own. Depending on how long the participants can stay, we will also be visiting other sites in
one of the most beautiful parts of the world.
We will be hosted by the Conventual Franciscan friars of India who welcome us into their world
and take care of us as family. Accommodations are clean. Some private rooms are available.
Food is plentiful and well-prepared. Travel (including guides, bus and driver) are provided for.
Previous groups have commented that the welcome of the friars was the essential ingredient of
making this a trip to remember. Our donation to them covers our expenses and gives them some
money to help them with expenses in their work with the poor in India as well as our comfort
with air conditioning. The friars rent a generator for our use.
Purified water, juices, coffee, and tea are provided. Western drinks (alcohol and soda) are also
available but, because their price is in the range of the western world's costs, these would come
with an extra charge—one bottle of beer would be more than a day's wages for most Indians.
In other words, you will be taken care of from the time you arrive at the airport in Cochin until
the time that you leave it.
To the extent possible, we will work with Kaelin Rybak at the Travel Authority
([email protected]) travel together. Our plans to travel together are based upon past
experience. You may also make your own travel arrangements, if you are comfortable travelling
alone, but we prefer to have a common flight. The arrival and departure airport is Cochin
(Kochi) in Kerala, India.
In short, we will take care of you in India; but you have the primary responsibility of doing what
is needed to get there. We will work with you as far as possible but it is your responsibility to
obtain passport, visa, and a flight! To that end, the following can be helpful:
IF YOU DO NOT HAVE A PASSPORT, GET THE FORMS ON LINE OR FROM THE POST
OFFICE AND APPLY IMMEDIATELY.
YOU WILL NEED A TOURIST VISA FOR INDIA BEFORE YOU DEPART. The Indian visa
process has been outsourced to several sources instead of the embassy, and we have had equal
success with them. The process can seem confusing, so give yourself plenty of time to apply.
Note that you will have to choose the state where you are a permanent resident and then fill out
an application for the appropriate consulate. For those who live in Kentucky, the place to apply is
Washington, DC. For those who reside in Indiana, the appropriate place is Chicago. (Those who
live in other states should check where they should apply.)
MEDICAL PREPARATION. You may want to consult your physician concerning any
immunizations you might want to get. The area we are traveling is safe and secure but many
want to be "extra prepared." There is an international travel clinic in Louisville that can provide
both information and the desired vaccinations. It is located at 250 East Liberty, Suite 604 and
their phone number is 502 852 3691. Bellarmine also has a mandatory release form and
insurance policy whose cost is $50.
Where We Will Stay
Assisi Shanti Kendra
Karakutty – 683 576
Ernakulam Dt.
Kerala, India
Our contact is Fr. Damian Veliyil and the phone number is 011 91 944 740 3504.