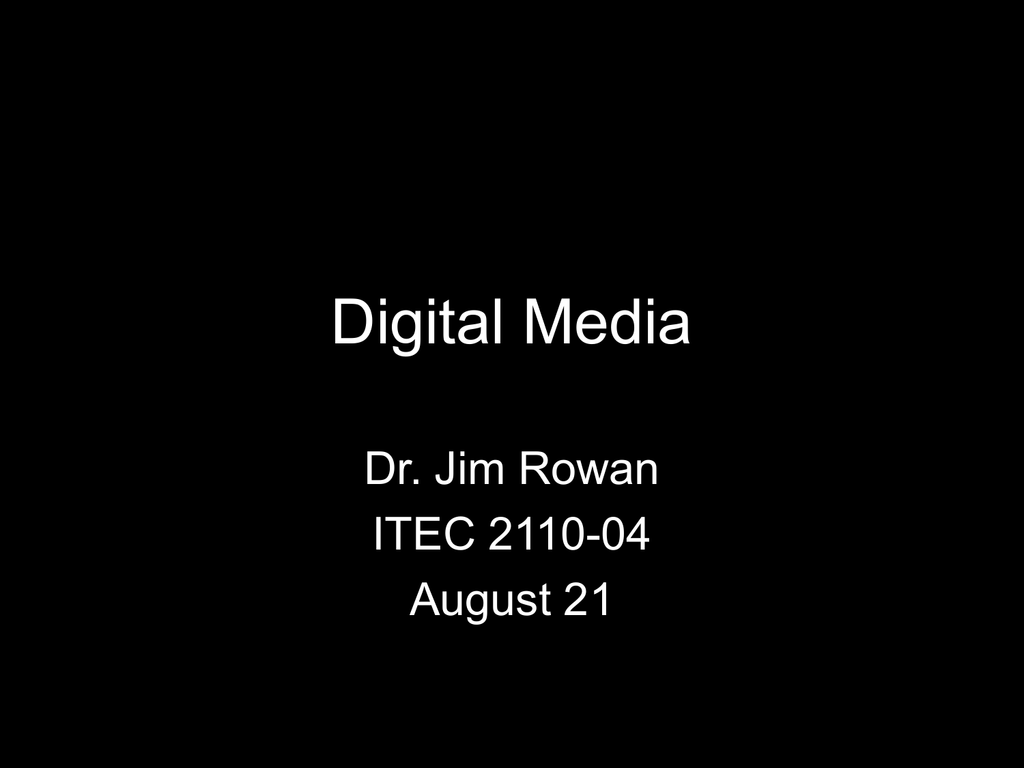 Digital Media
Dr. Jim Rowan
ITEC 2110-04
August 21
Roll Call using Banner
Student on roster, not in class?
[email protected]
Student in class not on roster?
5443 -- Philip Hawkins
5313 -- Kris Bone
5151 -- Laura Ledford
5876 -- Selena Darter/Heather Jenkins
Last option -- 678-977-7264 (Philip's cell)
What is a WikiPedia?
•
•
•
•
•
•
•
http://en.wikipedia.org/
online encyclopedia
community built
users can add, edit or change content
http://en.wikipedia.org/wiki/Php
it's the source of many good things
it's also the source of many bad things
What is a MediaWiki?
•
•
•
•
•
•
•
http://wiki.ggc.usg.edu/
user editable web space
you don't need to know html
you can (and will) create a web space
you can edit it from anywhere
you will deposit your projects here
they will remain available past the end of the
class
Look at GGCWiki
• wiki.ggc.usg.edu
• click Dr. Jim Rowan's link
– click here to get to class info
– your student space
Look at GGCWiki
• click reading and project assignment calendar
–
–
–
–
–
date
exam
reading
project
project due date
• click academic calendar
– campus schedule
– official holidays
Look at GGCWiki
• create an account
– click create an account
• logon your new account
Look at GGCWiki
• click student space
–
–
–
–
–
each student has a home page
a link about what to do
on the home page there must be project links
on the home page there must be a picture
must be a table
Look at the Text
• OOOOOoooooo!
Look at the Syllabus
• two major portions
– reading & exams
– software & projects
• timed reading checks
• 3 exams
• comprehensive final
Look at Calendar
• wiki.ggc.usg.edu
• click Digital Media ITEC2110-0x
• click ITEC2110-0x reading and project
assignments calendar
Discuss first GGCWiki
Assignment
• click "Digital Media ITEC2110-0x
student space
• click "what to do here and how to do it:
Demonstrate using GGCwiki
• go to student space
• edit the page
• replace YourNameHere
– creates a link to your web space
• click your name
– opens new page with editor open
• type stuff in the editor
Create a Table
• edit the page where the table is to be
placed
• type this stuff
<table><tr><td>
left side of table (projects)
</td><td>
right side of table (picture)
</td></tr></table>
Upload a picture
•
•
•
•
•
•
•
click upload a file
navigate to the file you want to upload
upload it
show it by typing (in the edit window)
[[Image:YourImageNameHere]]
click save (at bottom)
and the image will show up wherever you
placed it in the text
Questions?