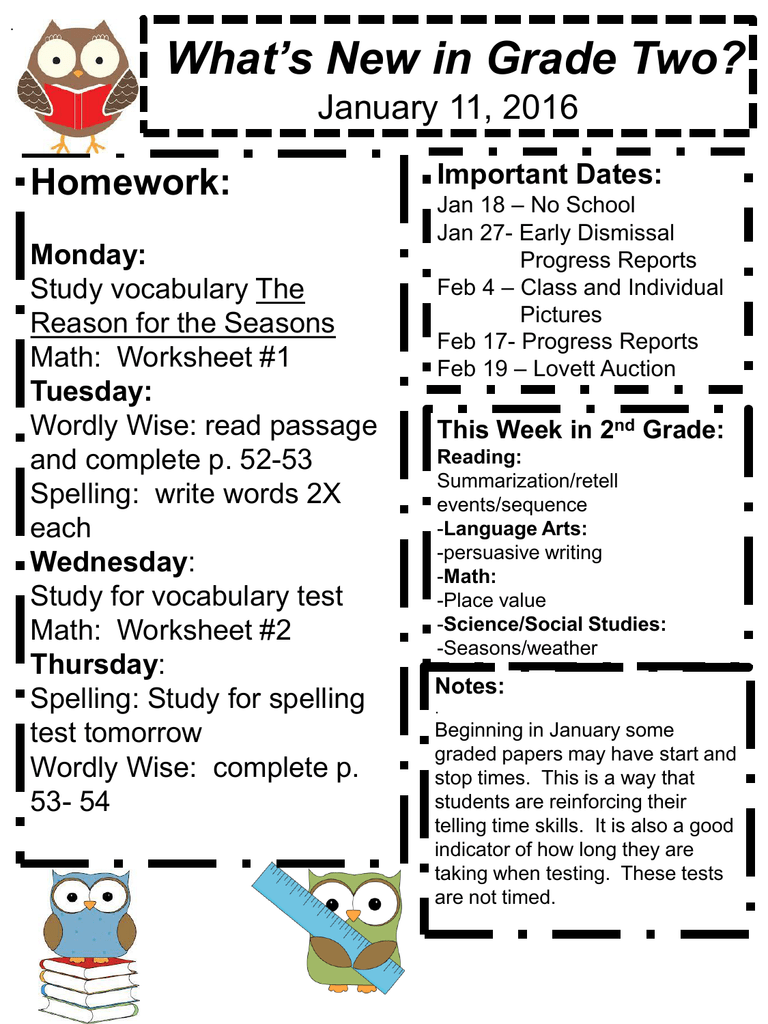 .
What's New in Grade Two?
January 11, 2016
Homework:
Monday:
Study vocabulary The
Reason for the Seasons
Math: Worksheet #1
Tuesday:
Wordly Wise: read passage
and complete p. 52-53
Spelling: write words 2X
each
Wednesday:
Study for vocabulary test
Math: Worksheet #2
Thursday:
Spelling: Study for spelling
test tomorrow
Wordly Wise: complete p.
53- 54
Important Dates:
Jan 18 – No School
Jan 27- Early Dismissal
Progress Reports
Feb 4 – Class and Individual
Pictures
Feb 17- Progress Reports
Feb 19 – Lovett Auction
This Week in 2nd Grade:
Reading:
Summarization/retell
events/sequence
-Language Arts:
-persuasive writing
-Math:
-Place value
-Science/Social Studies:
-Seasons/weather
Notes:
.
Beginning in January some
graded papers may have start and
stop times. This is a way that
students are reinforcing their
telling time skills. It is also a good
indicator of how long they are
taking when testing. These tests
are not timed.