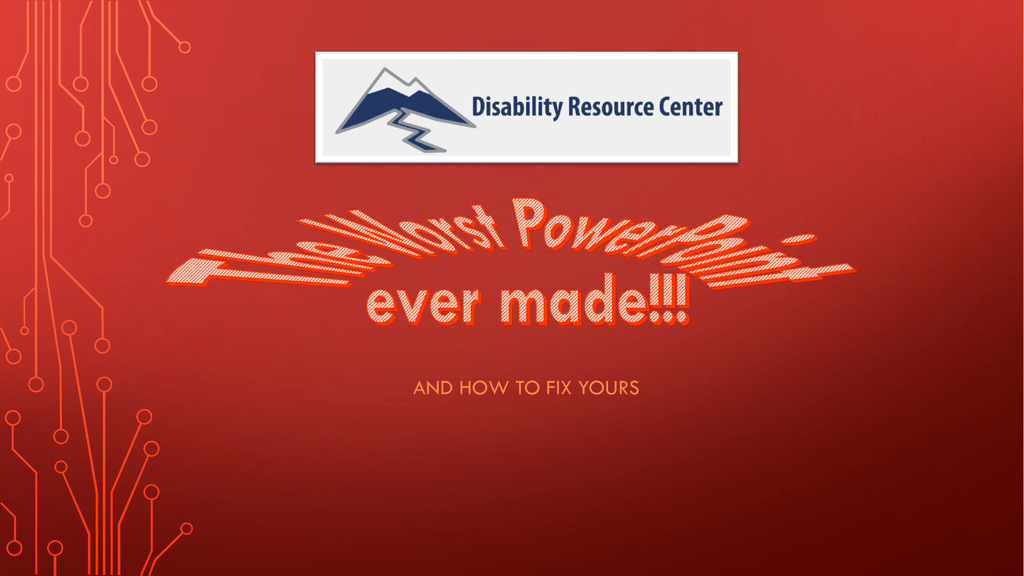 AND HOW TO FIX YOURS
USE GOOD FONTS AND COLORS
Avoid:
• Ccursive fonts
• Distracing fonts
• Elaborate Fonts
•
Small fonts
USE ADEQUATE CONTRAST
Can you see all 8 shapes below?
MAKE SURE CONTENT CAN BE UNDERSTOOD
WITHOUT COLOR
USE PRECISE LANGUAGE
• "He gave him his book"
• Who owned the book?
• Who was given the book?
• "The boy's mother gave him a haircut"
• Whose hair was cut?
• Newspaper headline: "Police helps dog bite victim."
AVOID SLIDES WITH TOO MUCH TEXT
• Because, after all, who really wants to sit and read through a PowerPoint slide
presentation with lots and lots and lots and lots and lots of text? I mean, come
on. This is kinda ridiculous, don't you think? Don't we all have something
better to do than to read lots and lots and lots of unnecessary, wordy words
that serve no purpose but to fill up a page? Even if there was something
important buried in here, you'd never know it. Sheesh. I wouldn't have even
typed all of this except to prove a point. Did you get it? Huh, did you?
AVOID BUSY BACKGROUNDS
AVOID TRANSITIONS AND ANIMATIONS
• Especially really wild or distracting ones!
AVOID LINKS OUT OF CONTEXT
• http://webaim.org/techniques/alttext/
AVOID COMPLICATED/UNCLEAR
DIAGRAMS/TABLES
Chirality
Carcinogens
Nonsensical
Ectoplasmosis
Word
Economics
BE CAREFUL WHEN USING TABLES
Don't
Formatting
Split
Cells
Do
Merge
Cells
Use Clear,
Simple Structure
Header Row Ever leave it off Add one every
Images
Don't Include
Them
time
Seriously, just
don't.