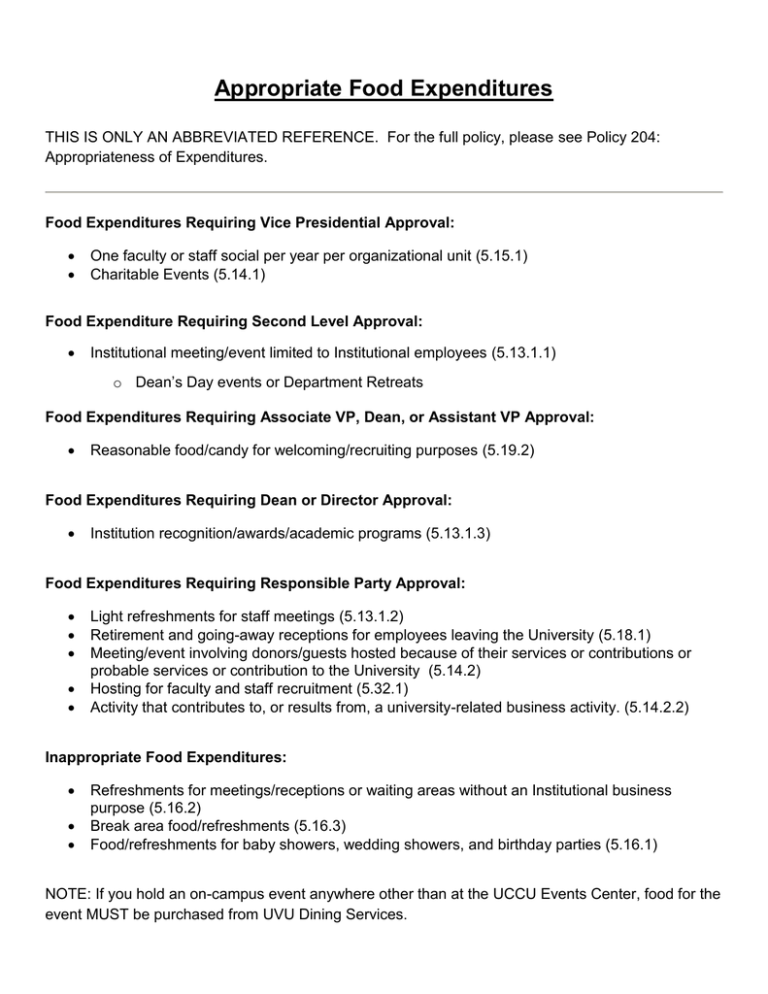 Appropriate Food Expenditures
THIS IS ONLY AN ABBREVIATED REFERENCE. For the full policy, please see Policy 204:
Appropriateness of Expenditures.
Food Expenditures Requiring Vice Presidential Approval:


One faculty or staff social per year per organizational unit (5.15.1)
Charitable Events (5.14.1)
Food Expenditure Requiring Second Level Approval:

Institutional meeting/event limited to Institutional employees (5.13.1.1)
o Dean's Day events or Department Retreats
Food Expenditures Requiring Associate VP, Dean, or Assistant VP Approval:

Reasonable food/candy for welcoming/recruiting purposes (5.19.2)
Food Expenditures Requiring Dean or Director Approval:

Institution recognition/awards/academic programs (5.13.1.3)
Food Expenditures Requiring Responsible Party Approval:





Light refreshments for staff meetings (5.13.1.2)
Retirement and going-away receptions for employees leaving the University (5.18.1)
Meeting/event involving donors/guests hosted because of their services or contributions or
probable services or contribution to the University (5.14.2)
Hosting for faculty and staff recruitment (5.32.1)
Activity that contributes to, or results from, a university-related business activity. (5.14.2.2)
Inappropriate Food Expenditures:



Refreshments for meetings/receptions or waiting areas without an Institutional business
purpose (5.16.2)
Break area food/refreshments (5.16.3)
Food/refreshments for baby showers, wedding showers, and birthday parties (5.16.1)
NOTE: If you hold an on-campus event anywhere other than at the UCCU Events Center, food for the
event MUST be purchased from UVU Dining Services.