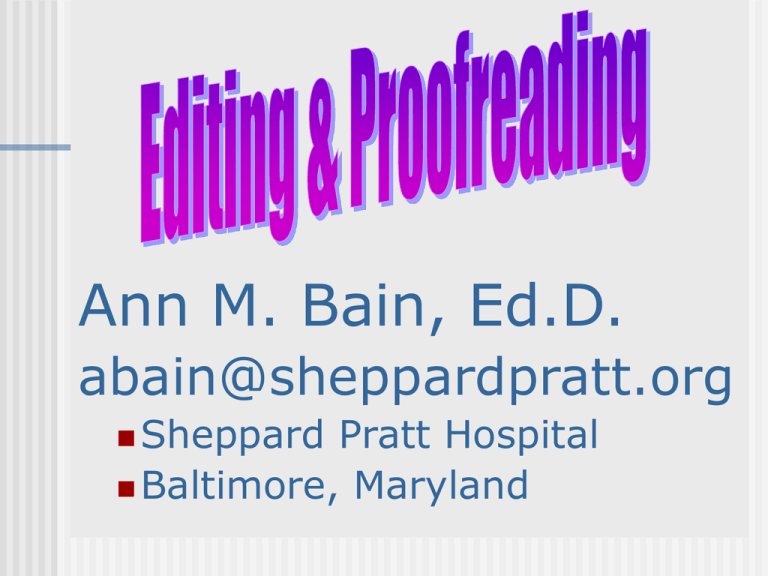 Ann M. Bain, Ed.D.
abain@sheppardpratt.org
 Sheppard
Pratt Hospital
 Baltimore, Maryland
PROOFREADING
of
Open Court Correlated
LANGUAGE ARTS PROGRAM
PROOFREADING
for individuals &
small groups with
SLD
Proofreading
 Teacher/
•
first
Tutor
sit on your hands
•leave the red pen in the
drawer
read
the students' text
•focus on the
communicative intent
Proofreading
 Find

the most frequent error
ERRORS
• Spelling
• Structure -- sentence or paragraph
• Punctuation
• Grammar
• Other
Proofreading

.
•
• SPELLING RULES
• there/their
• CONSISTENT VERB TENSE
• DIGRESSION FROM TOPIC
•
etc.
SENTENCE LIFTING
Find the most frequent error


Copy down as many examples as you can
Label the papers


REVISE
Sentence Lifting

Put the best examples (3 or 4)
of the error on the board

Ask student(s) if they can find an
error

Invite one student to correct the
error
• Sentence Lifting

Student comes to board and corrects error
using colored chalk
•
My
most exciting and
boring experiences. [may
be very different than
yours.]
Example of error/Sentence lifting

Smoking is bad for you because it gives you
lung cancer and later on in life you can die
from smoking.
 Smoking
is bad for you because it
gives you lung cancer and L later on
in life you can die from smoking.
PROOFREADING
Student
explains
correction
Mini-teaching lesson
Continue with all
examples
Proofreading
Explain
"R" and "OK"
Give papers back
Erase the board
Ask students to
proofread for this one
skill if they have an "R"
Let's make a rule!
Use a period at the end of a
sentence.
• One excellent example
Check for run-ons
• One excellent example
PROOFREAD:
POST THE RULE
IN THE CLASSROOM
IN THE NOTEBOOK
TELL STUDENTS TO
PROOFREAD FOR THE
RULE
The Skill through the week(s)
 Provide
more practice with
sentences lifted from students' work
 Use
commercial material cautiously
 Reinforce
the "mini-lesson"
NEW ASSIGNMENT
(all writing assignments)
PROOFREAD your paper
Proofread for rule # 1
Check for and. Do you have a
run-on?
NEW ASSIGNMENT
 COLLECT THE
PUT
NEW ASSIGNMENT
"R" IF RULE # 1 IS
VIOLATED
Find the most frequent error on
this assignment
Mark papers with "R" or
"OK"
PROOFREADING
 Repeat
the whole cycle with
the two proofreading rules.
 Students
gradually learn to
proofread
 Students correct other errors
MODIFICATIONS
 FOLD
WRITTEN TEXT IN HALF
 POINT TO EACH WORD
 POINT AND READ ORALLY
 UNDERLINE WITH ERASER
 UNDERLINE AND READ ORALLY
 PROOFREAD BACKWARDS
Proofreading and Editing
 Public
 When
 Use
vs. Private Writing
writing a draft, skip lines
the computer: SOLO
 Write OUTLOUD, COWRITER,
& DRAFT-BUILDER
EDITING/PROOFREADING

BE PATIENT– THESE ARE VERY
DIFFICULT SKILLS

INFORM PARENTS AND SCHOOL
ADMINISTRATION ABOUT HOW YOU
ARE TEACHING THESE SKILLS.