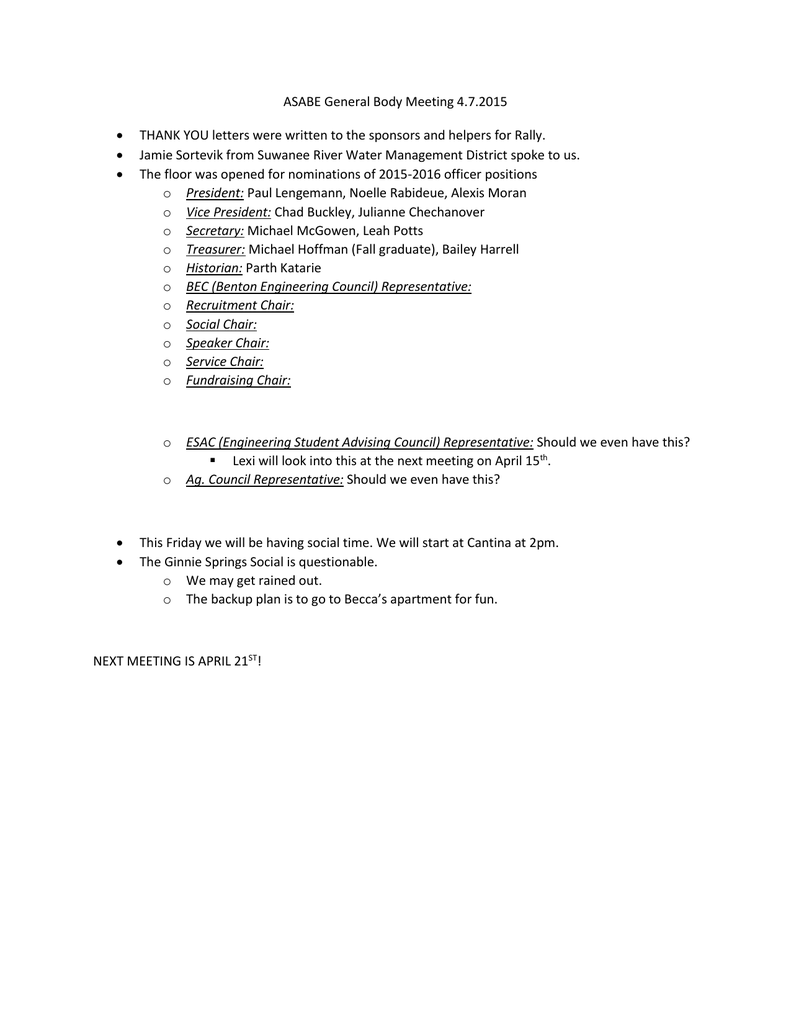 ASABE General Body Meeting 4.7.2015



THANK YOU letters were written to the sponsors and helpers for Rally.
Jamie Sortevik from Suwanee River Water Management District spoke to us.
The floor was opened for nominations of 2015-2016 officer positions
o President: Paul Lengemann, Noelle Rabideue, Alexis Moran
o Vice President: Chad Buckley, Julianne Chechanover
o Secretary: Michael McGowen, Leah Potts
o Treasurer: Michael Hoffman (Fall graduate), Bailey Harrell
o Historian: Parth Katarie
o BEC (Benton Engineering Council) Representative:
o Recruitment Chair:
o Social Chair:
o Speaker Chair:
o Service Chair:
o Fundraising Chair:
o
o


ESAC (Engineering Student Advising Council) Representative: Should we even have this?
 Lexi will look into this at the next meeting on April 15th.
Ag. Council Representative: Should we even have this?
This Friday we will be having social time. We will start at Cantina at 2pm.
The Ginnie Springs Social is questionable.
o We may get rained out.
o The backup plan is to go to Becca's apartment for fun.
NEXT MEETING IS APRIL 21ST!