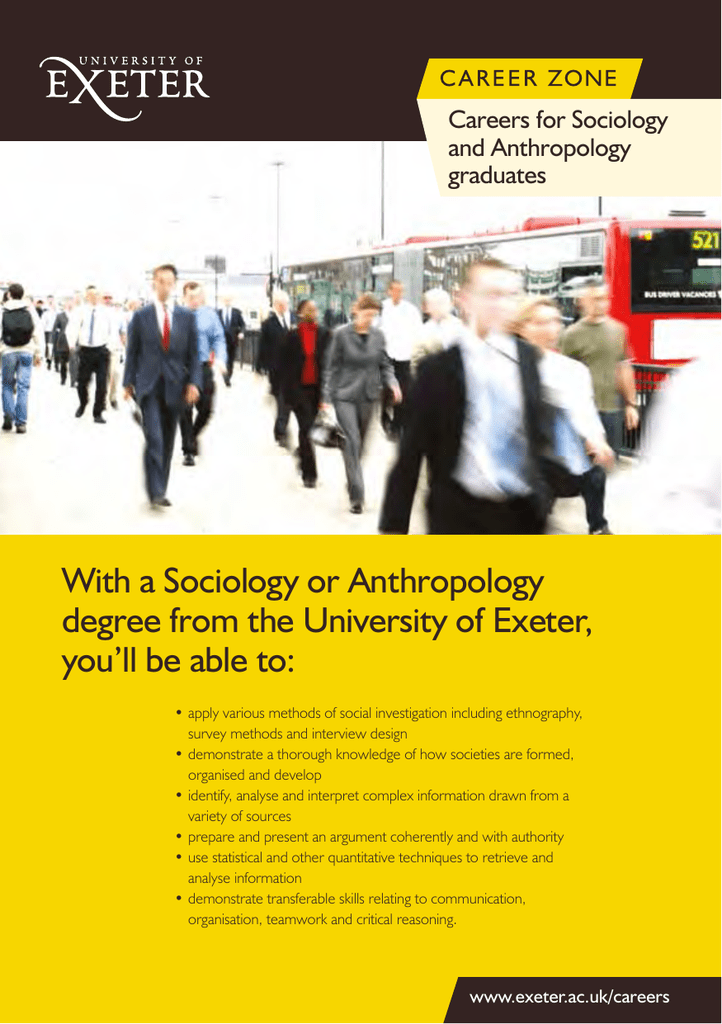 Careers for Sociology
and Anthropology
graduates
With a Sociology or Anthropology
degree from the University of Exeter,
you'll be able to:
•apply various methods of social investigation including ethnography,
survey methods and interview design
•demonstrate a thorough knowledge of how societies are formed,
organised and develop
•identify, analyse and interpret complex information drawn from a
variety of sources
•prepare and present an argument coherently and with authority
•use statistical and other quantitative techniques to retrieve and
analyse information
•demonstrate transferable skills relating to communication,
organisation, teamwork and critical reasoning.
www.exeter.ac.uk/careers
Where can your degree take you?
Skills, expertise and knowledge gained via a Sociology or Anthropology degree are relevant
if you want to pursue a career in marketing, teaching, government, journalism, NGOs, the
charity sector, business, management or a wide range of other sectors.
Here is a snapshot of the jobs, employers,
and further study programmes that our
recent Sociology or Anthropology students
have progressed to soon after graduation.
Occupations
– Legal Service Manager
– Assistant Director
–Broker
– Lettings Negotiator
– Recruitment Consultant
– Marketing Assistant
– Sales Analyst
– Customer Services Advisor
– Teaching Assistant
– Office Manager
– Graduate Trainee
– HR Officer
– Events Manager
Employers
– Nationwide Building Society
–KPMG
– Royal Bank of Canada
–NHS
– Marsh and Parsons
– Financial Ombudsman Service
– British Telecommunications
–HSBC
– Hampshire County Council
– Explore Learning
– Somerset College
– Exeter Royal Academy for Deaf Education
– National Skills Academy
–ICAT
Further study
– MSc International Hospitality and
Tourism Management
– PGCE Primary
– British Sign Language
– MA Gender Studies
– PGCE Primary with Mathematics
– MA Media and Cultural Studies
– MSc Human Resource Management
– MA Social Work
www.exeter.ac.uk/careers
2014ASC055
A degree in Sociology or Anthropology will
also equip you with skills that will allow you
to move into other areas of employment.