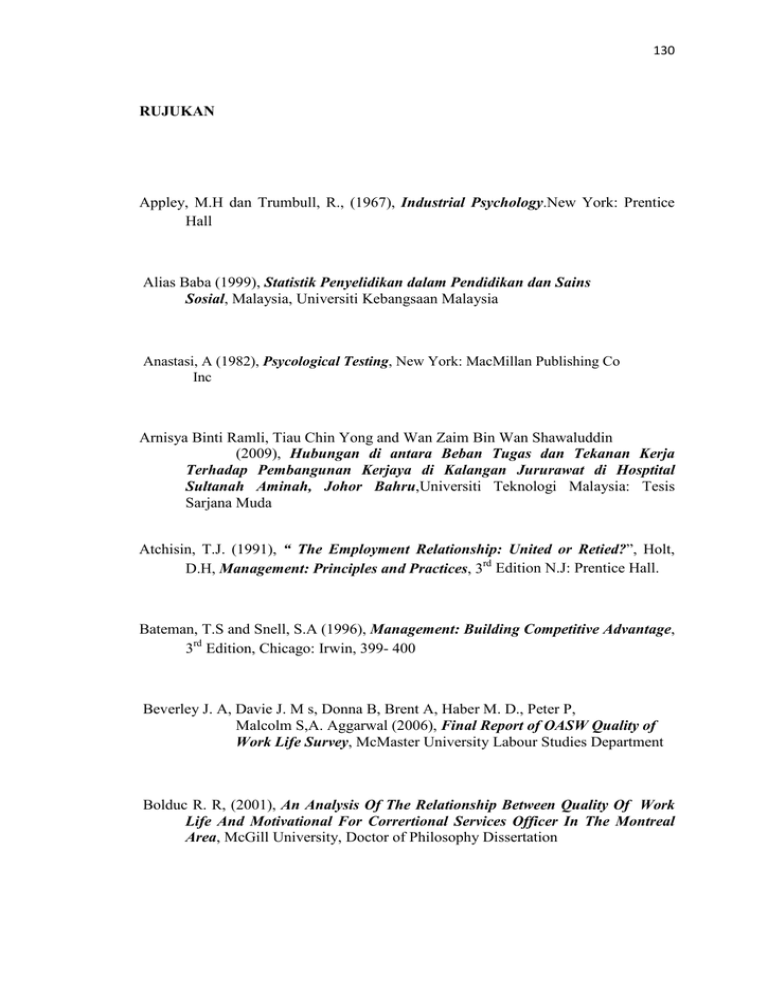 130
RUJUKAN
Appley, M.H dan Trumbull, R., (1967), Industrial Psychology.New York: Prentice
Hall
Alias Baba (1999), Statistik Penyelidikan dalam Pendidikan dan Sains
Sosial, Malaysia, Universiti Kebangsaan Malaysia
Anastasi, A (1982), Psycological Testing, New York: MacMillan Publishing Co
Inc
Arnisya Binti Ramli, Tiau Chin Yong and Wan Zaim Bin Wan Shawaluddin
(2009), Hubungan di antara Beban Tugas dan Tekanan Kerja
Terhadap Pembangunan Kerjaya di Kalangan Jururawat di Hosptital
Sultanah Aminah, Johor Bahru,Universiti Teknologi Malaysia: Tesis
Sarjana Muda
Atchisin, T.J. (1991), " The Employment Relationship: United or Retied?", Holt,
D.H, Management: Principles and Practices, 3rd Edition N.J: Prentice Hall.
Bateman, T.S and Snell, S.A (1996), Management: Building Competitive Advantage,
3rd Edition, Chicago: Irwin, 399- 400
Beverley J. A, Davie J. M s, Donna B, Brent A, Haber M. D., Peter P,
Malcolm S,A. Aggarwal (2006), Final Report of OASW Quality of
Work Life Survey, McMaster University Labour Studies Department
Bolduc R. R, (2001), An Analysis Of The Relationship Between Quality Of Work
Life And Motivational For Corrertional Services Officer In The Montreal
Area, McGill University, Doctor of Philosophy Dissertation
131
Cary, L.Copper (1998), Theories of Organization Stres. United States: Oxford
University Press: New York
Casio (1992), Managing Human Resources: Productivity, Quality of Work Life,
Profits, p.22, New York: Mc Graw Hill, Inc
Chua, Yan Piaw (2006), Asas Statistik Penyelidikan, Mc Graw Hill
Cooper, C.L. dan Marshall J., (1976), Occupational Source of Stres: A Review of The
Literature Relating to Coronary Heart Disease and Mental III Health,
Journal of Occupational Psychology 49, 11-28
Cooper, C.L dan Southernland,V.J (1980), The Stres of The Executive Lifestyle
Trend in the 1990s, Management Division
Coolidge and Donald, S. (1999), Striking A Balance, Christian Science
Monitor 91, 19
Cox, T., Griffifth A, & Rial Gonzalez, E. (2000), Research on Work-Related Stres,
Europen Agency for Safety and Health At Work. Luxemborg
Ellis, N dan Pompli, A (2002), Quality of Working Life For Nurse. Commenwealth
Dept of Health and Ageing, Canberra
Ee, Kong Hean (1988), kualiti kehidupan bekerja: Satu Perbandingan di antara
Pekerja Kolar Putih dan Biru di sebuah Kilang Elektronik, Tesis Sarjana
Muda, Universiti Kebangsaan Malaysia
Eurofound (2006), Industrial Relations Dictionary, European Foundation For The
Improvement of Living and Working Conditions.
132
Frank D.P, Koningsveld E.A & Ms E.E, (2009), Quality Of Working Life and
Organizational Performance, Two Sides of The Same Coin, Journal of Work,
Environment & Health, pg. 421
Ganesan Andimuthu (2000), Program Kualiti Kehidupan Bekerja dan
Hubungannya dengan Komitmen Kerja di Kalangan Pengawal
Keselamatan di Unit Keselamatan, Universiti Teknologi Malaysia,
Universiti Teknologi Malaysia: Tesis Sarjana
Greenberg, J., Baron, R.A, (2000), Behavior in Organizations, Prentice Hall, Upper
Saddle River, NJ
Gilgeous, V (1998), Journal Of Manufacturing Managers: Their Quality
Of Working Life, MBC University Press
Gurses A. P, (2005), Performance Obstacle and Fasilitators, Workload, Quality of
Working Life, and Quality and Safety of Care Among Intensive Care
Nurses, University of Wisconsin, Doctor of Philosophy Dissertation
Goldenson, R.M, (1970), The Encyclopedia Of Human Behavior, Vol. 2, Garden
City, New York: Doubleday & Co. Inc
Hatta Sidi dan Mohamed Hatta Shaharom (2005), Mengurus Stres Pendekatan Yang
Praktikal, Kuala Lumpur: Dewan Bahasa dan Pustaka
Hannif, Z., Burgess, J., and Connell, J, (2006), The Quality of Work Life in
Call Centres: A Research Agenda, Proceedings of 2006 ACREW
Conference, Prato: Italy
Holt, David, H (1990), Management: Principles and Practices 2nd Edition,
Eaglewood Cliffs, New Jersey: Prentice Hall Inc, 254
133
Herzberg, F. (1968). "One More Time: How Do You Motivate Employees?".
Harvard Business Review. Pp. 53-62.
Herzberg, F. (1987). "Workers' Needs: Then Same around the World". Industry
Week. Vol. 21.
Herberg, F., Mauser B. & Snyderman, B. (1959)."The Motivation To". Wiley
Publishing, New York, NY.
Hoh, Hee Mee (1990), Hubungan Di Antara Komitmen Kepada Organisasi
dengan Kualiti Kehidupan Bekerja : Satu Kajian ke Atas Pekerja
Bank, Universiti Kebangsaan Malaysia: Latihan Ilmiah Sarjana Muda
Holt, David, H (1990), Management: Principles and Practices 2nd Edition,
Ishak Mad Shah (2004), Pengenalan Psikologi Industri dan Organisasi, Penerbit
UTM
Ishak Mad Shah (2002) Kualiti Kehidupan Kerja: Kajian Ke Atas Pekerja Binaan
Indonesia, Universiti Teknologi Malaysia, Skudai: Penyelidikan
Ivanchevich, J.M, Matteson, M.T (1993),
Management, Irwin, Homewood,IL
Organizational
Behavior
and
Ketua Pegawai Eksekutif LHDNM (2009), Perancangan Strategik LHDNM 20092013, Percetakan Nasional Malaysia Berhad
Kotler,& Philip (1976), Marketing Management: Analysis, Planning and
3th Edition, Englewood Cliffs, NJ: Prentice-Hall
Control
134
KSN (2006), Buku Perkhidmatan Awam Malaysia: Meningkatkan Kecekapan dan
Keberkesanan Sistem Penyampaian Perkhidmatan, MAMPU
Lawler III E. E (1986), High Involvement Management, San Francisco: Jossey
Bass, Inc
Lawler, J, Tung, Chun Huang, & Ching, Yi Lei, (2007), Journal of The Effects of
Quality of Work Life on Commitment and Turnover Intention, Society for
Personality Research Inc, 735-750
Lowe, G.S (2000), The Quality of Work: A People- Centered Agenda, Canada:
Oxford University Press
Laporan Tahunan LHDNM 2008, Percetakan Nasional Malaysia Berhad
Laporan Tahunan LHDNM 2007, Percetakan Nasional Malaysia Berhad
Ong, Bee Lin (1990), TekananKerja di kalangan Pekerja Kolar Putih dan
Biru serta Hubungannya dengan kualiti kehidupan bekerja,
Tesis Sarjana Muda, Universiti Kebangsaan Malaysia
Othman Ahmad (1997), Hubungan Di antara Kualiti Kehidupan Kerja dan
Kesetiaan Kepada Organisasi di Kalangan Kakitangan Sokongan UKM,
Universiti Putra Malaysia, Tesis Sarjana
Perdana Menteri (2006), Laporan Tahunan LHDNM 2006, Percetakan Nasional
Malaysia Berhad
Perdana Menteri (2010), Ucaptama sempena Kejayaan LHDNM merangkul
Anugerah Inovasi Perdana Menteri (AIPM) 2009, Akhbar Utusan Malaysia
27 Mei 2010
135
Maimunah Aminuddin (1995), Panduan Pengurusan Personnel, Kuala
Lumpur, Penerbitan Fajar Bakti
Mali, P.(1981), "Management Handbook', Canada: John Wiley & Sons Inc.
Maslow A. H (1970), A Theory of Human Motivation, in Vroom V.H and E. L
Ded, Managerial and Motivation, Harmondsworth, England : Penguin
Education, penguin Book Ltd
Mills C. W (1975), White Colour, New York: Oxford University Press
Moorhead, G & Griffin, R. W (1992). "Organizational Behavior: Managing
People and Organization", Boston: Houghton Mifflin Co. m.s. 679
Mohd Anuar Mohd Amin (1997), Hubungan beban kerja dengan kualiti
kehidupan bekerja di kalangan guru kaunseling sepenuh masa di
Sekolah Menengah di Negeri Pahang Darul Makmur, Universiti
Teknologi Malaysia: Tesis Sarjana
Mohd Fitri Sahhari (2006) Tahap Beban Tugas Guru Sekolah Menengah
Di Daerah Skudai: Kajian Kes, Universiti Teknologi Malaysia:
Tesis Sarjana Muda
Mohd Sidek Mohd Noah (2002), Reka Bentuk Penyelidikan: Falsafah, Teori dan
Praktis, Serdang, Penerbit Universiti Putra Malaysia
Mohd Yazid Kamarudin (1991), Perbandingan Kualiti Kehidupan Bekerja antara
Pekerja Sektor Kerajaan dan Sektor Swasta, Universiti Kebangsaan
Malaysia: Latihan Ilmiah Sarjana Muda
Normala & Daud (2010), Investigating the Relationship between Quality of Work
Life and Organizational Commitment amongst Employees in
MalaysianFirms, Canadian Centre of Science and Educations, Universiti
Teknologi MARA
136
Noraini Abdullah (2001), Kualiti Kehidupan Bekerja Dan Hubungannya Dengan
Komitmen Terhadap Organisasi, Universiti Utara Malaysia: Tesis Sarjana
Ramstard, E, (2009), Journal of Promoting Performance and The Quality of
Working Life Simutlaneously, Emerald Group Publishing Limited, pg 423436
Rintala, N. (2005), Technological change and job redesign. Implications for the
Quality of Working Life, Department of Production Economics Thesis,
University of Technology, Espoo
Reynolds A, Sambrook S and Jim, S, (1993), Dictionary of HRD, HRD Press Inc
Robert Half (2001), Work Life Balance: The Business Case, Department of Trade
and Industry, p.3
Robbin, P.Stephen (1993), Organization Behavior, Sixth Edition, New York: Prentice
Hall
Robbins, P.Stephen (2001), Gelagat Organisasi,(Terjemahan Abdul Razak Ibrahim &
Anin Sulaiman), Selangor, Pearson Education Malaysia Sdn Bhd.
Savery, L.K, Luks, J.A (2001), " The Relationship Between Empowerment, Job
Satisfaction, and Reported Stres Levels: Some Australian Evidence",
Leadership and Organizations Development Journal, Vol.22 No. 3, pp 97-105.
Seyle, H,(1976), The Stres of Life 2nd Edition, New York: Mc Graw Hill Co.
Sharil Bin Hassan (1994), Hubungan Program-Program kualiti kehidupan
bekerja dan Pengaruh Faktor-Faktor Sosio Demografik Dengan
Kepuasan Kerja dan Penglibatan Kerja, Tesis Sarjana, UUM
137
Shepard, P.,(1989), Ke mana Arah Hidup Anda? Panduan Perancangan Hidup &
Kerja (Terjemahan A.Rahim Khamis),Singapore: Times Book International
Centre.
Shin, Ning-Jye (1991), The Antecedents and Consequences of Job
Involvement, A Case of The Taipei Municipal Government
(Municipal Goverment ),Phd Disertation, University of Pittsburg
Schultz, D. P and Schultz, S. E (1990), Psychology and Industry Today : An
Introduction to Industrial and Organizational Psychology 5th Edition,
New York: Macmillan Publishing Company
Sirgy, M. J. Efranty, D, Siegel, P. And Lee, D.J (2001), A New Measure of Quality
of Work Life (QWL) Based on Need Satisfaction and Spillover Theories,
Sosial Indicator Research, 241-303.
Siti Faradaniah (2004) Hubungan Kualiti Kehidupan Bekerja Dengan
Kecenderugan Pusing Ganti Pekerja:Kajian Tinjauan Ke Atas Operator
Pengeluaran Di Kilang Celestica,Johor Bahru, Universiti Teknologi
Malaysia: Tesis Sarjana
Serey, T.T,(2006), Choosing a Robust Quality of Work Life, Business Forum
27(2)
Sugiura, H. (1991), Productivity in the Workplace: The Honda Story, in
International Productivity Congress, Better Quality of Work Life Through
Productivity, Tokyo: Asian Produvtivity Organization, 3-13
Vardi I, (2009), The Impact of Different Types of Workload Allocation
Models on Academic Satisfaction and Working Life, Springer Science, pg
499-508
138
Wahl, O.F. (2000), Mental illness stigma and work, IN: The World Federation for
Mental Health. Mental Health and Work (pp.39-42), Alexandria, VA: World
Federation for Mental Health
Walton, R.E (1975), Criteria For Quality of Work Life, in Davis, L.E and Chern A. B,
The Quality of Work Life Volume 1: Problem, Prospect and The State of the
Art, New York: The Free Press, 91-104
Weisinger, H.(1998), Emotional Intellingence at Work: The Untapped Edge for
Success, San Francisco: Josey- Bass Publishers.
Wiley, C. (1997). "What Motivates Employees According to over 40 years of
Motivation Surveys". International Journal of Manpower. Volume 18,
Number 3, Pp 263-280.