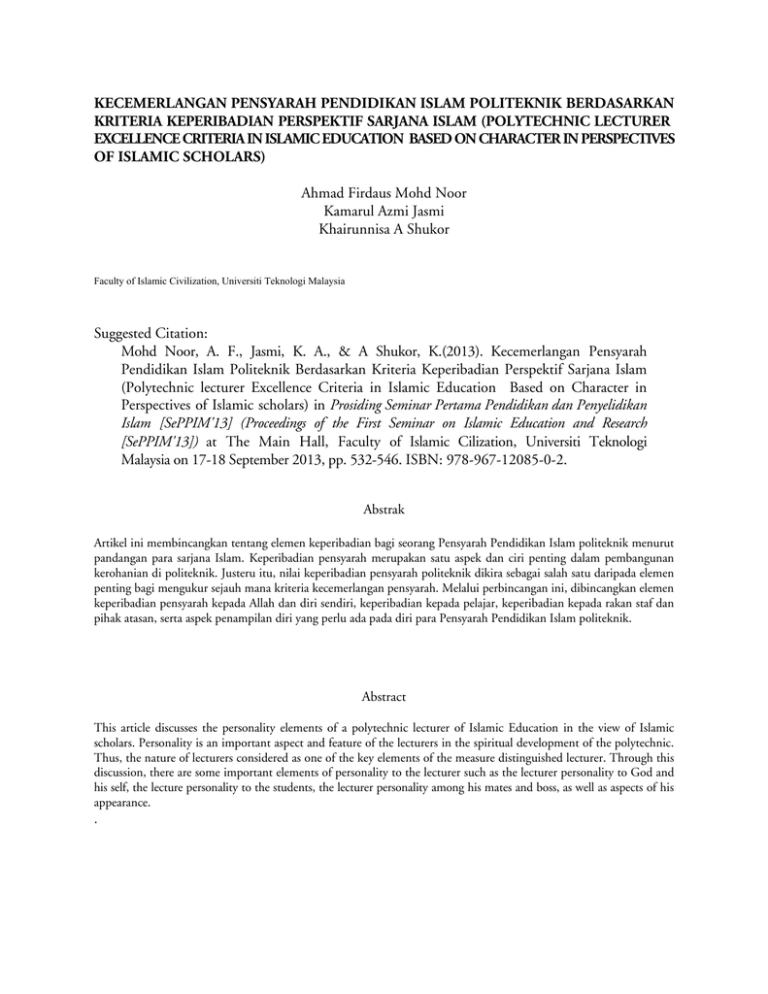 KECEMERLANGAN PENSYARAH PENDIDIKAN ISLAM POLITEKNIK BERDASARKAN
KRITERIA KEPERIBADIAN PERSPEKTIF SARJANA ISLAM (POLYTECHNIC LECTURER
EXCELLENCE CRITERIA IN ISLAMIC EDUCATION BASED ON CHARACTER IN PERSPECTIVES
OF ISLAMIC SCHOLARS)
Ahmad Firdaus Mohd Noor
Kamarul Azmi Jasmi
Khairunnisa A Shukor
Faculty of Islamic Civilization, Universiti Teknologi Malaysia
Suggested Citation:
Mohd Noor, A. F., Jasmi, K. A., & A Shukor, K.(2013). Kecemerlangan Pensyarah
Pendidikan Islam Politeknik Berdasarkan Kriteria Keperibadian Perspektif Sarjana Islam
(Polytechnic lecturer Excellence Criteria in Islamic Education Based on Character in
Perspectives of Islamic scholars) in Prosiding Seminar Pertama Pendidikan dan Penyelidikan
Islam [SePPIM'13] (Proceedings of the First Seminar on Islamic Education and Research
[SePPIM'13]) at The Main Hall, Faculty of Islamic Cilization, Universiti Teknologi
Malaysia on 17-18 September 2013, pp. 532-546. ISBN: 978-967-12085-0-2.
Abstrak
Artikel ini membincangkan tentang elemen keperibadian bagi seorang Pensyarah Pendidikan Islam politeknik menurut
pandangan para sarjana Islam. Keperibadian pensyarah merupakan satu aspek dan ciri penting dalam pembangunan
kerohanian di politeknik. Justeru itu, nilai keperibadian pensyarah politeknik dikira sebagai salah satu daripada elemen
penting bagi mengukur sejauh mana kriteria kecemerlangan pensyarah. Melalui perbincangan ini, dibincangkan elemen
keperibadian pensyarah kepada Allah dan diri sendiri, keperibadian kepada pelajar, keperibadian kepada rakan staf dan
pihak atasan, serta aspek penampilan diri yang perlu ada pada diri para Pensyarah Pendidikan Islam politeknik.
Abstract
This article discusses the personality elements of a polytechnic lecturer of Islamic Education in the view of Islamic
scholars. Personality is an important aspect and feature of the lecturers in the spiritual development of the polytechnic.
Thus, the nature of lecturers considered as one of the key elements of the measure distinguished lecturer. Through this
discussion, there are some important elements of personality to the lecturer such as the lecturer personality to God and
his self, the lecture personality to the students, the lecturer personality among his mates and boss, as well as aspects of his
appearance.
.