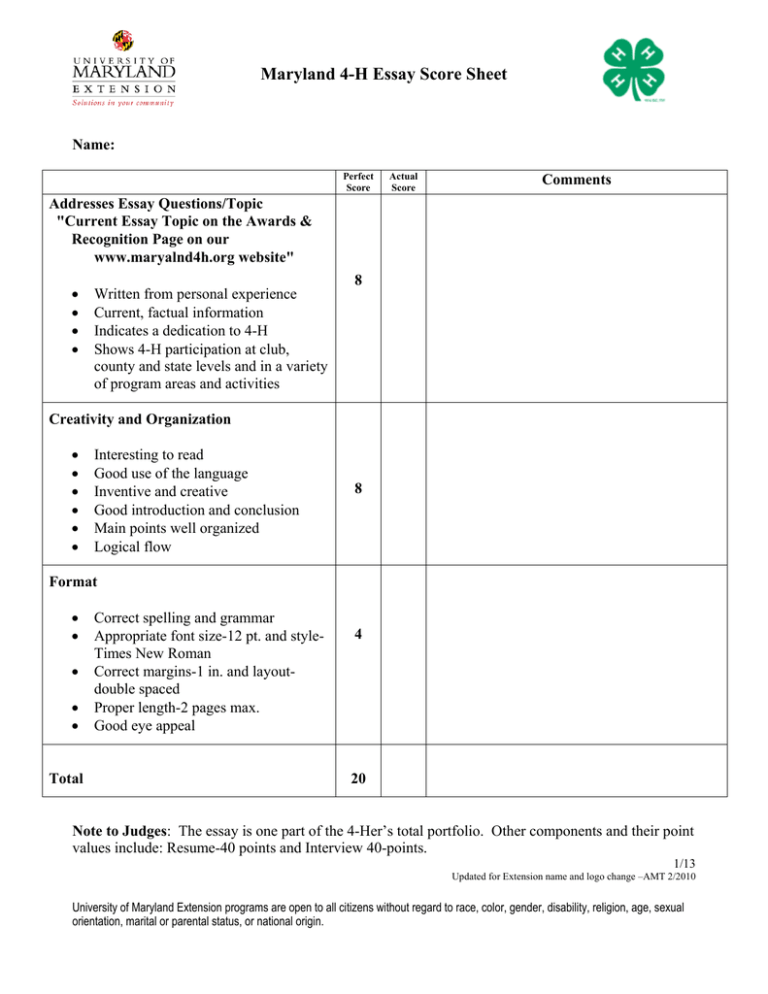 Maryland 4-H Essay Score Sheet
Name:
Addresses Essay Questions/Topic
"Current Essay Topic on the Awards &
Recognition Page on our
www.maryalnd4h.org website"




Written from personal experience
Current, factual information
Indicates a dedication to 4-H
Shows 4-H participation at club,
county and state levels and in a variety
of program areas and activities
Perfect
Score
Actual
Score
Comments
8
Creativity and Organization






Interesting to read
Good use of the language
Inventive and creative
Good introduction and conclusion
Main points well organized
Logical flow
8
Format





Total
Correct spelling and grammar
Appropriate font size-12 pt. and styleTimes New Roman
Correct margins-1 in. and layoutdouble spaced
Proper length-2 pages max.
Good eye appeal
4
20
Note to Judges: The essay is one part of the 4-Her's total portfolio. Other components and their point
values include: Resume-40 points and Interview 40-points.
1/13
Updated for Extension name and logo change –AMT 2/2010
University of Maryland Extension programs are open to all citizens without regard to race, color, gender, disability, religion, age, sexual
orientation, marital or parental status, or national origin.